The Patch is now finally finished and released! It is available on Desura, Humble and itch.io. On Amazon.com and Green Man Gaming it will still take some time. But you can also download the patch now over the website: Lastknightthegame.com
It took me longer then expected but I also added quite a lot in the process. Most importantly you can now behead Horned Bucket Heads and even smash them to pieces! (No bloody mess, the Buckets are filled with lava.)
You can check out the full change notes list below or just watch this video which shows the important things. That might be more fun then reading that quite long list.
As you might guessed I had a lot of fun with making this video.
Much thanks goes to all the testers! I ended up doing quite a lot of test builds, there even was a nasty problem where it got corrupted and it would not run anymore on most hardware. But I could revert to a backup version there. I had to do some things again but now it is all good.
As you can see from the change notes list there are also quite a lot of fixes. Most important is the fix for the saving issue where it would not save when the security settings of a Windows account are too high and it is not started with admin rights. The game is now saved under C:\Users\\Documents\My Games\Last Knight\Save. Your old save game gets also automatically moved there. If your using a full installer for the update just install it over the old install. Also important is the fix for the rare stuck bug where it could happen that the world generation got stuck and then you could not move anymore. There was also a problem with the quest system where old quests could get replaced with new found quests. But that is now also fixed and there is also much improved with the quests screen as well as a new screen added that shows you all your finished quest and which characters still have uncompleted quests. There are also lots of small tweaks and some improvements.
If you like some tips for the smashing of Buckets:
- You only get the "Smashing" reward when a Bucket flies with a lot of velocity .
- Try to hit the center.
- Try to start your joust early but not too early because then he will dodge you.
- You can also behead a fallen Bucket by jumping on his head or pushing his body in something but that is also hard. Jousting them with the head to the front into a obstacle works also well.
- Smashing + Beheaded = Smashtastic!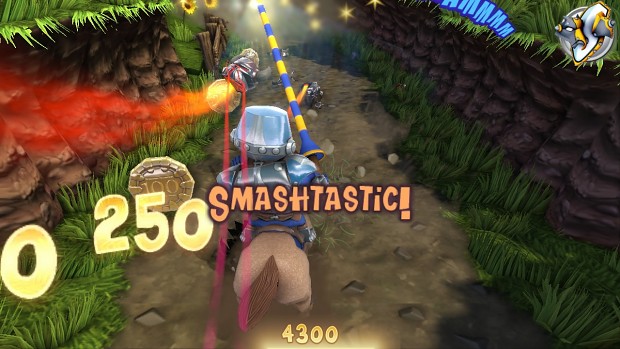 If you are one of the people that like to have a Desura key alongside their Humble download. They get now automatically provided when you have it in your Humble library! If you purchased it directly over itch.io on the website and you like a Desura key as well just drop me a line with your email address that you used with PayPal and I get you one. (to David[at]tocogames.com)
Steam keys will be available to every owner of the game once it gets through Greenlight on Steam. (No guarantee that it gets through though) You can vote here: Steamcommunity.com
Here is the website with all the links: Lastknightthegame.com
Here is that change notes list now:
Notes wrote:
- Added that Horned Bucket Heads can now get beheaded and lose limbs (no bloody mess, they are filled with lava)
- Added ragdoll shoulder pads detaching for all characters that have them
- Added legs ripping out and string trail to the spider ragdoll
- Added "Smashing" extra slowmo for hitting a Bucket with much force
- Added "Homerun" for throwing a Bucket Head or a Skeleton Head very far
- Added extra gold reward for beheading, "Smashing" and "Homerun"
- Added Cheer animations
- Added Ribbon effects (not in low and lowest graphics setting)
- Added extra advanced options (for screen effects, extra slowmo and Ribbon effects)
- Added "Swearing" comic signs for slightly touching obstacles
- Added some sounds for the little dragons
- Added a better quests screen for finishing and receiving quests
- Added a Quests list screen that shows all the finished quests for each character
- Added burning castle
- Added all world mutator names to the locked graphics
- Added more feedback to the menus
- Fixed some issues with the skeletons
- Fixed issue with Volano theme generation that could make it stuck
- fixed issues with Round World Mutator
- Fixed issues with rain sound
- Fixed a bug where a troll would appear in a Knightmare
- Fixed Power Ups screen glitch.
- Fixed end of Lvl3 piece
- Fixed King death ragdoll having no body mutators applied
- Fixed some mutators getting not applied to the Solider Knight's Horse
- Fixed sometimes wrong tips showing up in the end boss level
- Fixed a stone wall making a wood sound
- Fixed high Windows user account "security" settings not allowing the game to save
- Fixed issue with graveyard entrance and exit on death
- Fixed Ghost Rider not getting fat or thin
- Fixed story window looking initial strange after a story choice
- Fixed ice cave often repeating after the first appearance
- Fixed rare stuck bug where the player won't move forward anymore
- Fixed Ghost Rider being able to knock over banners
- Fixed Horse hair in the story screens getting replaced with wrong material
- Fixed Story choices getting possible skipped when using gamepad B button
- Fixed rare issue where ESC in a Story scene is closing the game
- Fixed diamond bridge gets accomplished in Stats when golden bridge passed
- Fixed "6 power ups" quest not working with display
- Fixed score not always calculating right
- Fixed some minor issues with the power ups screen
- Fixed all gold awards reward and all silver awards reward not unlocking
- Fixed nasty pause issue that could make things glitch out
- Fixed streaming texture issue for King deaths
- Fixed quests drops getting very rare after having found a lot
- Fixed Fallen Heroes screen textures streaming issue
- Fixed ESC in Fallen Heroes screen is not exiting it properly
- Fixed issues with banner types
- Fixed rare double bat ragdoll on death of player and rare double banner ragdoll on knock over
- Fixed some spelling mistakes
- Tweaked end boss (easier environment and more health and more scary (sounds and effects))
- Tweaked the lance powering up in FX and force getting applied
- Tweaked trolls to be green and have some hair (3 hairs)
- Tweaked joust trick to be much weaker and improved jousting animations
- Tweaked Knightmare 6, made it easier
- Tweaked Knightmare distance values for awards (most easier)
- Tweaked loading graphic
- Tweaked ca distance value for golden and diamond bridge and made it les far away for knight endless
- Tweaked "no coins left behind" quest distance value
- Tweaked ch.4 lvl.3 made it a bit harder
- Tweaked ch.3 lvl.1 added mines before cave entrance
- Tweaked ch.5 lvl.2 got rid of annoying coin ball
- Tweaked ch.5 lvl.3 got rid of out of place Bucket behind end flag
- Improved ragdoll physics
- Improved performance
- Improved some collisions
- Improved ragdoll poop physics
- Improved scores FX
- Improved some destruction underlying textures