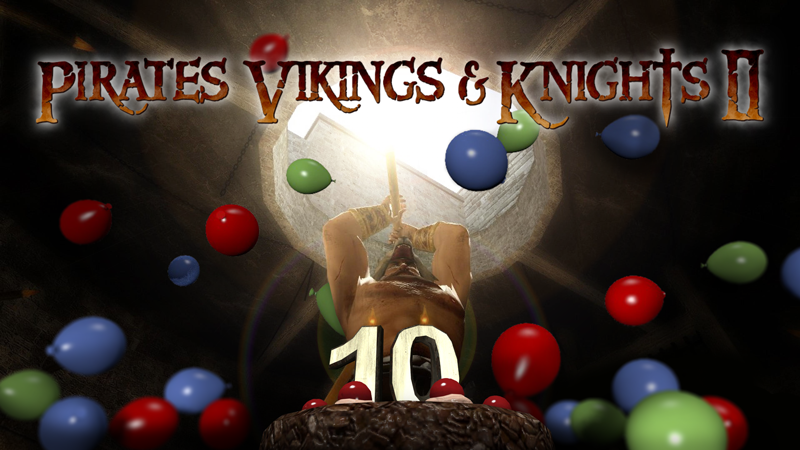 HAPPY 10TH BIRTHDAY PVKII
MahaTmA wrote:


It's here, it's finally here!
PVKII has hit the web, picking up the shards from it's HL1 predecessor, twisting and turning them to create leaner, meaner and prettier non-historically accurate action than ever before.
Pitting nimble Pirates, powerful Knights and mighty Vikings against each other on the HL2 engine, PVKII features an innovative melee combat system, nearly 100% custom content and a complete lack of ninjas, designed to be all that its predecessor was, and more!
Happy New Year, and Happy 10th Birthday to Pirates, Vikings, & Knights II.
The sequel to one of the greatest Half-life mods of all time.
A decade ago PVKII 1.0 was released. No matter which way you slice it; PVKII is alive and kicking, and it's all thanks to our amazing fans and passionate devs, testers, creators, and contributors, and EVERYONE from years past. From the battle-torn bottom of our hearts, thank you everyone.
As we've said throughout the years, stay with us, development for PVKII, the mod that doesn't quit, will continue. Take a fun look back from where we came with this youtube playlist:
The party has only begun, stay tuned for some celebratory particles in our next update, coming very early 2017.

10 YEARS OF PVKII GIVEAWAY
Finally, what would a celebration be without a gift! Register your account, or log in and post in the forum thread a favorite, memorable, and timeless tale from the 10 years PVKII has been around. One lucky winner will be selected on January 15th, 2017. Contest closes on Jan 15th 12 12:01 PM EST GMT-5.
Prize is $50 in Steambucks awarded to your steam account!
Rules:
- 500 word maximum. 100 word minimum.
- Giveaway contest is open to PVKII Beta Testers, Authorized Creators, Contributors, and all members of the PVKII Community. PVKII Developers are contest judges and will vote for the winner.
- Tell us when you started playing.
- Memory must be from your playing days in the PVKII community. Can be from the first day you installed PVKII until today!
- Story must not be offensive, disrespectful or rude. No trolling. Any of that kind will be break the rules of the contest.
- You must post your entry in our website forums, any contest entries here on moddb, steam, or anywhere else will not count!
- Only 1 entry per person. No duplicate or phony PVKII forum or Steam accounts.
- Any video or photos to add to the story would be a plus! If the video or photo is not yours, please provide credit to the author.
- Must elicit some positive emotion in the judges (i.e. made us laugh, made us cry, etc.)
-Reminder you must be a member of the forum to post in the thread. You must respond to a personal message sent through the forums that states you have won, with in 10 business days. If you do not respond accepting your prize we will select another user.
So time to light your pipe, sit in your rocking chair next to the fire, and tell us your favorite PVKII memory in detail.
Happy Birthday PVKII!
PVKII Team
Octoshark Studios