Happy Halloween everyone! It's been a while since we've been in contact with information about Dead Man's Trail (DMT), but we're rising from the dead to show off the results of our hard work these past few months. We've been working hard on implementing DMT's Oregon Trail-like travel mode and are excited to finally be able to talk more about it. We've also taken into account the great feedback we've gotten from those of you who played the game at Baltimore Artscape and Video Gamers United in DC and we hope you'll be as excited as we are about some of these new features:
Weapons, weapons, and more weapons: So far, our DMT screenshots, videos, and demos have featured a modest smattering of our weapon inventory (typically about 2 or 3.) As of this writing, we have 11 unique weapons in the game – 6 guns and 5 melee weapons. Each has their own strengths and weaknesses in their firing speed, range, power, and other factors that you will have to weigh when choosing what to bring into fights.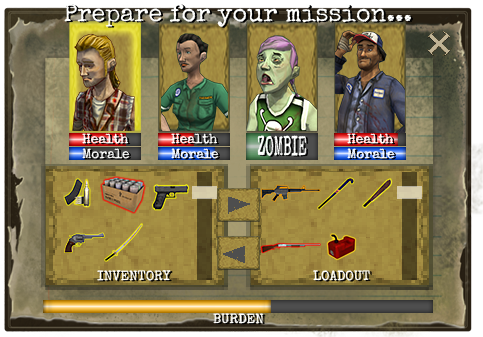 Graphics subject to change
Inventory loadout: Speaking of choosing your inventory, when you leave the safety of your truck to loot on foot, you can choose what to bring with you via our loadout screen. This shows you your available party members and their current conditions, as well as the items you currently have in your inventory. You can choose which character you'd like to take into looting mode (the ones that haven't been bitten) and load them up by transferring weapons from your inventory into the loadout window.
Inventory burden: "You shot 1000 lb. of meat but you can only carry 50 back!" – old-school Oregon Trail players will remember that from their childhoods as making inventory management more challenging by limiting how many resources you could gather. We've preserved this feature in DMT with the burden bar that shows up in the loadout screen and during looting mode. As the player's burden bar fills, their chosen looting character runs slower, making it harder to dodge zombies. As more zombies appear in towns, this can make looting more difficult. Players can drop items by dragging and dropping them from the inventory back into the game window as they run away. They can also tell how heavy an item is by looking at its highlight color – yellow for light, orange for medium, and red for heavy.
Inventory item types: Players must manage many resources to survive in DMT. There are 5 such resource types in DMT – food, medicine, gas, ammo, and auto parts. Each of these interact with party status in some way.
Health management: Food is consumed consistently as the player travels. The amount you feed your party as you travel controls how quickly their health deteriorates – generous portions allow their health to stay consistent while meager portions makes it deteriorate more quickly.
If player characters are low on health, their chances of getting sick increase. Units of medicine must be spent to cure illnesses (which include dysentery of course) vary based on the severity of the disease.
Vehicle health: Your vehicle loses power just like your party members do. As you travel, you burn gas at a rate dependent on your chosen speed. Likewise, parts of your vehicle – tires, the battery, the muffler, and axles - take damage when encountering damaging trail hazards (rough terrain, fording hordes, etc.) As your vehicle loses total health (the sum of the health of your car parts) you lose the ability to travel quickly and will have to loot for more parts.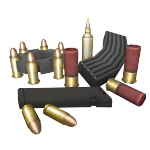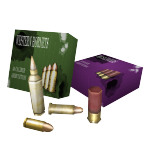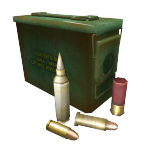 Bartering with ammo: Ammo has a special function in DMT. It is used both in firearms and to barter for supplies. Players must make the difficult choice of mowing down zombies or conserving ammo for shopping at forts.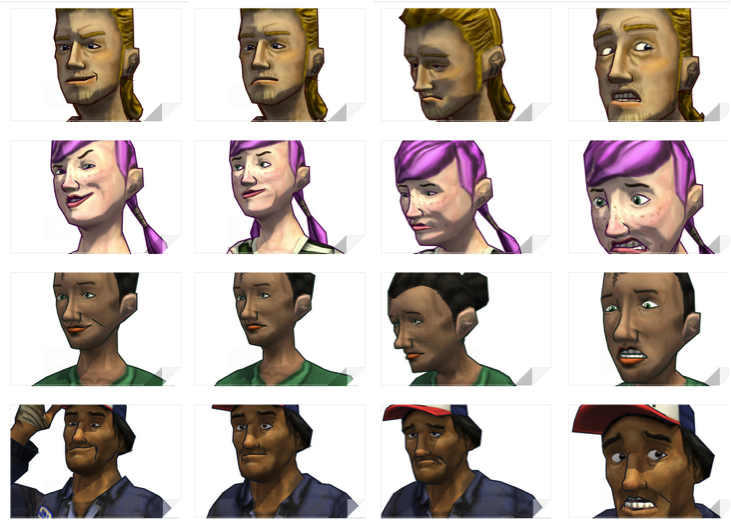 Morale: The dangers of Dead Man's Trail are stressful to party members. As travel becomes more difficult (illness, zombie attacks, running low on supplies, etc.) party member morale will suffer as well. When party members are extremely low, they will go crazy and may become dangerous hazards capable of anything from running away with supplies to hurting themselves and others.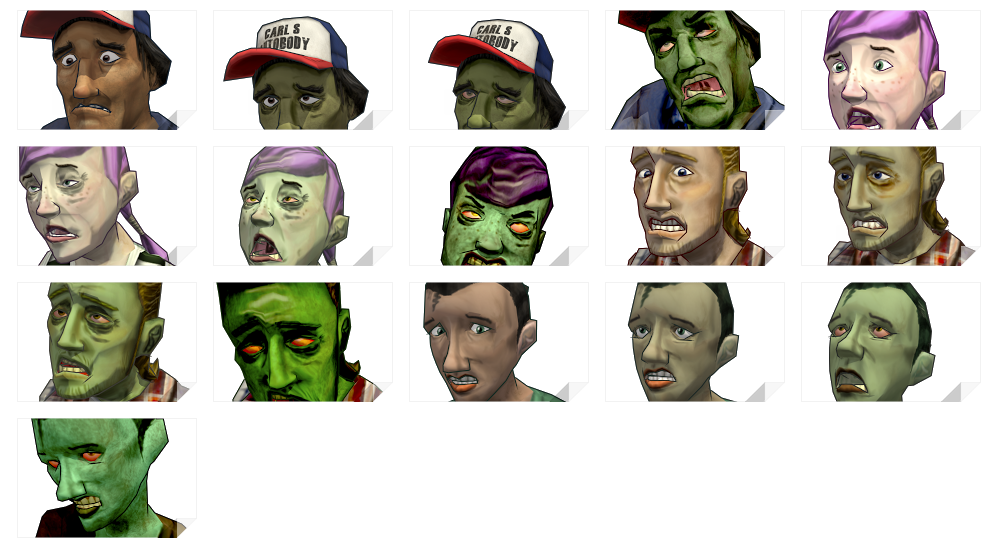 Zombie bites: Party members can be bitten in 2 ways: when the player chooses to drive their vehicle through hordes (fording the horde) or randomly when they are attacked when below 25% health in looting mode. Once bitten, they cannot be cured and will slowly become a zombie. Players cannot choose to loot with these characters anymore (if bitten during a looting mission, the player can still complete it with the current character.) Players may choose to keep these characters alive to take advantage of their unique abilities (mechanics fixing the vehicle, etc.) but risk having other party members bitten if the infection becomes too intense.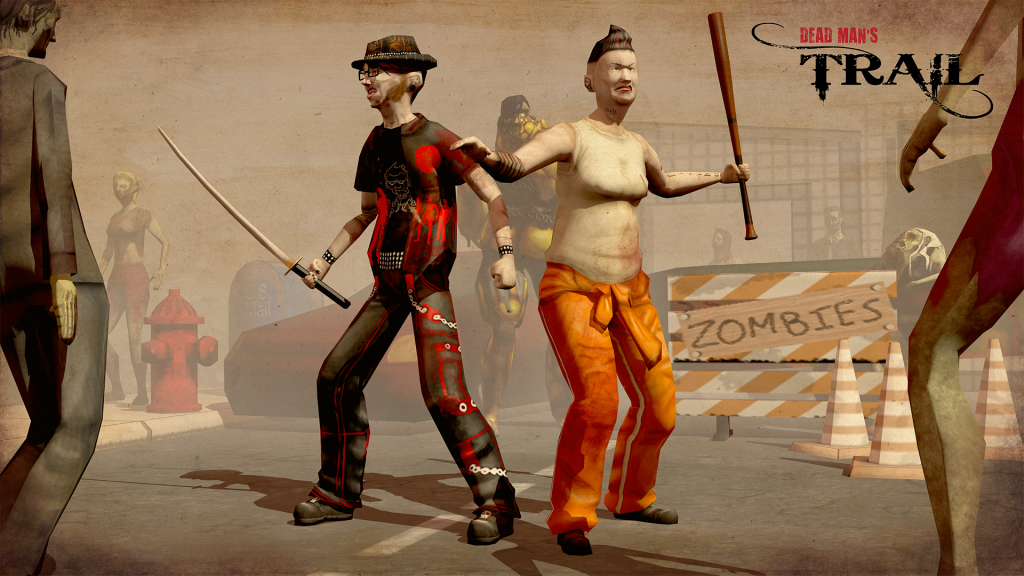 New characters: So far we've been showing off 4 characters – the Redneck, the Paramedic, the College Athlete, and the Mechanic – and showing travel mode with a party of 4. Did you really think we'd limit it players to only 4 choices? The final game will have 8 playable characters, and we're ready to show off 2 more: the Ex-Con and the Zombie Nerd.
The Ex-Con is a character hardened by years in a medium security prison. While serving time, she could get things from the outside, skills which serve her well when shopping during the zombie apocalypse as she can get special deals on items at forts.
The Zombie Nerd has been waiting for the zombies to come all of his life. His knowledge of zombie movies, tv, books, and video games have given him an edge over people who thought he was a weirdo. He can get extra time when looting, though is unskilled with weapons.