10 Mad Days of Screenshots - Day 1
The first day of our 10 Mad Days of Screenshots Special. Over the next 10 days we will be posting one cool new screenshot a day!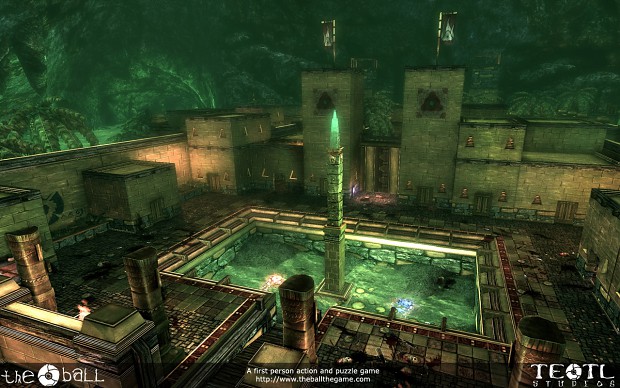 An environment shot of the revamped Teotl I City Square. The lush cities of Teotl were once the heart of this hidden world, but beware, for the beauty of this place hides horrific perils. Destroy the crystal and tremble as the city comes back to life!
---
Developer Friday
Last Friday we've also posted another dev interview on our site. This Friday's interviewee was Arthur Denardou, one of our programmers.
Who are you and what do you do on "The Ball"?

Hi, I am Arthur Denardou, I'm an engineering student from France, and also a Programmer for The Ball. I have been mainly working on the visual effects programming, the installer, and the achievements.

When and how did you join the team?

I joined the team quite recently, in March, after I heard that the project was looking for an additional programmer. I sent an apply, and after a small test, I discussed with Hourences and Markus Arvidsson, and everything went very well from that point, and I had the opportunity to get my hands dirty right away.

How did you start out with programming?

I started programming 6 years ago, with some PHP, but I only started to take things seriously 3 years ago when I started learning C/C++. I continued by studying OpenGL, and I developed a VJing application, being a VideoJockey myself. More recently, I got into UnrealScript after Epic Games had launched the UDK.

What has been the most challenging thing you have done on the game?

When it comes to programming, a small bug can be very challenging when it is overwhelmed by thousands of lines of code, but I think that, so far, the installer wins in number of headaches :)

What do you like the most about the game?

Crushing mummies!! That's really awesome, but I also appreciate taking a walk in this volcano, watching all around, it's very relaxing.