AArcade has been available on Steam Early Access for a little over 2 months now and during this period there has been LOTS of improvements, tweaks, and brand-new features added to Anarchy Arcade. I've been working non-stop on adding all sorts of awesome stuff for us all to enjoy!
Even compared to AArcade's achievements over its 4 long years of development, the features I've added since coming to Steam, coupled with an awesome user community, are truly bringing the entire concept together. That's why the first item for me to tell you about today is Anarchy Arcade's new Kickstarter campaign!
Here's the facts:
I love working on Anarchy Arcade all day every day, and not only for my own enjoyment, but for everybody else who has a blast using their PC as a personalized 3D world. The thing is that I can't make any money off of AArcade because I couldn't afford a license, which basically means I'm broke as hell. Financially, I can't continue putting all my time into AArcade, but that's okay, because the big Steam release is only 1 more month away!
While I am busting my ass to meet the Christmas 2014 release date, looking back at the progress made during Steam Early Access makes it clear that AArcade has been getting exponentially better every month that it stays in development.
That is exactly what this new Kickstarter is about. It is an attempt to raise $1,000 to cover my minimum expenses for an additional month of development!If it succeeds, AArcade will stay in Early Access until the end of January, or maybe even February if the stretch goal is reached.
Either way, AArcade is right around the corner from its big Steam release.
So lets take a look back at the improvements that have come in the past 2 months, what you can expect in December, and then you can decide if AArcade remaining in development for longer is something you would like to make happen!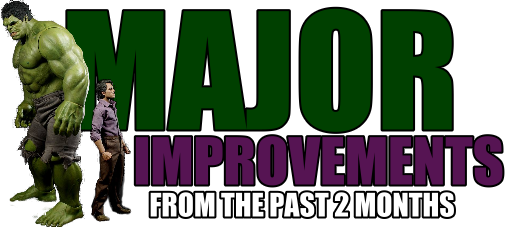 It has over 250,000 Early Access installs and it won't even hit Steam's front page until its full release!
AArcade caught some attention from the emulator scene as well as the VR scene.

Oculus Rift DK2 support was added, along with other VR features thanks to Valve's engine update.

A new artist, Bucky, joined the cause and created a new arcade map for us.

Another new artist, Black_Stormy, also joined the cause and created a couple new models for us.

Max number of players per server was doubled.

Twitch.tv integration to provide LIVE over-the-shoulder spectating in-game as you play games.

Icons now float above players' heads in MP servers so you know what everybody is doing.

MP server operators now have better control over the visitors to their arcades.

For modders, the AArcade map editor is now included, auto-configured, and comes with a read-to-play template & tutorial video to get you started.

AArcade became the 1st 3D desktop to have a Steam Workshop.

AArcade became one of the few games to allow for Workshop files greater than 100MB, and will soon break the 200MB max VPK file size barrier as well.

AArcade got a completely embedded publishing tool so you can package and upload your addons to the Workshop without even leaving your arcade.

Using addon content from the Workshop became so automatic that you just click the plus button next to what you want and you can spawn it in your arcades within seconds.

Game assets like 3D models, textures, and entire 3D worlds became shareable on the Steam Workshop.

AArcade became the 1st program to allow you to share real-life media items with friends on the Steam Workshop because you share the media item itself, not your copy of it.

It became possible for users to share their entire 3D desktop environments to the Steam Workshop for everyone to enjoy.

Implemented the libretro framework to allow for homebrew apps such as emulators & video players that show your content directly on the interactive in-game screens.
Now, all of that was done just within the last couple months! AArcade has been in development for years and has many more amazing featured packed in, so if you haven't dug deep into AArcade yet, now's the time!
Even though the Kickstarter has launched to extend development, that doesn't mean that it's not crunch time for me anymore. Until I know otherhwise, I'm getting everything in order for a Christmas 2014 release. Next week I'll be working on implementing the features listed below into AArcade.
(These features are in past-tense, but I have not started coding them yet. That is how badly I need to make them happen.)

The mouse cursor now turns into a hand when hovering over clickable items in the UI.

Added a prompt when packing a map that asks "Scan & Pack Map Assets or Pack BSP & RES Only".

Added a Dependencies section to the Packing Manager. It lists any additional workshop items people will automatically download when installing your item.

Added a prompt when packing an arcade save that asks "Pack Required Workshop Content or Reference Required Workshop Content".

Added a Publishing Help page.

Added a HELP button to the Packing Manager that takes you to the Publishing Help page.

Added an "Update Thumbnail & Details Only" checkbox to the Packing Manager. It is only visible if you have an existing workshop item loaded.

Fixed an issue that caused screenshots for the Packing Manager to show up as a loading graphic.
So, there's a little glimpse into the future. If the Kickstarter succeeds, there will be plenty more updates & changelogs like this to come. So check out the Kickstarter, check out Anarchy Arcade, and have a blast!
I won't have time to promote the Kickstarter very much because I will be spending most of my time working on AArcade itself, so any help spreading the word is greatly appreciated!