This was a really crazy week, but I still managed to work on Earth Defenders a lot and make substantial progress. I have made lots of things I had on the to-do list and also fixed some issues I was carring back from before!
The most important progress Ive made is the story mode, this was holding me back from some time now, but I managed to fight my fears and start coding the whole thing; I managed to write the textbox engine, the events engine (wich links the textbox with the actions that happen on the story) and the story mode selection screen wich you can see below.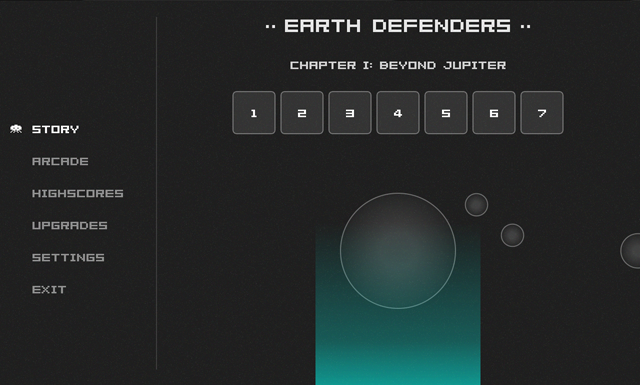 It turned out quite smooth! on the screen you can see the planet you are now on, and the story advances thowards Earth, each planet being one chapter with a total of four chapters to complete the story.
Next on the list I will have to add the remaining parts of the story mode, complete the first chapter, save state for story, and eventually before starting with chapter II, add the tecnologies tree for the story mode.
Another important thing that happened (and took me extremely by surprise) was the video getting featured in a couple review blogs, I was AMAZED to see the reaction of so many people just by watching a gamepay video, reicieved feedback all over the place and made some quirks based on that, one of them included the suggestion to add recoil damage from your own bullets, wich was a mechanic included in the original minigame, so now all bullets that come back to earth hit you with one (1) point. I inmediately noticed the game get a lot tougher and entertaining by doing this slisght change!
So, thanks to everyone who posted their opinions and gave so much helpful feedback! you guys are awesome! :D