After a break of 1 month (august 2010), I finally re-started the development of the mod and I will sooner finish the final version of Alien Wave 0.5 !
The final version 0.5 will be, first, based on Source SDK 2007 (Orange Box) so the graphics will be improved. It will also have many source code modifications. For example, I had added an head bob (the view "punch" when you walk or run), the impossibility of shooting while sprinting/jumping/climbing... New weapons will be available such as the Striker, an accurate and automatic shotgun which can contain 10 buckshots, or the AR45, the standard assault rifle of the UHN which include a scope and who shoots deadly raffles.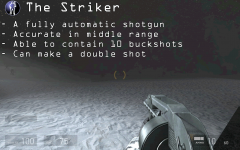 About the maps, they will be perfected and camera sequences will be added to help and to show the player the way how to finish the game.
About the aliens ! I have finally a great alien model which must be adapted for the Source Engine. It is not a port from a game and you probably never saw it before ! It's only need a skeleton to work correctly.
So I guess it is all, don't forget to check the new screens I had added !
P.S. About the striker your see in the screenshot above, I have coded it and I added new sounds but it was made by :
W1LLDAB3AST (Model)
DeadPixel (UVmaps)
Cigano (Textures )
Ultimate Bastard (Compile, Animation)

- Bioko