ZHR Verison 4 is finaly out!!! You can expect to see a link to download it on this site soon. The mod stands at about 78.5 MB (82,345,984 bytes) in a zip. The zip includes an installer and a readme file.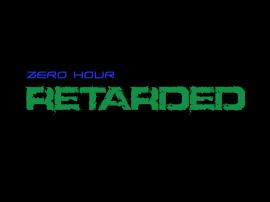 ==================================================
Version 4.0 Changes:
Added some easter eggs in the game. Check the cutscenes and look at the landscape :)
Added Ninjas-
Trainable at all GLa and China barracks'. Instant kills infantry. Stealth whilest killing and moving. Can plant timed demo charges (Unstealths). If you're china then you can upgrade the ninja with enlightenment at the propaganda center. An enlightened ninja can walk on water, run very fast and travel through solid objects. "*Silence*"
Added Flame Thrower Infantry-
Trainable at all china barracks'. Sets stuff on fire. Does what you think they do. "I put fire on things."
Ultimate Showdown Mode (replaces the USA campaign[nvr got it to work...])-
Play a mission which sends you to the Philippines where you face.... ...wait for it... THE GUNRUN!!!!!!!!!!!! In this mission you are able to use Agent Smith and fight with Sentinals! Just like back in the good old days with my old mods! And also you start off with all the generals and all the main faction command centers. But your promotion tree is of the USA. "This is the ultimate showdown of the ultimate destiny..."
Made certain changes to the gla which helps balence the game a little more. Made units build faster and such...
Added Navy Seals-
USa only and very much like the good old RA2 Navy Seals. "A little c4 knocking at your door"
Gave GLA a Night Club theme to help balence the game. "What is love, baby don't hurt me..."
Oh yeah all of the main factions "United States of America" "GLA" "Neo-Imperical China" all start off with all the generals' units.
Emergency Vehical Repair now works on aircraft, infantry, vehicles, and structures now and at 3 times the normal range. 30 Reload too.
GPS scrambler now works on structures and is 3 times the normal range too.
All fake GLA structures construct instantly.
Fixed all the bugs from V3. (I think :)
Generals' Challenge now works like a charm. No more nuke general genocide anymore :D
Added crap loads of music.
Now when the gunther tank dies a overlord tank rises up from the scrap metal.
All troopcrawlers can now use guard button.
==================================================
Note:
There are lots more changes to the game but it is imposible to list them all. This read me is the best I could do to recall them all. STILL REMAINS TRUE IN VERSION 4!