As you can probably see, I've been working on some more UNSC ships, specifically destroyers. having re textured my heavy frigate with the stripes like the frigate in halo reach, it got me thinking and i realized that i quite liked the stripes, so i experimented with them on other classes and came up with a plan. different stripe patterns to provide visual identification of different ship classes, so frigates have blocks of one stripe, destroyers have blocks of double stripes, corvettes have two single stripes and so on and so forth. I'm not 100% sure of this yet and may add it as a colour variation to all ships but it was just another idea.
In other news, I've been working on my first non-canon ship, a unsc destroyer variation. now im sure many of you have looked round the gallery and thought that many of those ships were made up, well infact all of the ships so far are canon, and exist in the halo universe. i have simply given those ships that we hear about and havnt seen, a visual model of what i and other people think what they might look like. this is done by primaraly trawling through the books and halopedia. and some are even based on bungie art work that didnt make it in-game. any way weather this ship makes it in game or not will depend on how much i want to deviate from canon, it just seemed a shame not to use it because the unsc needs more ship varients and also it looks sweet.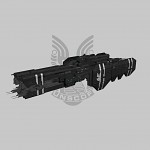 That's all for now more ships, pictures and more coming soon, till next time amigo's.