DEVUPDATE #5
Today, by courtesy of our talented modeler Misanthrope, we'll be able to show to you the family of M41-based vehicles. Brief, but, I firmly believe you'll like it!
Starting off from the start, we have the M41 Walker Bulldog. Designed during the time of Korean war, to fix the deficiencies of the venerable M24 Chaffee. It featured a vastly improved main gun, now of a 76 mm caliber, and a wide range of other improvements, like a super-powerful engine, allowing it to catch a good speed. It was, however, pretty cramped for US standards, but nevertheless, much loved in the hands of Japanese, Korean, Taiwanese, and South Vietnamese crews. US brought it back into use during the Vietnam War, because its light weight offered much more mobility compared to the M48 Patton.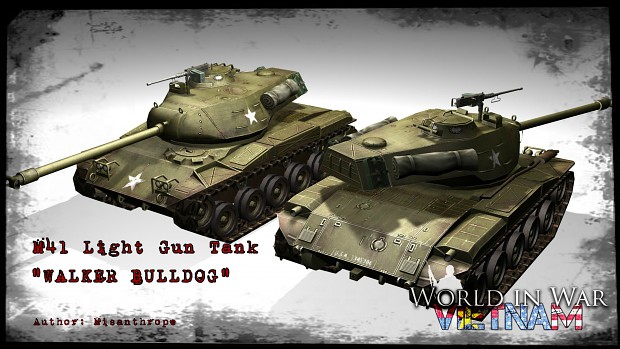 Second, we come to an even more interesting modification - M42 Duster! Stemming from a late-for-WW2 modification of Chaffee, the M19 Duster, this vehicle utilized dual 40 mm Bofors guns as its main weapon. Its role becomes quite obvious, given the very specific way of warfare in the jungles of Vietnam. Its AA performance was never considered adequate, but nobody cared. Heck, you can cut trees down with 40 mm rounds, how cool is that!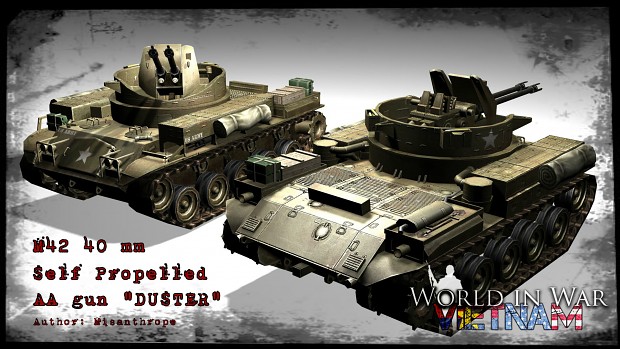 That's that for today. Enjoy, folks. :)
For the World in War team
~HrcAk47