The original bandits did not feature any kind of console and not really any kind of developer tools at all.
I have tried to fill that void with the modding manual and the next step is a real in game console.
Wolfys mod have featured a small console before, but it was very limited and wasn't very good to work with. That is why a new console has been created giving the player and developer even more control over bandits.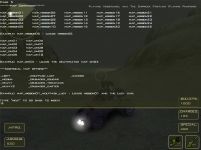 The console also feature a help like manual, kind of like the "man" pages in linux but much more basic.
One of those "man" pages can be seen in the console on the image above.
Another feature is a developer info box that can be set to show different developer information even when the console is not activated. You can see this in the picture below to the left.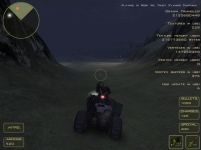 Note that this is just example, more info will eventually be added later.
Other console features include, changing map, changing to a map with a specific vehicle, some spawning capabilities, hud options, quit, restart, pause and some console specific commands.
Because of my work with the console you can now start all deathmatch maps and mission23 and mission24 from the level selector in the main menu. I also took the liberty of fixing mission10, as far as I know it has never worked before on Wolfys mod, so it was about time i got it to work! ;)
****
This could also be the time to mention that since I don't have the source code of Bandits, there is currently some limitations to my modding, that includes:
*No option to add new 3d models (I have no way to create *.DIESEL files)
*No spawning on new maps (I can't create a new *.WP file that contains all spawn points)
*No godmode or infinite ammo. (The numbers are only sent to the HUD, and can't be manipulated outside the souce code.
The list of things I can't do is probably longer, but these three things is the things that bugs me the most.
I have mailed Grin many times and have tried to make them help me out. Grin replies that they are currently too busy. They have also said that they might have time to help when their game Wanted is done and I will keep my fingers crossed!
I love Bandits and I hope that I can continue to work on it with more official support from Grin.