Not much to report this time, but I have added the Tomahawk missile launcher with a top mounted machinegun. (Thanks to Jakewedding).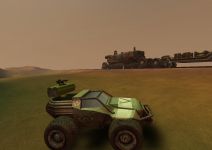 I have also added two more console commands
"restart" and "quit". Its not much but non the less interesting.
I'm gonna try to do more work on the modding manual and try to add more console commands, the thought behind this is to make it easier for people to change Wolfys Mod and use it as a platform for their own mods.
Ive also been contacted by the Moddb crew and will be featured in the next Mod Spotlight.
It will be fun! :)