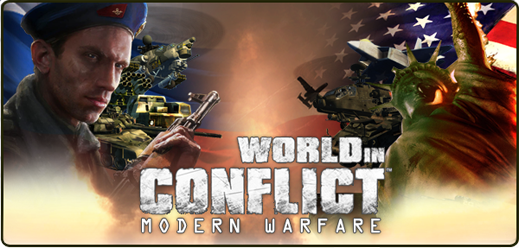 Modern Warfare Mod 2.5 Update is here!
Version 2.5 of the mod has been released today, bringing a range of additions to the mod using the FLINT engine.
Each side has been given a fighter aircraft for combat air patrol, and a ground-attack aircraft for close air support. The US aircraft are the F-22A Raptor and A-10C Thunderbolt II, and the RU Aircraft are the Su-27SM Flanker B and the Su-25SM Frogfoot.
The fighter aircraft will fire air-to-air missiles to engage enemy jets and helicopters, while the ground attack aircraft will engage ground targets with air to ground missiles.
In addition to these additions, lots of bugs have been fixed in the FLINT engine and other parts of the mod, and various balancing changes have occured such as making the T-90A fire APFSDS rounds automatically.

NOTE: This mod requires your World in Conflict to be patched to version 1.0.1.1. or it will not work. To patch your game, simply start the game, sign into multiplayer, and it will detect that your game needs patched and update your game.
Use these links to download the mod. Regardless of what version of the mod you have you will need to download both the mod and the map pack.
Mod
Choose which type of install you would like to do. Please note that the installer is only compatible with Windows Vista and Windows 7, not Windows XP.
Maps

The maps installer has now been improved to be able to install the maps for all versions of World in Conflict, without you having to choose.
System Requirements
Due to the increasing complexity in the simulation of missiles, aircraft, artillery, and more- Modern Warfare Mod 2 requires a higher-end system than specified on the original World in Conflict system requirements.
At minimum, your system (including video card) must maintain 35 frames per second or higher. Below 35 fps, numerous homing projectiles may miss their targets or fail to perform altogether. Try lowering your graphics settings if you cannot achieve enough frame rate.
World in Conflict and MW Mod both support multi-threading. It's recommended for your system to have quad-core or better CPU, at minimum of a dual-core processor.

Firstly, here are some lists that may be useful:
New Features and Improvements
- Fixed a bug where RU Mi-24 Hind friendly-fired on infantry units garrisoned in buildings.
- US AI armor players now escort their tanks with Avenger SAM.
- Radar Warning Receiver (RWR) on attack helicopters will now detect fighter aircraft radars.
- New model for R-73M air-to-air missile.
- Improved texture for AIM-9X air-to-air missile.
- Optimized performance on Heavy SAM units.
- Added Forward Air Controller (FAC) vehicle to RU Faction.
- US Joint Terminal Attack Controller (JTAC) and RU FAC units will now direct Airstrikes from any available aircraft when offensive ability is used.
- Forward Area Rearm/Refuel Point (FARP) units will now spawn Aircraft.
- Aircraft units will loiter in holding "stack pattern" in the spawn zone, waiting for Airstrike request from JTAC/FAC.
- F-22/A for US Combat Air Patrol aircraft, Su-27SM for RU Combat Air Patrol.
- A-10C for US Close Air Support aircraft, Su-25SM for RU Close Air Support.
- MQ-1 Predator for US Recon aircraft, Tu-142 missile bomber for RU Recon.
- (FLINT) Linear extrapolation (Lerp) support added to compensate for network latency during online gameplay.
- (FLINT) Missile's rotation vector is now updated only when a steering command is given by the guidance computer.
- (FLINT) Engine Version 1.5. Drag and gravity effects are now better simulated.
- (FLINT) Fixed a bug where missiles gained phantom acceleration and deceleration based on steering/guidance commands produced by proportional navigation.
- (FLINT) AGM-114L (MMW active radar) range to use Lock On Before Launch (LOBL) is extended to 320wm (from 250wm), to maintain consistency with AGM-114K SALH variant.
- (FLINT) Updated auto-pilot computation logic of AGM-114L when flying in LOBL mode, to be consistent with real-life behavior. Missile will now pitch up to 16% even when flying in LOBL to clear obstacles.
- (FLINT) Updated Inertial Measurement Unit (IMU) for AGM-114L. IMU will now force the missile's rotation vector to align to where the seeker was last looking at, when a target lock is broken.
- (FLINT) Increased specific impulse of following missiles: R-73M/RVV-MD, AIM-9X, AGM-11K, AGM-114L, 9M120. Maximum speed remains unchanged.
- (FLINT) 9M330 Tor is now affected by closure rates when intercepting incoming precision guided missile (PGM). For example, if a Hellfire missile was fired in close proximity to the Tor, the interception probability is decreased due to high closure rate produced by the accelerating Hellfire missile. If Hellfire was fired at its maximum range, interception probability is near 100%.
- (FLINT) AIM-120C AMRAAM for US Combat Air Patrol fixed-wing aviation unit. Mid-course data-link and TWS are supported from multiple F-22 units. Uses Active Radar Seeker for terminal guidance.
- (FLINT) R-27ER (AA-10 Alamo) for RU Combat Air Patrol fixed-wing aviation unit. Mid-course data-link and single-target-track (STT) are supported from Su-27. Uses Semi-Active Radar Homing for terminal guidance.
- (FLINT) AGM-65D Maverick for US Close Air Support fixed-wing aviation unit. Fire & forget Lock On Before Launch (LOBL) with electro-optical (EO) seeker.
- (FLINT) Missiles with Active Radar Homing (ARH) seekers will no longer lock onto targets that cannot be seen within gimbal limits of the missile seeker. (AIM-120C and AGM-114L MMW)
- (FLINT) Missiles with ARH seeker can now lock onto low-flying air targets as low as 5wm. (i.e. AIM-120C)
- (FLINT) Missiles with Semi-Active Radar Homing (SARH) and Command Guidance are vulnerable from low altitudes below 20wm.
- (FLINT) 9A4172 Vikhr for RU Close Air Support fixed-wing aviation unit. Laser beam-riding anti-tank missile flying in excess of Mach 2.
- (FLINT) AIM-9X Sidewinder is now upgraded to proper Block II configuration. Missile supports LOAL for close-range use to provide 360 degrees full-sphere no-escape-zone.
- (FLINT) FIM-92 Stinger and 9M333 Strela missiles' flight physics remodelled to improve realism.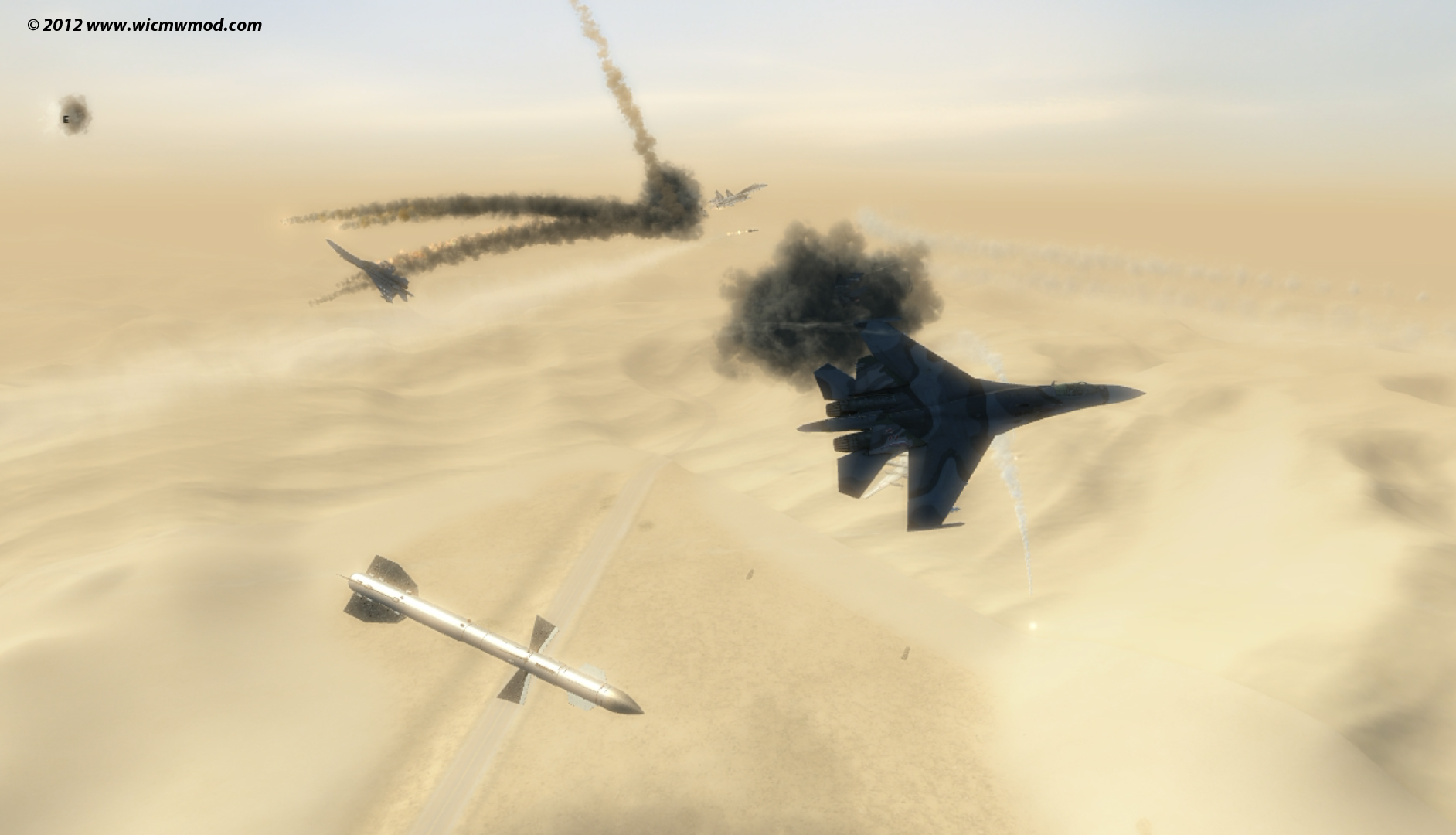 Balancing and Unit Changes
- Increased cost of US Airdropped Main Battle Tank.
- Removed hard-kill Active Protection System (APS) from following vehicles: Styker TOW, Tactical aid airdropped Abrams tank
- Increased vision range of RU Medium Tank (T-80U).
- Increased armor penetration of 9M120 Ataka missile (~900mm RHAe).
- Increased initial launching pitch angle of 9M119M Refleks and 9M120 Ataka missiles slightly, to help clear obstacles.
- RU T-90 Main Battle Tank will now auto-fire 3BM46 APFSDS by default (16 rounds before reload).
- Removed 3BK29 HEAT-FS rounds from RU T-90 MBT.
- RU T-90 Main Battle Tank now has 9M119M Refleks missile system as Offensive Special Ability.
- Removed AH-6 Littlebird Light Transport helicopter from US faction. Use Blackhawk transport helicopter instead.
- Heavy SAM missile launcher reload time increased to 180 seconds (from 120).
- Added Machine Gunner to Airborne Infantry squad.
- Joint Terminal Attack Controller (JTAC) is no longer a squad.
- Reduced price of JTAC units.
- Forward Area Rearm/Refuel Point (FARP) units now automatically spawn fixed-wing aircraft in the game world. Fixed-wing aviation will circle around the spawn zone in a holding pattern known as "stack." Aircraft can be stacked and de-stacked into combat zones by using offensive special ability from JTAC infantry (US) or Forward Air Controller (RU).
- Support AI bots will also direct and assign strike missions to circling fixed-wing aviation units.
- Reduced price of both Airborne Infantry and JTAC units from Tactical Aid menu.
- Removed airborne early warning helicopter units.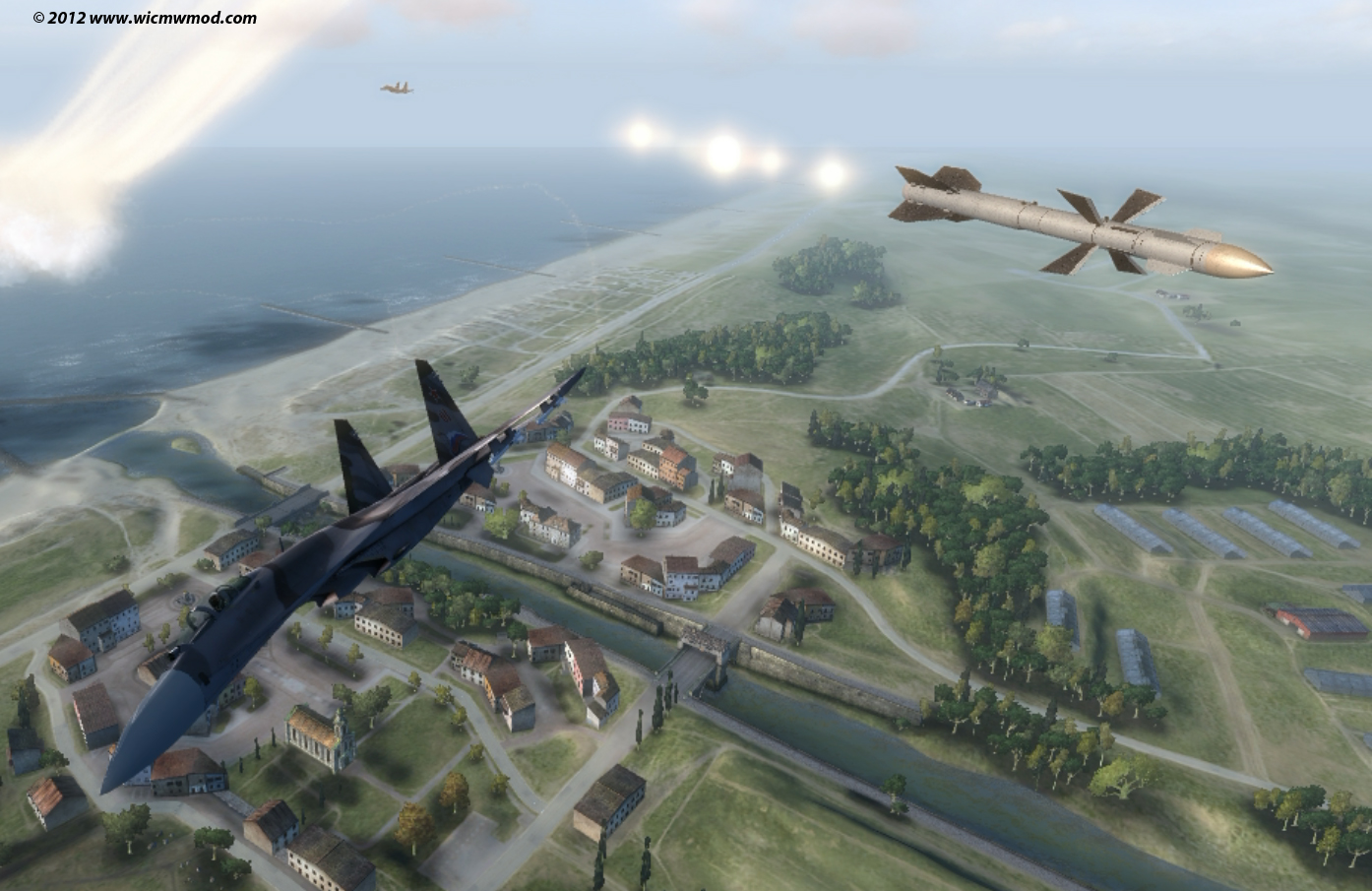 At this time we really MUST stress the need for donations.
WiC MW Mod Team is not employed by any gaming studios or companies to create this mod for you. We make non-commercial, for-entertainment/educational military-themed game content.We sustain ourselves through community donations by those who are gracious enough to help us, even if it is only few dollars.If you liked our mod, please consider helping us by donating a few dollars.
This will help us to get into positive balance and therefore be able to buy new models, which means new in game units.
All donations are appreciated highly, and you will be featured in the mod credits as a donor.