Hi all;
First of all, thank you for all of your support! White Night has made it to top 100 list in the MOTY 2011 contest. It's the only Amnesia mod that made into this list. I hope those supports continue and White Night will make into the top 10 list. So, if you liked White Night and want to see it in top 10, you can vote for White Night.
UPDATE: v1.1
There were some bugs in the first release. Finally I took the time and fixed them as much I as I can do. Update is live at the downloads section; and Desura update will be live in a short time too. Here's a small changelog:
Various fixes, like flipping decals, are fixed.
Some of the dark places are now not so dark anymore.
Some of the puzzles are simplified.
Some grammar mistakes in English language are fixed.
First translation pack is now built-in: Turkish, Czech, German. You don't need to install them separately.
Added some batteries to more open places for those who couldn't find batteries in hospital level.
No other new content is added! If you already finished White Night, you don't need to play it again for the updated version.
White Night Related News
White Night is on OyunGezer's November Issue
OyunGezer (we can roughly translate it as Game Wanderer) magazine reserved a half page article about White Night. Actually that wasn't something I was expecting, especially considering White Night has not been widely known in Turkey.
What they said about White Night is simply like GameFront said: "It's a whole new game".
They also included installation package of White Night in their DVD promo.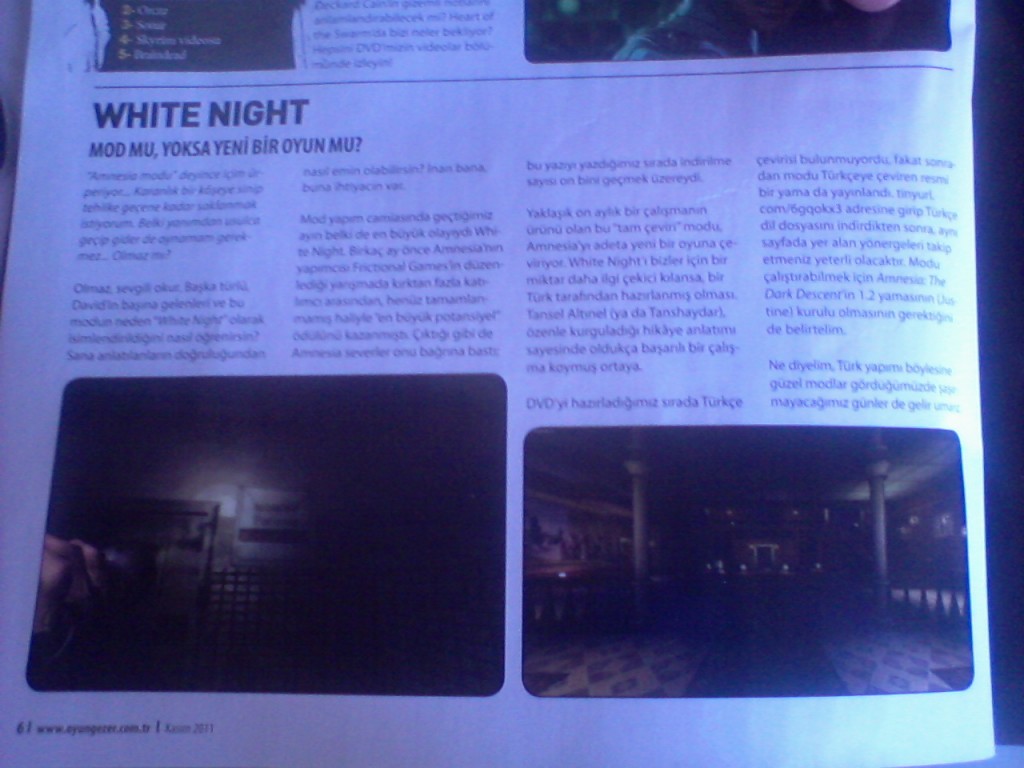 Postmortems
I started to work here in a company as a part-time system specialist. So I can't find much free time to write or work on my personal projects. But I'm still continuing to write postmortems. If you wonder about White Night, check them out.
Technical Problems with White Night
I still don't know what causes black lines on some nVidia cards. As far as I know, it started with a beta driver, which was for Battlefield 3. Please let me know if latter drivers still have the same issue.
Also, I encountered some people who has this problem:
/maps/white_night/08_entrance.hps'! main(309, 2): ERR : No matching signatures to 'MovePlayerForward(const uint)'
If you are encountering this problem, then it means either you didn't update your game, or it didn't updated correctly. Chances are your game is a pirated version, and won't work. None of the people who purchased the game from Steam, Desura or Frictional Store reported this problem.
Translations?
There are still some other translations in the work: Russian, Spanish, Italian, Portuguese and Greek. When they are completed, I'll add them as a separate downloads as I won't be working on White Night again unless something extreme happens. Yeah, this is the end of the line. No DC.
Though, I still accept new translations and it is easy to add them.
Next Project?
Yeah, I'm working on a new project now. It won't be for Amnesia again though. If you listened to interview, I already stated that I won't be working on HPL2 for my own projects.
I'll have a ModDB page for my new project, but I don't know when that'll happen since works are going rather slowly. Though, you can expect a teaser for it.
Thanks for all of your supports so far! Without your support, White Night would never has been so popular, so good and so known around the net.
Thank you!
Regards, Tansel.
- Sole developer of White Night.