The people of Rohan can be traced back to the northmen that lived in Rhovanion during the third age. During the latter part of the third age a Balchoth invasion almost destroyed Gondor's armies. The northmen known as the Éothéod saved Gondor from the invasion. Gondor in return granted the land of Calenardhon to the horse lords. From then on they became the Rohirrim and flourished and fought many wars.
Home City: Edoras
Leader: King Théoden
Race: Men
Style: Rush/Boom
Unique units: Mounted Axeman, Spear Thrower, Royal Guard
Bonuses:
Can build the Stable an age earlier.
Units have less initial hitpoints but are cheaper to train.
Starts with a Farm Wagon and receives one with each age up.
Has the Mounted Scout instead of Scout.
The Lancer and Royal Guard are better for them.
In the game Rohan is portrayed as a cavalry powerhouse, having a cavalry unit able to counter almost any unit. Their bonus of cheaper units allow them to amass powerful cavalry forces that would be too expensive otherwise. Being able to build stables in the starting age allows them to punch a powerful rush.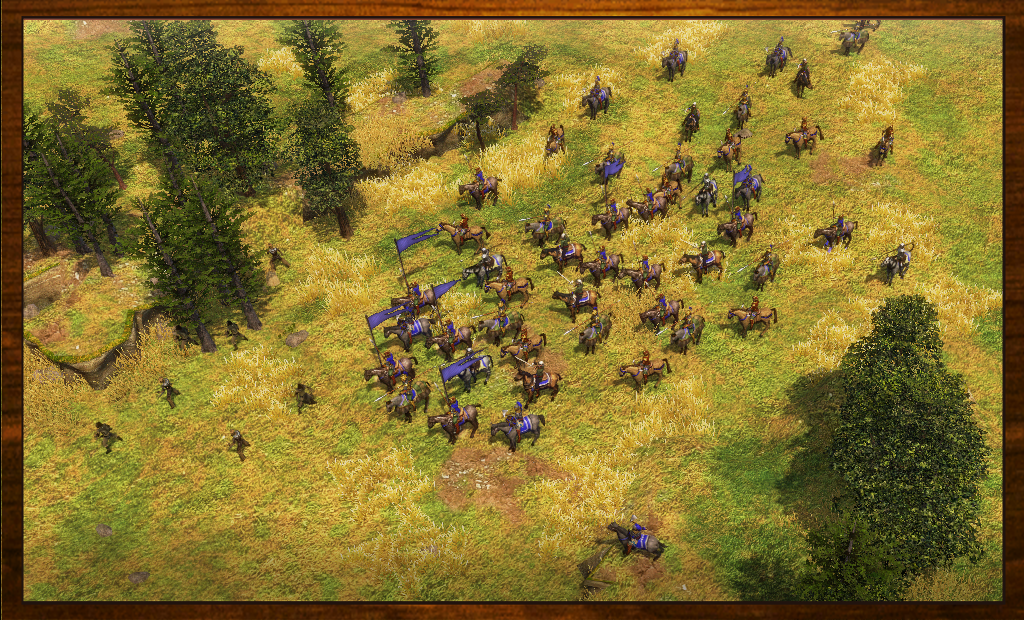 Rohan also has strong economy. They excel at gathering food since they start Farm Wagon and receives one with each age up. Even though they will be able to gather great amounts of food, training cavalry uses a lot.
As stated before Rohan has many cavalry options availiable to them, but they still have some infantry when cavalry is too expensive or bad to use. They lack large artillery (Catapult) but make up for it in siege units. From left to right,
Stable: Horseman, Mounted Axeman, Spear Thrower, Mounted Bowman, Lancer, and Royal Guard.
Barracks: Axeman, Spearman, and Bowman.
Siege Workshop: Pillager, Monted Raider, and Battering Ram.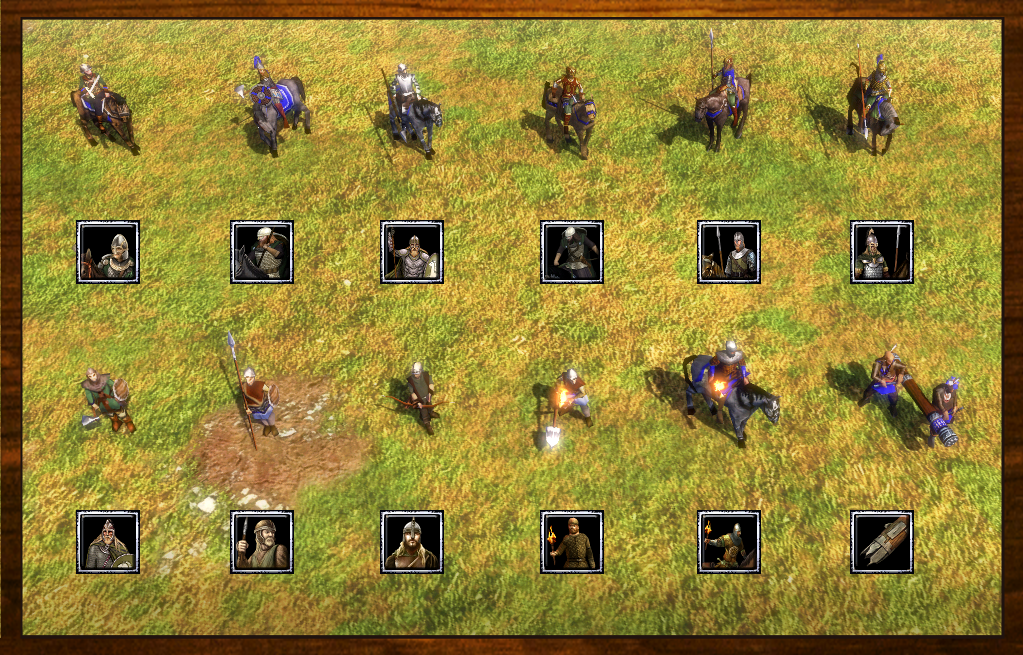 Thanks again to Lesketin for the unit textures.
Their unique units as stated before:
The Mounted Axeman is heavily armored and good against heavy infantry, buildings, and other heavy cavalry.
The Spear Thrower is cavalry meant to bring down light cavalry (Mounted Bowman...etc) they do so by throwing lances at them! (Yes it looks cool to see cavalry do that ingame) They also have a strong hand damage compared to other ranged cavalry.
Royal Guards were elite hand picked horse lords that protected the king of Rohan. In the game they are expensive heavy cavalry designed to bring down armies of heavy infantry and also fare well against heroes.
Here is a recent updated game play of Rohan on the map "Plains of Rohan". It shows all the new things I have been working on.
Overall Rohan is an easy realm to play as. If you don't mess up your economy you can probably win. Rohan has a poor navy meaning that they fare better on land maps. Remember to keep building houses to have enough population for your horses. Rohan will be one of the realms (a.k.a civilization) available on the first release of this mod (which is not soon, just sooner than before).