It's first mission changed in new style I would like to provide to all missions in game. Smolensk skirmish was very hard on heroic level of difficulty and in some situations even it was a defence skirmish when your only way to survive was to defend your base. Also there were a lot of unrealistic units added to this mission which took place in 1943. The aim was to make this mission a little bit easier on heroic and more realistic.
All changes in current version:
+11 soldiers at start - one PTRS, one mg, one medic and mp's and mosins for rest
+2 ZiS-3 without crews (depending on tests, I will probably remove one)
mg changed to Maxim +2 soldiers
ZiS-3 changed to ZiS-2 + 2 soldiers
Sniper changed to recon squad - 1 sniper, and 2 sturmoviks
PTRS infantry with more soldiers - 2 PTRS and 4 support soldiers
Ammo Truck with additional miners truck (I'm working to make it as separate units)
completely reworked tanks reinforcements - T-70 instead of BA-11, KV-85 instead of T-34/85, Sherman M4A3 instead of T-60, SU-85 instead of SU-100, SU-122 instead of IS-2 and BM-8-24 instead of Katyusha
enemy reinforcements reworked: Branderburg instead of paratroopers, PzKpfw III Ausf J without shields instead of PzKpfw II and some other changes, Tiger instead of King Tiger
a little more points at the beginning depending on difficulty level - up to 1000 points on easy
a little longer timer for Panthera reinforcements
some small map corrections
different prices for all units - they are much cheaper but all in all the best gun you can have is just 85 mm in KV-85
new russian tankman texture
new M4A3 texture
new Dodge texture
small SU-85 texture change
new main menu background
increased speed of T-34, Sherman, KV-85, SU-85 and 122, Dodge and M3 Halftruck to realistic one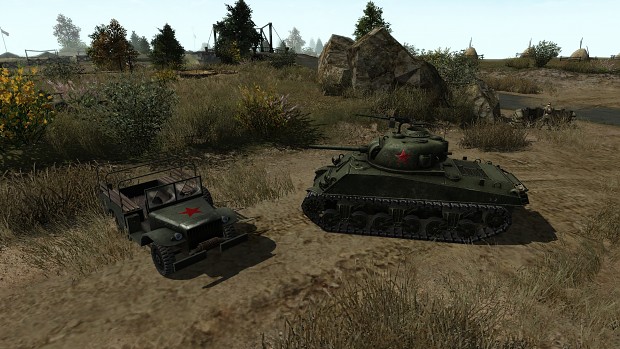 At the moment I'm testing map to check everything and to make it balanced on other difficulty settings - as I think it's too easy right now. After that I will realise map for more public tests before I go for another one.