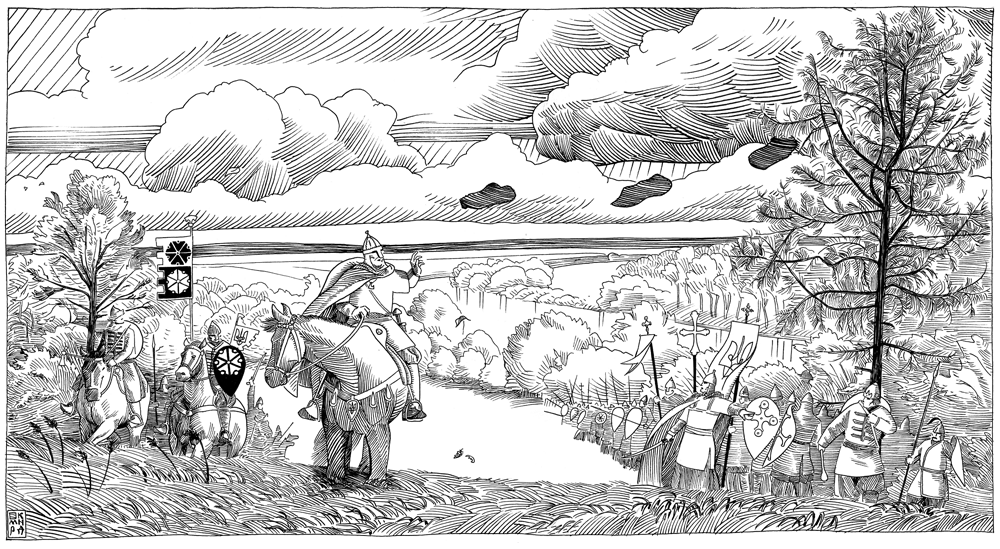 "There shall be great thunder, there shall be rain with arrows from the great Dnieper.
The grass bends in sorrow, and the tree is bowed down to earth by woe."
Not long after our Kĭnyazĭ Svyatoslavŭ died, enmity arose among his sons and war ravaged the land of the Rusĭ, but one was killed, and only Yaropŭlkŭ and Volodiměrŭ live still. They both worship Perunŭ, but Volodiměrŭ is fierce in his devotion to the thunder-god, while Yaropŭlkŭ is a friend to the Christians: he married a Greek nun and exchanges emissaries with the Pope in Rome. Some say he will be baptized, like his grandmother Olĭga before him. The Christian Rusĭ hope for a better future, but the Pagans fear for their ancient customs.
The annals will speak of the princes and the great battles, and lesser deeds will be forgotten, but the many fights and raids are not any less heroic, or terrible, and their causes not any less intricate. For at the heart of the Dněprŭ, since the Varyazi first sailed down the river to trade, but also to take the land from the Sěveryani, two families of different stock and creed have held a bitter hatred for each other.
Let the princes fight their war; today, they give these two families reason to finally march into open battle. The Christian boyar Miromirŭ Bogovidichĭ has chosen to side with Yaropŭlkŭ to defend his faith, but the Pagan Voislavŭ Igorevichĭ fights for Volodiměrŭ and the old religion; and in their eyes, both go to war seeking revenge. But allegiances are rarely so clear-cut in times of war, and while these feuding boyars may say "Christians" and "Pagans" to refer to the other side, men of both faiths serve under each of them, sometimes uneasily.
The fortified town of Dubogradŭ, home to Miromirŭ, holds the key to this small chapter of the war, and Voislavŭ sets out with his allies to take it and to settle old scores. But the folk and friends of Dubogradŭ come out to meet him on the battlefield...
---
Head over to the Taleworlds forum to see the full thread and sign up. Everybody is free to join one of the two public hosts: the Pŭlkŭ Dubogradĭskŭ or the Pŭlkŭ Brodĭskŭ: