There's a double dose of download for you today! New releases of Vr2 and vr2mod have just been uploaded! We'll start with the new Vr2 additions:
Added fake CD tracks system
Added support for per-map 24-bit texture folders
Added to and fixed bugs in the fragment shader
Disabled R_PushDlights when realtime dlights and realtime world draw are enabled
Cleaned up problems in lamescript
Fixed sliding on SOLID_BBOX and _SLIDEBOX entities
Fixed some networking stuff
Fixed particle blood trails bug
Fixed bug in texture and model scripts
Changed default bloom cvar values
Enabled DP_GFX_SKYBOX and DP_SND_FAKETRACKS extensions
And now, on to the new additions to vr2mod:
New deathmatch map, vdm2.bsp
New version of deathmatch map vdm1.bsp
Added custom weapons-at-spawn cvars
Fixed bug in gibbable corpses
Fixed excessive death bubble spawning
Various other tweaks and bugfixes
You can download the new version of vr2mod here and the new version of the Vr2 engine here. You can also visit the mod profile, here. Play nice, and have fun!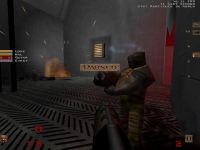 Give me a moment before I die :).