Vanilla UI Plus version 7.45 - December 1st 2018
After fixing some really annoying bugs with the orphan word elimination in 7.40 I went to resume work on the Revelation addon. This will be a standalone patch that will obsolete VUI+Revelation and allow you to enjoy Revelation's textures with original fonts, while staying in the latest VUI+ version.
Then I received a message with a vanilla bug report: Living Anatomy stats are hidden below the screen at the VATS menu when the NPC name is long enough to wrap.
I know this bug and I have history with it. I had tried to fix it two years ago, to the best of my then-ability, by moving the NPC string to the top of the screen thereby allowing those Living Anatomy stats to be displayed in any case. I didn't like the fix however, it simply wasn't up to the quality of the mod. I was happy to remove it when Ladez came up with Better Pickup Prompt which aside from its main function, fixed the bug with scripting.
I thought so.
Turns out that the scripting fix had worked for some NPC names at the HUD prompt but not at VATS and even not in all cases at the HUD. I've updated the script in private and sent it to the bug reporter (thanks Inthegrave!) who was satisfied with it, but there was a problem. Unlike the HUD, UI scripting for the VATS has to run in very frequent intervals. That's a bad deal for players, if every mod starts demanding script processing on every frame then our beloved game will soon downgrade to what Skyrim modding has turned into.
So I've turned to VUI+ and wondered if I could finally fix the wrap width of those strings with plain UI-xml. Well, it seems that my level has risen well in these two years: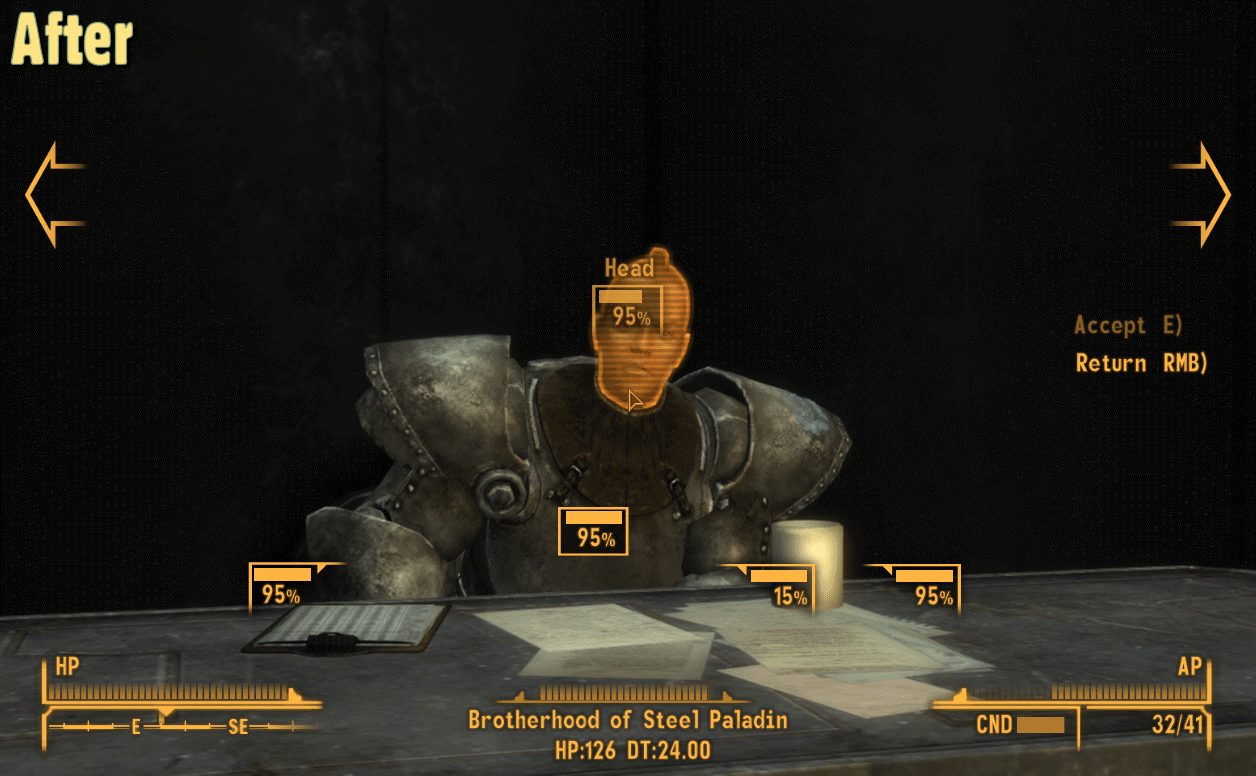 Not only is the bug fixed, but its implementation has improved my previous HUD edits to no longer modify the original block structure. This means I no longer have compatibility worries with HUD mods such as the Solid Project or the Loot Menu.
I've also removed the option to hide the activation prompt from the HUD. This may annoy a very small number of users, but it was a very complicated piece and I want my code to be clean and easy to read by other mod authors. Remember, this mod is released with a license (included in the end of the Readme file) that allows you to fork it and I'm always ready to answer UI-xml questions at the forum.
As always, have fun and stay positive.
Axonis