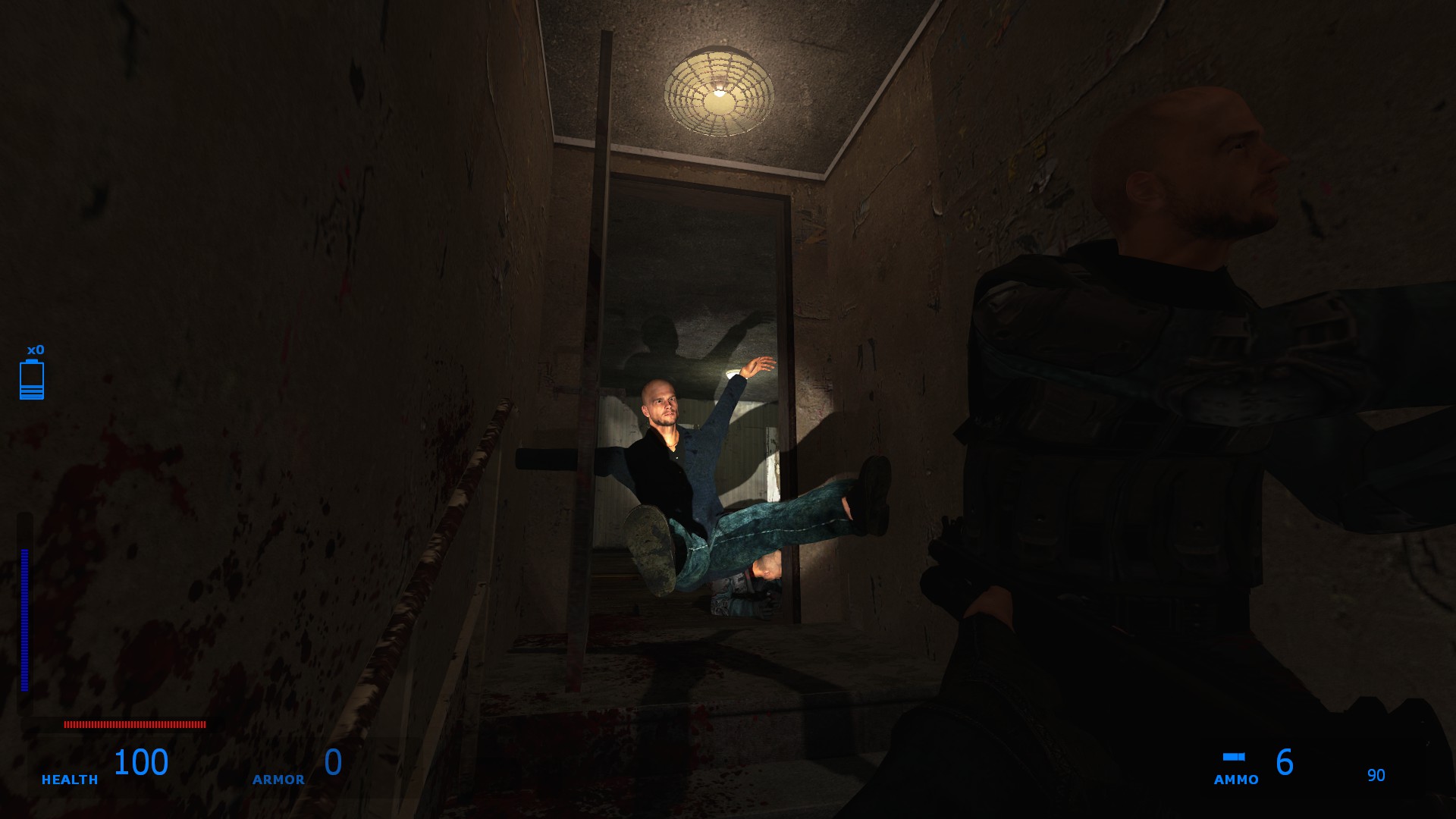 Thought it would be good to start this tutorial by making this clear.

THIS IS NOT A FULLY WORKING GAME MODE
There is no Ingame chat, the ingame VOIP seems to work only when it wants to, launching the coop will keep your Steam in "Playing Source SDK Base 2006" forever, until you restart Steam.
Many entities built for the SP will crash the MP, some functions will be junky, dying and respawning will probably screw up the health system. You will not see your own bullet impacts in game, but you will see those of others.
Having said all that...It's actually a lot of fun.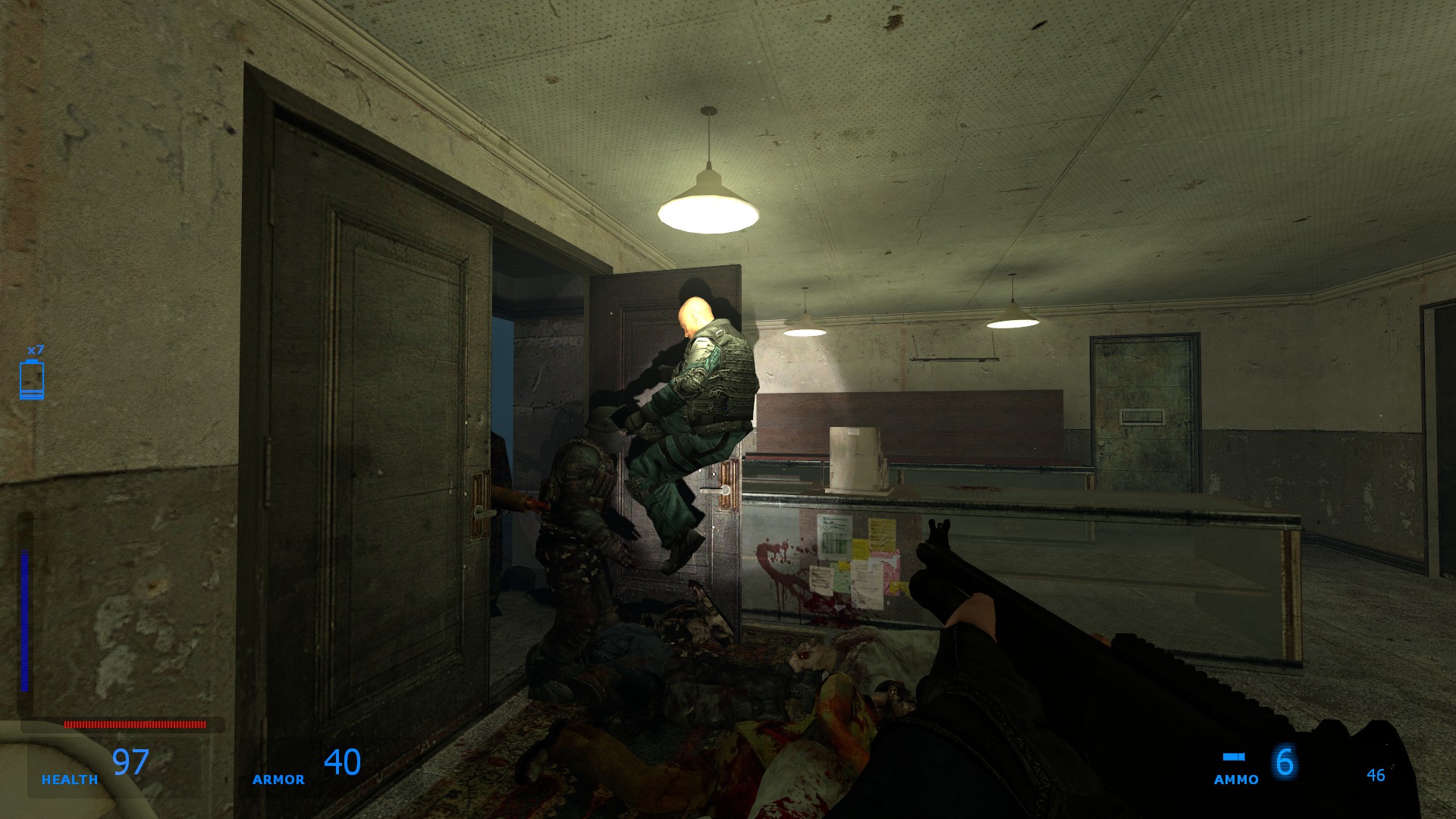 Port Forwarding
Since there are no servers for this game mode, nor is it listed on the Steam master server, there is no server browser, and if you want to play, you are going to have to host.In order to host a listen server, you need to make sure that your router's ports are forwarded.
Steam uses ports 27015
The best website for Port Forwarding, is PortForward.com
Although this might seem overly complicated, I assure you it's not, and this is just the first obstacle in the way of killing infected with your friends.
Hosting a Game
First, you need to enable the Developer Console for Underhell, for that, you can add "-console" in the game launch parameters in the property tab when right clicking on it in your Steam Library.
Once you are in the Main Menu with the console, you have to type:
disconnect
It is impossible to change the "maxplayers" when the game is currently running, and the background map of the menu is considered as a "game".
Once you have "disconnected" from the Menu Map, type:
Where the "4" can be any number from 1-16, although I'd recommend not having more than 4 players in a game, or it could get pretty crazy.Then enter the following:
This will tell the game, that any game created will not be running in Lan, therefore it will run on the internet.If your ports have been forwarded correctly, you can now launch any map, and it will be running online, and anyone can join you.
How to join your game
When you will be running a game, it will run on your current public IP address, which you will need to tell your friends.If you do not know your IP address, you can go to whatismyip.com.
You should get a number that looks like this: 111.111.111.111, now simply add the port number for the game, which is 27015, and your game's Ip address will be:
111.111.111.111:27015
Now simply copy paste your IP address to your friends, and tell them to enter:
connect 111.111.111.111:27015
"Connect (ipaddress)" will connect to your server, you will get no Hud Warning" that someone is joining, but the console should print a message saying "YourFriend has connected" letting you know that he is joining.
Some things to set up
Underhell uses many features that were designed for SP, like serverside ragdolls that allows for extra damage, or the serverside gibs that can be interacted with.Running all that in a server will quickly cripple it, and will most likely cause lag and performance issues.
Therefore, it is recommended that you enter the following commands when trying to create an MP game, to optimize as best as possible:
coop 1

uh_maxseragdolls 1

uh_maxsergibs 1
I've never been really sure what the "coop 1" cvar did, but it was already there and it seems appropriate.As for the other 2, they set the max limit of server gibs and ragdolls to 1, instead of 8 and 16, which should avoid some issues.
Some useful stuff
When your game is running, and everyone is in, you will all be Casual Jakes, or the model of Jake in the house, wearing casual clothing.There are no player names floating above your heads, and no way to differentiate yourselves.So here are a few console commands that might be useful:First, type sv_cheats 1 to turn on cheats.
Press the space bar after entering this, and you will see all the available !player inputs.You can for example change the player model:
ent_fire !player setplayermodel
Here are the following functional models:
models/player/jake_casual.mdl
models/player/jake_inmate.mdl
models/player/jake_guard.mdl
models/player/jake_pmc.mdl
Now, if you want to change only YOUR settings, enter !self instead of !player, for example:
ent_fire !self setplayermodel models/player/jake_pmc.mdl
You can change another player's model, by pointing at him and using the !picker identifier, like this:
ent_fire !picker setplayermodel models/player/jake_inmate.mdl
You can use the "SetHeath" input to heal yourself or others, or you can use the "Color" input with RGB values to set yourself appart by being a unified color, be sure to use double quotes for the value:
ent_fire !self color "255 0 0"
This will make yourself look Red, practical to differentiate yourself (the host) from other players.
Finally, you might want to enable the Glow on the players, so you can see them through walls, to avoid losing each other.
ent_fire !player glow 1
You can keep experimenting with the other settings, just keep in mind, this is very unstable, and many commands will not work as intended.
What to play?
Now that you know how to set up a game and set up some things for convenience, you must be wondering what to play?Well truth is, almost none of the Single Player maps will work correctly in coop.In fact, the Objective System will CRASH the MP.So if you are running a map of the SP, make sure to kill the objective entities by entering the following:
ent_fire mainobjective kill

ent_fire secondaryobjective kill
Killing these 2 entities should avoid some crashes, but something else will probably end up crashing the game anyway, there are so many scripts in the SP that are not meant for MP.
So, what to play may you ask?
Well during the COOP testing, I used a map created by an old friend of mine called Alex Roycewicz to test the system.
I decompiled and edited the map to add Underhell entities, and added randomized spawns of enemies, along with a few randomized events.
The original map can be found at: Css.gamebanana.com
The Underhell modified for coop version can be found at:
underhell.wecreatestuff.com/downloads/Dotd_Crookcounty_By_AlexRoyce.rar
(Make sure the file gets downloaded correctly, these servers can wonky sometimes.)
Unpack this file in your Sourcemods/Underhell/Maps folder, make sure the map is right next to the other maps of the game.Then launch the map by typing in the console:
map dotd_crookcounty_night
This map was designed specifically to test the Coop, and unless you do some fonky things, you should be able to play it rather crash-free. No promises though.
What's the objective?
Survive.
This map has infinite waves of enemies, separated by an "Outbreak" event which will change the fog and lighting, as well as how the map plays out.Items can be found in buildings, but they will only respawn when you are far away from them.If you die in the MP, it will cause some issues, so it is advised to NOT die, which should be your primary objective.
Try avoid using Cheats, like giving yourself a minigun. I know it's REALLY fun at first, but after 5-10 minutes of doing this, you will grow tired of it, and going back to play without cheats won't be as "exciting", so keep the cheats for later.
Here is a list of the Underhell Entities which you can spawn with the following command:
ent_create "entityname"

ex

ent_create item_healthkit
This will create an entity where you are currently looking.