Get it
Here

It has been a long while since our last release and that is for very good reason. The previous version of ESC has proven to be among our very best releases to date.
Developing Beta 6.8 proved to be lengthier than expected because many of the problems we thought were present in Beta 6.7 were subsequently ironed out over the weeks and months of online play.
However, as always, a few things did need looking into and it is finally time to introduce a couple (actually a lot) of very cool additions to the mod!
First and foremost, ESC 6.8 is now linked with the TA Community Patch and is designed to work with the just released 3.9.02 version.
Aside from many subtle engine improvements (superior pathfinding being a standout), players also now have access to a strategic level view of the battlefield via the 'MegaMap' recently engineered by xpoy!
The MegaMap augments all of the features found in the MiniMap and even allows players to select and operate individual units! Be warned, however, MegaMap is very CPU intensive and is not intended to fully replace regular TA viewing mode while playing. It is, like ESC still a work in progress, but we hope you enjoy it and find it useful.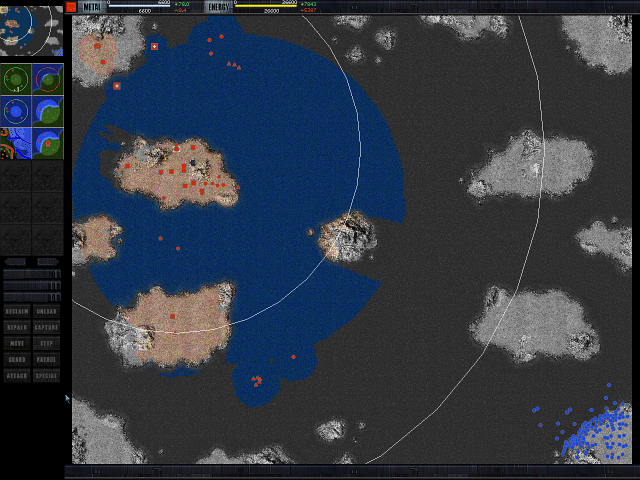 Next, Beta 6.8 includes a number of powerful new units and concepts, including:
Arm Sky Crane / Condor – Arm gets multiple iterations of handy heavy lifters at T2 and T3
Arm Vanguard and Core Flail – The long overdue and highly anticipated T3 AA are here at last!
Core Ambassador – T3 Mobile (Flying) Teleportation anyone?
Core Beholder – The old flying Decimator model repurposed as a T3 high altitude observation station that can see virtually forever.
Core Decimator (redone) – A more modest, but still deadly T3 ground based version of the previous problematic flying version
Oh, and a whole bunch of all new Advanced Hovercrafts are in as well!!!
There are also, of course, scores of tweaks and adjustment that have been implemented to further improve balance and game play – these are detailed below and in the changelog.
A lot of work went into this version of ESC and we hope you enjoy Beta 6.8 even more than our previous releases. As always get online and happy gaming!