Hello again everyone, as promised I have returned with more news of the impending release of Titan: XCIX - Part One, which includes a much anticipated gameplay preview. The "walkthrough" consists of the first 13 (unlucky for some) minutes of unedited gameplay from the mod, which will give players a good indication of what to expect throughout the entire mod. With this I would also like to explain some of the mechanics of the mod, as well as dispel a rumour that seem to be floating around.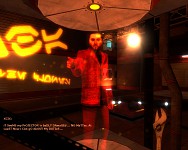 It's recently come to my attention that some people are expecting a first person frag fest, where the ship is invaded by aliens, leaving the player battling for survival against an army of gooey green monsters. Although this would of been an awesome idea within another scenario, this is most definately not the case in this mod! Titan: XCIX is a story driven experience that focus's on character interaction, exploring, and puzzle solving. While you progress you will learn more about the characters involved, as well as there opinions and relationships with one another.
You can do this by searching for Datapads as well as clues within the environment, and as time go's on you will unravel the mystery as to why Titan: XCIX has come to find itself lost in space. On the way you will be challenged by a number of obstacles that will require you to put your thinking caps on, these may be as innocuous as relaying information between crew members, but as the situation ramps up so do the tasks involved, forcing the player to literally save the ship from utter destruction.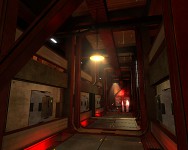 With all that being said, i hope people won't be disapointed to hear the lack of (direct) combat. What I can promise is a fully fleshed out, one and a half to two hours worth of gameplay, filled with twists, turns and even an obligatory boss battle (work that one out) as well. But enough babbling ... here's the first 13 minutes, be aware though that some may consider this a spoiler, so avoid it if you want it to be fresh for you when the release date comes.
So, now i've managed to get all that out of the way it's my pleasure to inform you all that the mod is currently 95% complete and likely to hit beta inside the next few weeks, with a release (hopefully) to hit not long after. At this point beta testing will be closed, so try not to spam bomb me with beta requests.
Thank you all for reading. Don't forget to hit the track button if you haven't already, and if you are interested I also have a Twitter account, where I post up to the date info on the mods progress (as well as other random junk).
A huge Thanks again for all of the support!
IZaNaGI, aka KrispyTheKorn