On June 8th, Thrawn's Revenge hit its 12th anniversary, so we're doing an update series to mark the occasion for all of our current projects. We started with Ascendancy Thursday, then Fall of the Republic yesterday and finally, today we'll cover Imperial Civil War. These will all have a video and a written component, though unlike usual, these will cover different things. You can follow the links below to get between all three updates when they're released:
Last year, we also released a historical infographic, so if you wanna check that out, you can see it here: Moddb.com
---
...Developer Livestream...

Today we're going to be talking about what's coming in 2.2.5, but first, we're also going to be doing a developer livestream on Corey Loses at 2pm EST, which you can watch on either youtube by clicking here or twitch by clicking here. We're still not sure how many of us will be able to attend, so we'll basically be answering questions and talking about the mod while playing some skirmish matches, or playing some older versions depending on who's available.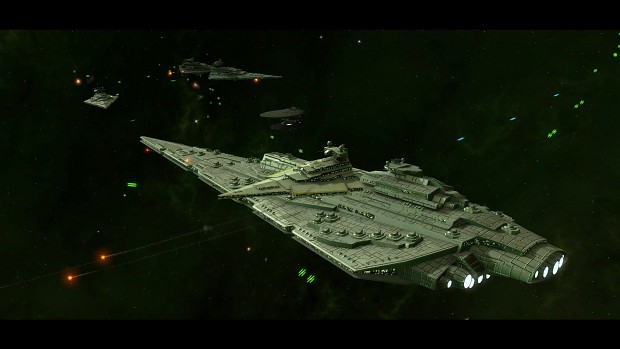 We're approaching the fifth patch for 2.2, and that means a few things. For one, this patch will mean we update the regular download. Uploading the individual patches has been somewhat problematic, so we've left it as is, as the alternative was to re-upload the entire mod every couple weeks, which we think people would generally be opposed to. With this news post, we're only going to be covering the changes from 2.2.4 to 2.2.5, so if you play the GoG or disk version of the mod as opposed to the Steam Workshop version, you can check out the change notes here for all the previous updates.
Added: Multiplayer Galactic Conquest
Because of the lack of multiplayer support for certain features integral to Imperial Civil War, it's taken a fair bit of work to get things setup within the mod to where we can do a multiplayer GC. Unfortunately, MP will always be a lot more limited than singleplayer, but we should be able to start getting in a few scenarios. We'll be starting off with a converted version of the Thrawn Campaign, with the Empire vs New Republic, and then we'll do individual releases of additional MP GCs designed around the other factions. Because the era system can't be used properly in MP and having multiple factions really just means a lot of autoresolving (there's no way around that), MP galactic conquests will ahve to be designed mostly from scratch, but the goal is to have at least one scenario playable for each faction in the long-term (Fall of the Republic will obviously be a lot more simple for this.

Added: Faction Stat Chart
Empire at War has a helpful graph ingame which shows the relative strength of factions, their economies, and the amount of planets. The downside is that it only shows the factions which use the Rebel, Empire and Zann Consortium coding, which in the mod means Empire, NR and EotH. While we can't change this directly, evilbobthebob has added an entry to the holocron which will display these stats in numerical form for whichever factions are present. You can see what it looks like below.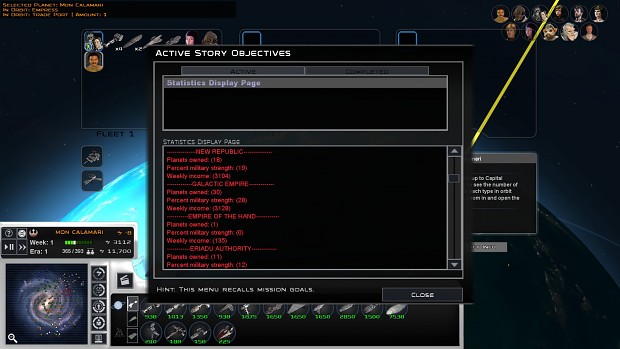 Re-Added: Yevetha, Black Fleet Crisis, Empires at War
Upon release of 2.2, there was a bug present with the Yevetha where, if they were invaded, there was a chance that the game would crash. Because of this, we patched them and the GCs with them as a focus out while we looked for a fix. While we're not 100% sure yet, we believe we've tracked down the issue. We've noticed an error which the game throws when attacking a faction in the 17th, 18th, 19th, 20th or 21st faction slots, regardless of how the faction is set up. The downside, if this is the real culprit, is that we can't fix it directly, however the upside for now is that we can remove the faction dividers and get the Yevetha and some other minor factions out of the danger zone. It does mean we may have to change some future faction plans, but we've also been in contact with Petroglyph about it, so they may be able to point us in the right direction.

Fixed: Post-Battle Freezes
There's also been an occasional issue reported where the game can sometimes freeze coming out of a tactical battle. This seems, based on the reports and our own testing, to be related to the transaction manager that tracks things like boarding and single-unit retreat, where the game gets stuck in a loop in the script and can't get out of it. We're pretty confident we can track down the issue and resolve it from there.

Voiceovers
Wheyloffle has been hard at work implementing the VOs submitted since we put out the call for voice actors before release, and as a result we're going to have dozens of fresh new voices in the patch, for all factions.

The Manual
Slornie's also been working on updating the manual with all the 2.2 content to get it ready for release. This will be uplaoded with the 2.2.5 version, as well as a separate standalone pdf.

Translations
While these won't be directly included with the 2.2.5 download, but we've finally got a system set up to make translations simple, painless and allow multiple people to collaborate on any given language translation. Several people have contacted us over the last few months about it, so if those people or anyone else who wants to help can either message me on Discord ( Corey on Discord.gg ) or email ThrawnsRevenge@gmail.com, we'll get you set up. We can't promise any specific languages since it depends on who volunteers, but we'll hopefully be able to get a few going.

...and more. There's been plenty of other smaller changes going on, including balance, AI updates, bug fixes, and even a few new maps by Rogue and one by myself that I've been making on livestreams. After this patch, we'll be moving on from 2.2 and getting the new content for 2.3 underway, including the Corporate Sector Authority, Assertor, and much more. That's also when you'll starts eeing a lot more about Fall of the Republic. I'm going to be moving early next month, so I don't want to give a solid release date just yet, but we'd love to get the patch out before then.

That's gonna do it for now. Before we go, we want to thank everyone for their support over the last 12 years. It's been a long journey, but we hope we can keep raising the bar in the mod and exceed the expectations people have set for us.

- The Thrawn's Revenge Team