Hello there... and WELCOME to....
THE WESTEROS PROJECT
---
I'd just like to make some basic updates about the MOD and the current STATUS of things within.

Firstly... We've dropped our stone into the pond and put up our project on both MODDB and The Steam Community to see what sort of ripples it would make. ;)
We are currently working hard on the Mod and Finishing up Work on the Height-Map / World Topography. There should be a small update on that sometime in the near future.
The rest of our team is working on a style-guide for the entirety of Winterfell as a whole. Some of that reference / conceptual art & general work can be seen on our MODDB page here as well as the front page of our blog.
There have been a few tidbits of the work done on this mod already dropped as images, video, and even a tutorial showing some of our process. Please check those out and feel free to comment on them.
Attached to this is one of our first WIP models of the towers of Winterfell!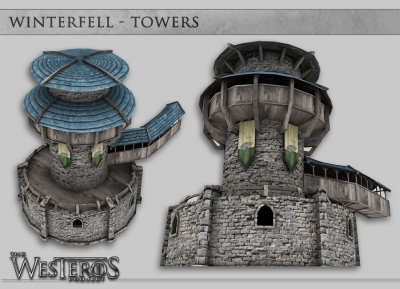 ---
Also you'll notice we have list up of the positions needing filled on our team.
Please APPLY through the main website or go here
---
Check back often and stay tuned.. & Thanks for your interest & support! ;)
yours,
- DarkAgent
(Admin Team - The Westeros Project)