In the spirit of 'better late than never' we would like to share our latest news update with the ModDB community. December has been a good month for The Stargate Mod although things tended to get a bit hectic on occasion with preparations for our big Holidays News packet and new developers joining the team. The team handled all that pretty well and so the wheels of development were turning behind the curtain and turning fast they were indeed, hence as a result when posting our latest video creation on Christmas Eve we already considered it as being outdated. So yes, the video, here it is:
To maybe prevent some frequently asked questions from poping up, 'bugs' have been fixed and most of the stuff in that video is still heavily being worked on like the kawoosh effect, but we thought we give you a chance too see what direction we were going. Also aph0x our new character modelling awesomeness has started reworking all our charakter models at astonishing detail and speed, starting with the Jack O'Neill's head. Be sure to expect some updates on that regard. In the meantime mpro also a recent reenforcement to our team of modelers is concentrating on props and some more alien devices.
That video was not the only goody we've released that day: Our website now features a music streaming player at the (top) right next to the language selection. We invite you to give it a try and enjoy some good Stargate Mod music variety and maybe even give us some feedback if you will and keep checking it every once in a while as we will at random change the playlist!
While you're at it you can check out our forums for additional news and media content, for example our development blogs. Worth a note for all you who prefer getting those updates on Spanish, thanks to our new Spanish translator jack_wade, know for his translating skills on other projects such as Portal: Prelude or Eternal Silence, we now provide you with a Spanish language section, so in case your habla español feel free to contribute.
On that note it has recently come to attention that a small group of German posters are trying to take over the international forum so if you're up to the task jump right in and fire away some English posts.
That's it for today folks, hope you enjoyed our progress and if you feel like you're not getting enough info out of this make sure you sign up for our newsletter, join our forums and steam community group and of course, watch us - see you next time!
Oh and of course we wouldn't mind you giving us your vote... ;)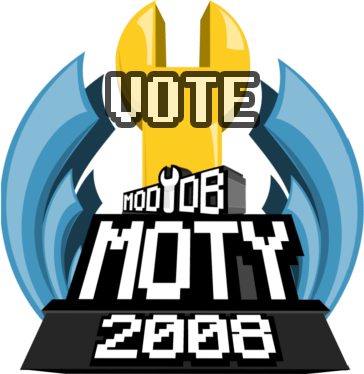 And as always we can't get enough of new talent - if you think you have what it takes to help us finish this baby be it by mapping, modeling, texturing, coding, writing, creating music and sound fx just give us a shout on the forums or via our contact page.