Well as you can see, this is the first update in a while. I've been busy over Christmas so ive not had the time to update much, ive been working on the programming here and their, but nothing very eye catching to show off yet.
In this little update ive included new images of some things.
The first is of the new hands ive created, this will look much better than the armour, and will fit with any, and all characters that you will play as or see. IT will also work for deathmatch and co-op becuase well, they are just plain bare hands.
These next images are of the new zombie torso, they have been carefully created to allow use with all skins, so immediatly i have 15 variations of this zombie. Hope you like it.
And lastly i have a new weapon. THE TOILET PLUNGER.... :D
This weapon needs new animations which i will work on last, but for now its just a model. The reason i created this was for a tutorial to teach people the basics of a simple model, texture, uv map, programming and scripting the weapon ingame. Its a huge tutorial that i will release eventually when i get the time. So please no comments on this weapon unless you like it, because its just their to help people :)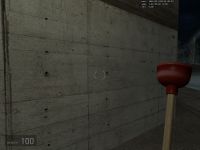 All comments welcome as normal.
All ideas welcome, and remember to check the Features section to see all weapons, ideas and development things of game-mode and such. If you have idea i would LOVE to hear them :) And i will comment back on all comments given to me, as i am not a stuck up developer.
And please, before commenting remember the content is limited to one persons abilities as everythnig in this mod is created by one person, so cut me some slack :)
Thanks.