Firstly, we have made some significant improvements to the game balance, preventing scouting with Chrono tanks, making it easier to scout early on as Soviet and improving naval unit balance.
Changed: The Laser Corvette now gets a 44% weapon range increase when it's deployed, its cloak-detection radius was increased by 67% and its hitpoints were increased by 17%.
Changed: The Project 941 now does a lot more damage.
Changed: The Soviet Mammoth Tank's firing range has been decreased by 11%.
Changed: The Attack Dog no longer receives damage from walking over tiberium.
Changed: The Chrono Tank's sight range has been reduced to 1 cell.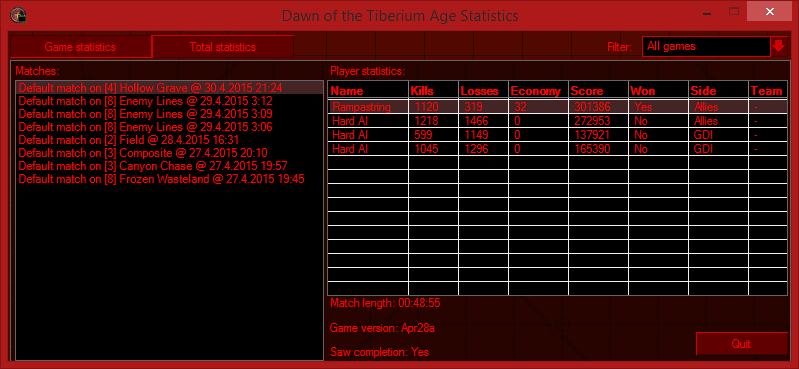 The client has also been improved, with multiple fixes and new features. The most significant one of the new features is the new Statistics window that you see above. Other changes below:
You can never have too many Multiplayer maps, Co-Op missions and Singleplayer missions, right? Within the last 4 months we've added one new Singleplayer mission, one new Multiplayer map, and two new Co-Op missions. Click on the previews above to see them in better detail.
We've also made a massive amount of smaller bugfixes and changes, including map bugfixes (like overlapping civilian buildings), graphical bugfixes, map editor bugfixes, AI bugfixes, and the like. There's dozens of them, so I won't copy them here, but you can read them on our change log page.
If you like making custom maps for DTA, you should also be happy about these updates. We've added the Tiberium Floater and Tiberium Fiend from TS to our collection of usable mutated monsters, and we've also added a civilian light house and windmill.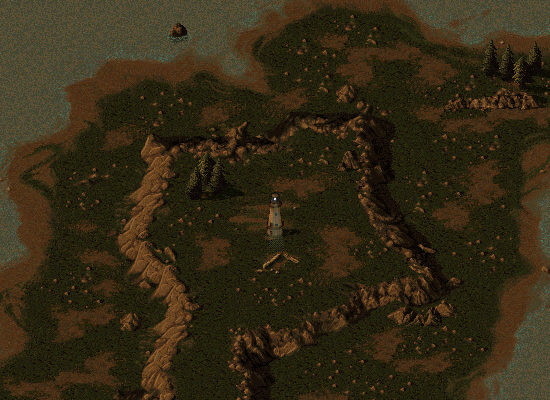 That concludes our updates for now. If you have friends to play with or want to make new ones, hop on to CnCNet to play the new Co-Op missions. There's also new the new singleplayer mission, and it's likely that you haven't completed all of DTA's other 30+ singleplayer and co-op missions yet. We also have 93 classic Default mode multiplayer maps, and more are coming. So, good luck on the battlefield!