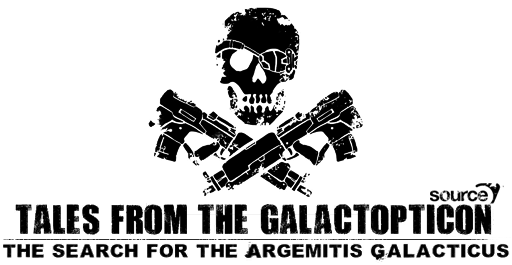 Hello again! We're proud to announce that several of our team members took part in an interview with ModInformer, discussing what goes into a sci-fi source mod like Tales From The Galactopticon. Here's a taste:
ModInformer wrote: It's fair to say you're a far departure from the usual ol' source mod – There's not a whiff of zombie, nor a hint of half life 2. What difficulties have you come across while trying to get your team's vision to 'work' within the limitations of the source engine?

DW: It's not as much of an issue as you might think. We have some very talented artists and great concepts to work from, and visually things have been coming together nicely. I think some of our main limitations so far have been the constraints of Valve's biped skeleton–since we don't have a dedicated character animator, we can't get too crazy with the alien designs. There's also not much built-in support for cutscenes in Half-Life 2, so we've been trying to come up with ways to do those.

CW: When I'm working on stuff for the mod, I don't think of it as a mod for Half-Life 2. I think of it as a chance to make my own game, full of my own ideas.

JJ: I'm trying to get the team to work as efficiently as possible. This is partly why we're still using the valve biped skeleton on all our characters. We're also trying to make the mod very unique – It's easier than one would think on the Source engine.
Finally, here's a couple new bits of media you may not have seen: