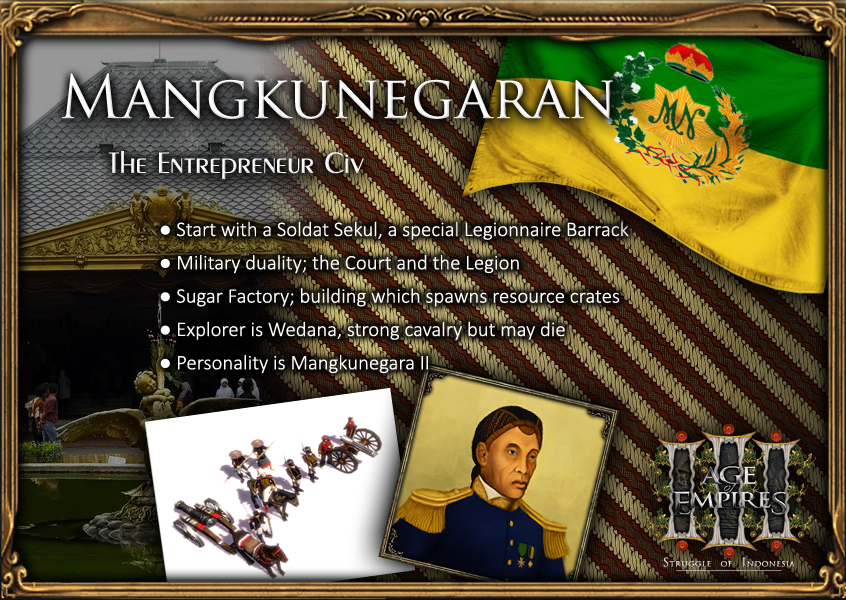 MANGKUNEGARAN
The Entrepreneur Civ
The state of Mangkunegara is not a kingdom. Instead, it is a duchy which is located in Central Java, right south to the Sunanate of Surakarta. Salatiga treaty, signed at 17 March 1757, is the milestone of the start of the Duchy. Since then, their ruler are called as Adipati Mangkunegara (Duke Mangkunegara). While it is technically a duchy under the influence of Surakarta, it enjoys an equality in economy and power with its neighbor, the Sunanate of Surakarta and the Sultanate of Surakarta.
In SoI, Mangkunegaran is depicted as a growing power, trapped in the middle of the ongoing Java War. Mangkunegara II just doesn't want to mess with this war and harm his subjects. Yet, when the rebels knock the door, no choice left for him except to ally the Dutch and fend off the rebels.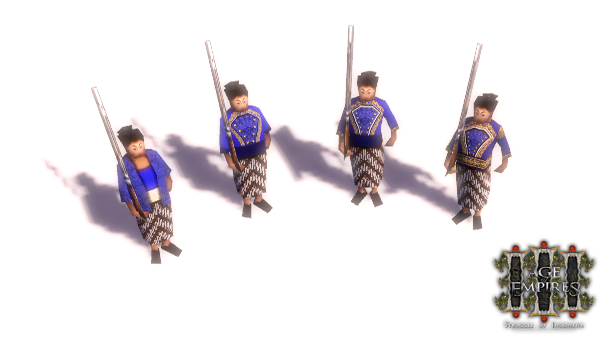 Estri, Mangkunegaran female musketeer
Mangkunegaran belongs to the Javanese culture, which will be talked later. It has a lot of unique units and some unique buildings. When player plays as Mangkunegaran, it will start with a wagon of Soldat Sekul, some villagers, a Kyai (imam), and Wedana (explorer). Soldat Sekul is a unique barrack, allowing Mangkunegaran to train the strong but expensive Legion van Mangkoenegaran. Remember that it can't be rebuild. Once you lost it, there is no way to revive the glory of the legion.

Het Legion van Mangkoenagoro: Fuselier, Dragonder, Leger
Beside the Soldat Sekul, it also acesses normal military buildings. From these buildings it may access these unique units:
Estri, a female musketeer, good for treasure hunting
Wiratama, a pikeman
Ladrang Mangungkung, a mounted estri, stronger against light infantry
Mangkunegaran also has an economic unique building, the Sugar Factory. Since 1850's, the militaristic Mangkunegara changed into a regional economic power. It exported rice, indigo, and sugar. Among these goods, the most prominent one is sugar. Mangkunegara IV built 2 great sugar factories in his land, the Colomadu and Tasikmadu factory, both represented as a tech in the factory.

Mangkunegaran Court unique units: Estri, Wiratama, Wedana Gunung, Ladrang Mangungkung
Another Mangkunegaran uniqueness is that it has a duality military age up. One supports the traditional court, led by the princess, who favored Estri et al, and one who support the legion, favoring the modernized army. Each choice will weaken the other, so one can expect a very strong legion or a very weak legion in the end of the game.