Dear Star Wars and Company of Heroes fans,
It's been a long road to get there. But we made it. Let's get started.
---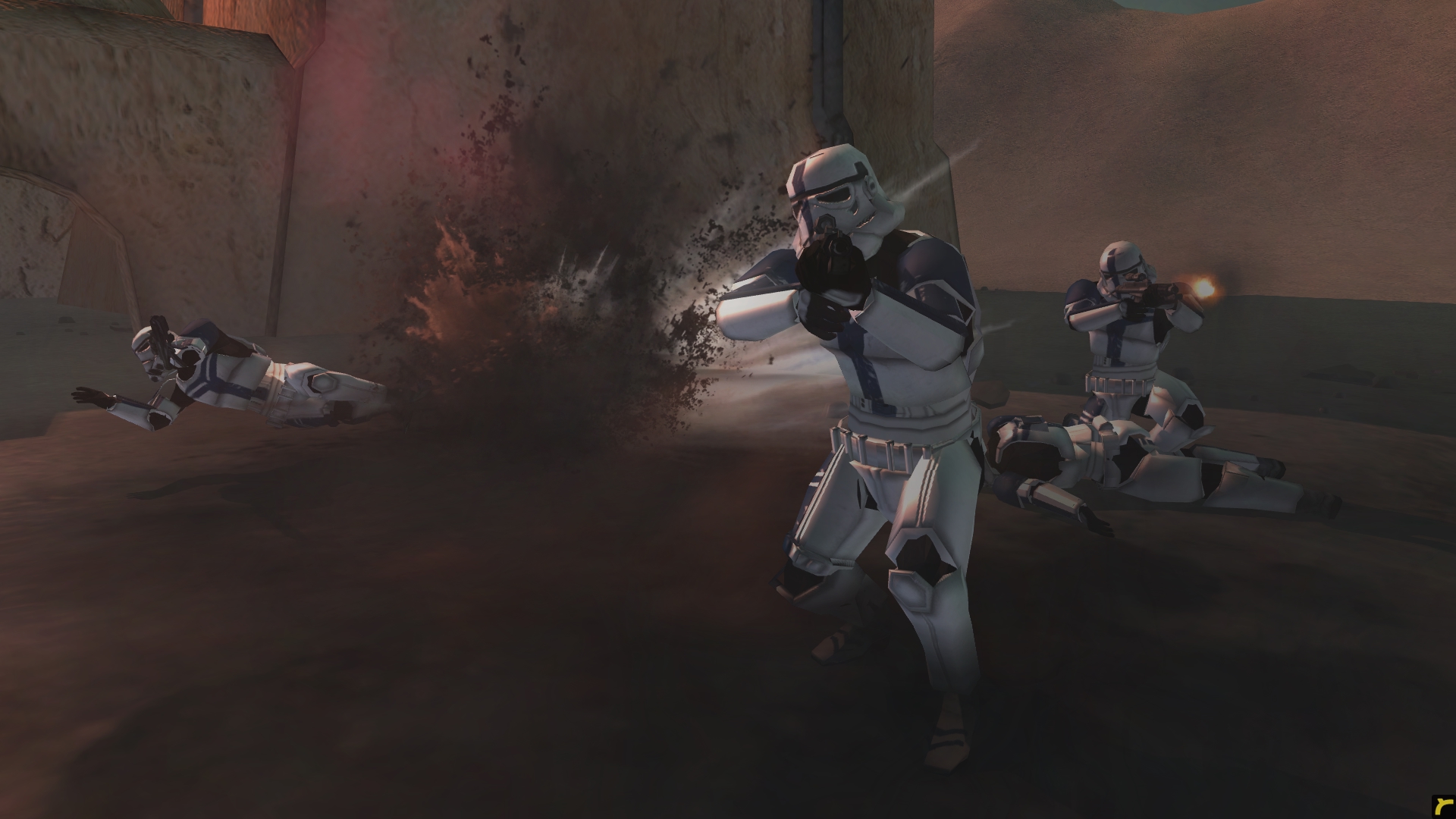 Custom units, UI, fx, sounds, and map. Welcome to Star Wars.
---
Our very first public build is now available. Known as Alpha 0, it features limited, but exciting content that has never been seen in Company of Heroes before.
- 2 asymmetrical factions : the Galacitc Empire and the Rebel Alliance, with one complete and functionnal Commander Tree each,
- Custom 3D models and 2D icons for all of our units, abilities and gear,
- Lasers special effects and different sounds for every weapon,
- A complete, functionnal infantry units roster (no vehicles nor base building yet) each with their very own skills and way to fight,
- A custom map showcasing Tatooine scenery and designed for infantry combat,
- Music from the Original Trilogy to spice up your gameplay !

Of course, everything isn't perfect yet. Alpha 0 is a demo version and what you will experience is a heavy work in progress. The biggest flaw we are facing at this moment being the AI.
NOTE ABOUT THE AI : AI in CoH isn't an easy thing, and it gets shaken as soon as you start messing around with new units and custom content. Fortunately, most of its behaviour is accessible and can be fixed by editing the code. HOWEVER, we will need to learn how to do it first, and we will provide AI fixes as soon as we can.

Watch some uncut test footage :
we will strive to ensure the best balance
(issues you can see here are hopefully fixed)
---
Alpha 0 is available for download in the files section of the mod page.
Included in the download is a very detailed Readme that will provide you with full instructions to install our mod for both Steam Company of Heroes Relaunch and Non-Steam Company of Heroes.
Read this readme carefully as it contains a lot of things you should know, including things to do/not do to better profit from the mod.
Also, we have a Discord server online for everyone to join, where you can do whatever you want, and that includes finding games with real people, to overcome that AI issue.
This article will also help you understand how gameplay works, although a few things have changed a little.
Some more early footage, covered by The Shermanator !
---
WHAT'S NEXT ?
We are not done yet, far from that. Following the release, we will make sure everything is properly balanced. This means we will be relying on your feedback to fix every issue we can find.
The videos above were made with a preview build that helped a lot in finding the major flaws. We count on you, players, to help us spot the rest !
We will also update our Alpha with revised version of the Tatooine map, as well as a brand new, snow-themed custom map.
And then... Time to start modelling (and animating) vehicles and buildings !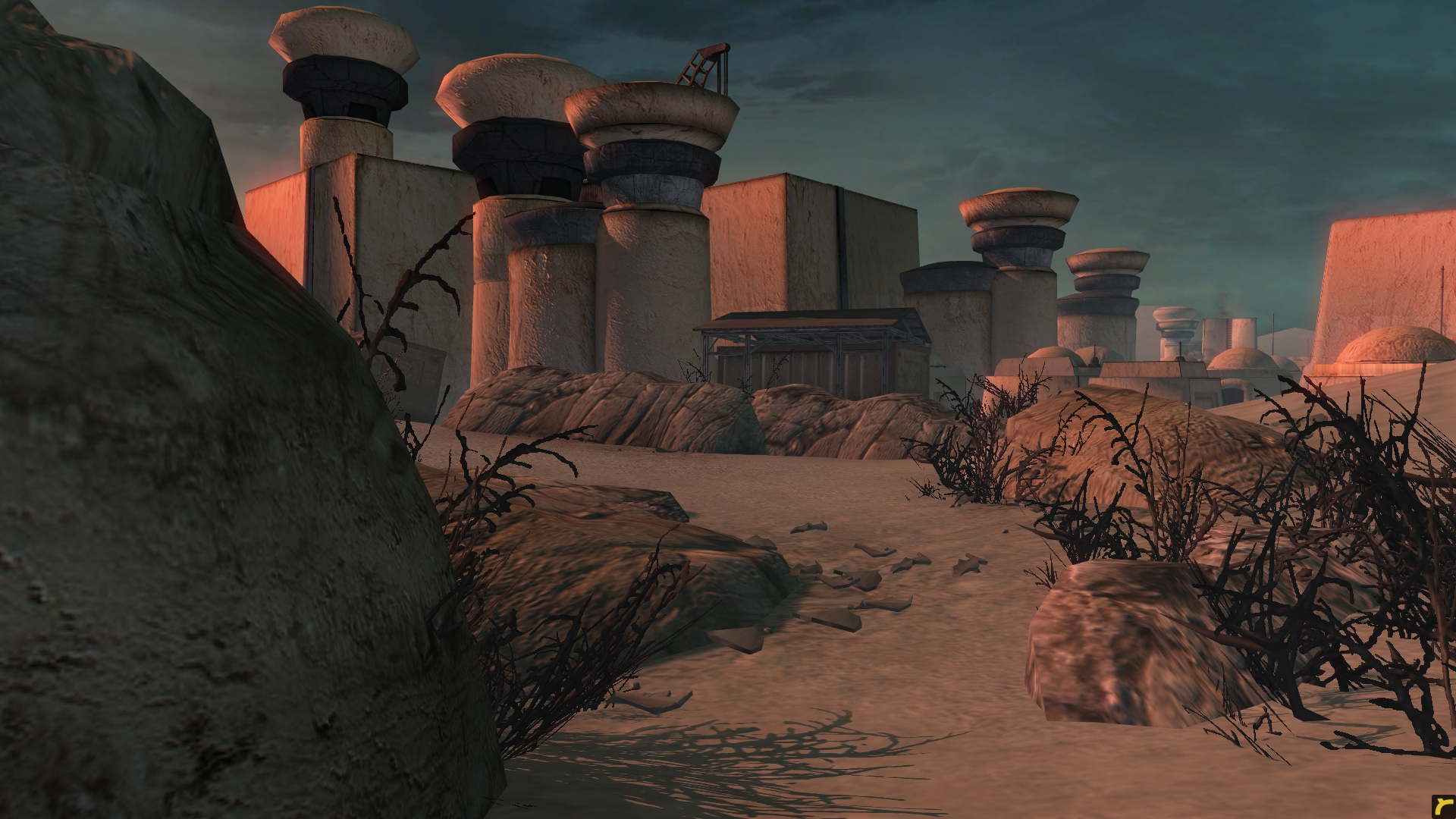 ---
FREQUENTLY ASKED QUESTIONS

0. DISCORD LINK ?
- Sure. Click me !
1. WHERE IS THE CLONE WARS ?
- We will finish the Galactic Civil War first. Patience.
2. IS THIS FOR COH2 ?
- No. It's for Company of Heroes 1. Steam or non-Steam, but Opposing Fronts needed.
- And before you ask, no, we won't do anything for CoH2 since you can't mod it anyway.
3. HOW TO ... ?
- Go through the entire Readme. If the answer isn't there, feel free to ask on the Discord Server !
4. WHERE ARE THE VEHICLES/THE BUILDINGS ?
- It's Alpha 0. They won't be included before long.
5. #RACE/UNIT IS OP !
- Use the Discord Server to report your issues, and try commenting them in a constructive manner. This version is far from perfect and everything could certainly not be tested.
6. I NEED HELP !
- If you're sure this Readme doesn't answer the question already, use the Discord Server. You will find us there everyday !
PLEASE DO NOT PM US. YOUR PROBLEMS MIGHT BE COMMON TO OTHERS.
7. I WANT TO HELP !
- Either use the server, or PM us on Discord or ModDB. Browsing the server, you will find plenty of ways to help, including giving your 2 cents. If you want to go to active modding, ask more directly (you can PM us).
8. CAN I MAKE A VIDEO/REVIEW OF YOUR MOD ?
- Yes. Stick to the Discaimers included in the Readme.
9. WILL *THIS UNIT* BE ADDED ONE DAY ?
- Maybe yes, maybe not. Some are already panned. You can try searching for such things on the Discord server (using ctrl+F)
10. WILL THERE BE HEROES ?
- No.
11. WILL THERE BE A STEAM WORKSHOP VERSION ?
- Maybe. Our position on this subject has evolved. Still we need to find the way to upload, and will only do so once we have stronger bases.
12. WHAT ABOUT A CAMPAIGN ?
- Very unlikely.

There are 10 other, more gameplay-specific questions answered in the Readme file :)
---
MAY THE FORCE BE WITH YOU
Ebonhawk - Project first initiator, 3D & 2D artist
Eol - Attributes modding, Game Design, Community Management
SirPsycho - Veteran modding, 3D artist, and precious help
BlackFalcon - Sounds
Ragpost - Music