TUTORIAL IN ENGLISH

Hello,
In this tutorial, I will show you how to install the mod !

DATA:

I) Staff
This is the French Staff, Yeah.....It's a French Mod
Admin : Administrator
Le docteur : Administrator
Adimo : Administrator
SpartWarrior : Administrator
Spartan64 : Administrator
Evil : Creator of models
Slimbox : Creator of models
The World : Creator of models
doom619ers : Creator of models
Ba'al : Creator of models
Rareden : Creator of models
Atantis : moderator
Masterchief38 : moderator
Gryda : moderator
Thitest: Videomaker

II) Rights:

This modification is no long affiliated with MGM, SyFy, SyFy France, Stargate Fusion and the Stargate franchise. This modification only want to entertain.
All models who represent stargate ships in this mod are the property of their respective creators.

All rights reserved, Copyright © 2011

III) Partnership:

Actually, the mod is in partnership with SGN (Stargate Network) since 18/06/2011

IV) Models:

All models in the mod were realised by the staff.
You have not to do modfications on these models.

V) Conclusion

To resume, when you download the mod "Stargate Space Conflict", you certified that you have accepted the conditions of use.

REQUIREMENT:

I) What Game I need ?

PS: If you have the game, go to "II) Patch" !
Homeworld 2 is a game produced by Sierra. It's a strategic spatial game and it's the best !
This is the Trailer of this game:

To buy it, you search on the web or you buy it in a game's shop.
After, you install it
II) Patch

You have to download the last patch, it's the patch 1.1
You can find it here :
Jeuxvideo.fr

INSTALLATION:
After downloading the mod, you open your download.
CAUTION: You need Winrar to open it.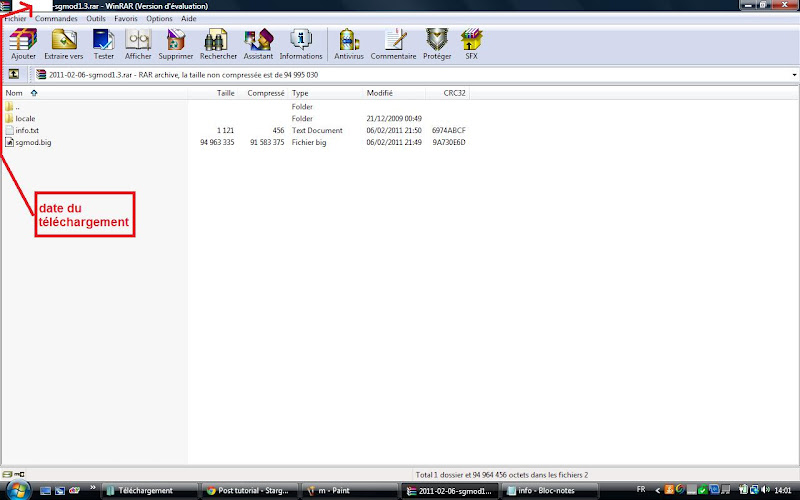 PS: "date du téléchargement" It's a french word who mean the date when you have downloaded him. For example : 27/5/2012
After, you put "sgmod.big" and the locale folder provided by the archive in the homeworld 2 data folder.
the locale folder contains texts and descriptions in french and english.
You have to make a shortcut of the homeworld2 launcherRight click on it and you select property and in the target option, you add "-mod sgmod.big" like this :
target :
C:\...\Bin\Release\Homeworld2.exe -mod sgmod.big
or
"C:\...\Bin\Release\Homeworld2.exe" -mod sgmod.big
You apply and you launch Homeworld 2 with the shortcut
Enjoy it ! The galaxy is under your control !
Caution : I figured out what was wrong with the ship names. You need to put the file called "locale" in the "Data" file (not the bin file) and delete the french file if you are english. So this should fix the ships all being named $8027 issue.
Thanks a lot to "D3adplz" for helping to fix the problems with the ship's names.
Tutorial by Thitest
Thanks and Have a good game !