Hallo folks, Like every year Christmas is nearly there and the whole team is searching for presents so we can't work on the mod as much as we want to. But we still found some time to create something new:
This is the mothership of the Pegasus Cyborgs you may have seen in the Atlantis episode "Daedalus Variations". As you can see this ship is still W.i.P.!
The same 3D Artist who is working on this ship might be somebody who doesn't celebrate Christmas...or maybe he already got all presents he need...because somehow he found the time to throw a fundamental concept of modeling out of the window!
Usually new models are created like this:
Theme -> Concept -> Base-model -> Texture -> Finished Model
He started at the very end of the line... With this texture...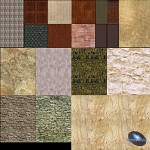 ...he created the following Goauld Props: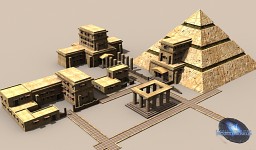 To stick with buildings we will now present you the new Anti-Fighter/Anti-Bomber satellite of the Wraith:
With some slightly other colors this would be a good Christmas tree ball didn't you think? Your SGMG wish you the best luck at the Christmas present hunt to fill the big space under the Christmas tree!
Please vote for us at the Mod of the Year Award!

See you next month!