Happy Holidays Everyone,
Today I uploaded new versions for Enhanced 4X and Star Wars Interregnum. However, while the timing would suggest a surprise Christmas present, NOT EVERYONE should play these new versions yet. E4X 1.801 and Interregnum Alpha 3.11 are primarily for updating the mods to work with the new Rebellion 1.83 patch, which many of you will not have yet. It is primarily for users who purchased the recently launched GOG.com version of Rebellion, who only have access to 1.83 at this time.
A Tale of Two Stores: GOG and Steam
The release of Rebellion on GOG has created an odd phenomenon in the modding community; Different users are on different versions of the game. Steam users are on Rebellion version 1.82, which E4X 1.8 and and Interregnum Alpha 3.1 were released for. However, within days, GOG released their version of Rebellion, with their uses on version 1.83. As you may guess, Rebellion 1.83 does not work with most version 1.82 mods.
If you did buy Rebellion from GOG, you can stop reading this here! Download the new versions right now (Interregnum includes Enhanced 4X 1.801 if you want to try both). I hope you enjoy what is likely your first experience with Sins mods.
The vast majority of you who have Steam or local copies of the game, things are more complicated. You can actually get version 1.83 from the Steam opt in beta feature. However, I DO NOT recommend Steam users update at this time. This is because the 1.83 version of Rebellion has some very annoying bugs in it, including weapon sound effects not working and needing to manually edit the settings file to play multiplayer. I think most people would agree these issues to the base game itself far outweigh any of the bug fixes and convenience added by the new mod versions. So if you have version 1.82 of Rebellion, keep it. Sometime in January steam will force you to update to version 1.83, at which point the bugs will hopefully be fixed and you can then download the 1.83 versions of the mod without delay. I may even upload a patch for those of you with 1.8/3.1 don't need to redownload the entire mod(s) again.
Long Story Short, if you already have E4X 1.8/Interregnum 3.1 working for you, do not download these new updates or opt in to Rebellion version 1.83. At this point only GOG players should use the new downloads.
So What was Changed?
While the new 1.83 Rebellion patch has some major issues, it also contains a lot of changes made especially for modders to take advantage of (many thanks to the Devs of Ironclad Games, especially Blair Fraiser!). A few of these will already be used in E4X 1.801 and Interregnum 3.11, and you will certainly see more of them used later on.
First, hero units will now be able to use different amounts of fleet supply, not just the 50 used by standard Sins capitalships. This generally means the first hero of every faction now costs considerably less fleet supply, and Star Wars factions now have several heroes that use more than 50 fleet supply.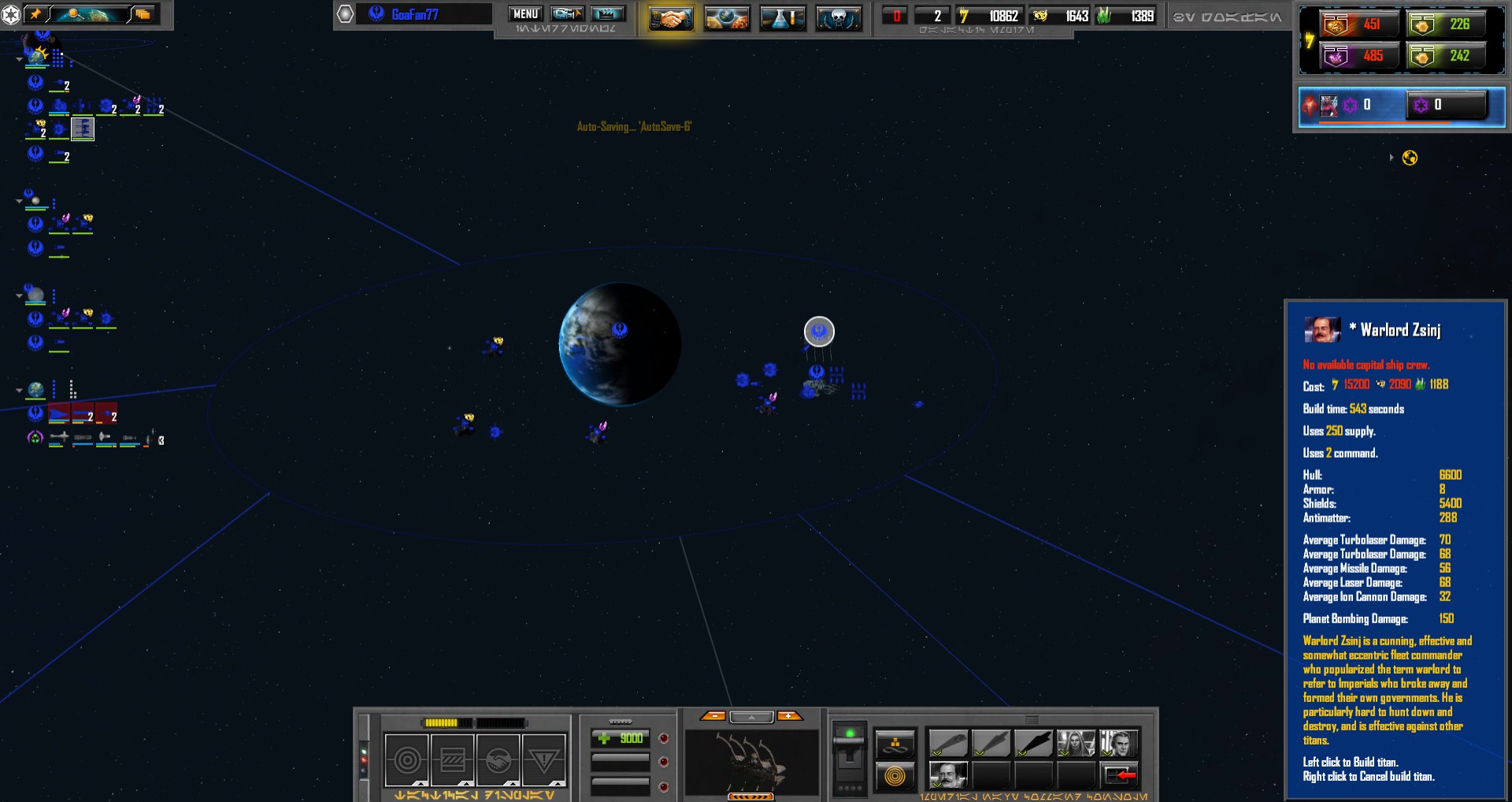 Second, Imperial Warlords players will get a major convenience upgrade when it comes to choosing their titans. All six titans can now be selected from the build menu! This improvement not only makes it more straightforward to see the Titans available to you, but also means the complicated Titan switching system used before can be retired (and with it, the slight chance it would fail and cheat you out of your titan). This also means Warlord titans will keep their levels when rebuilt like other faction's titans (unless you use the resetting titan levels minimod).
Somewhat related to the above change, the Galactic Empire faction can now build the generic Executor class Star Destroyer, in addition to the Bellator and Darth Vader. Also, the Executor(s) obtained from Kuat Drive Yards now require 2 capitalship slots to be able to be built (thus you can no longer get negative capitalship slots). Of course, you can still build at least eight of them if you really wanted to, so I doubt that should make much of a difference to anyone's Super Star Destroyer construction schedule.
Minimods Delayed
Unfortunately, having to immediately update E4X and Interregnum again to version 1.83 has prevented me from being able to update the optional minimods as quickly as I wanted. Hopefully I'll be able to have something out this weekend, but it is the holidays so no promises.
I hope everyone has a great remainder of 2015, and cross your fingers for us as the Mod of the Year results are announced!
-GoaFan77