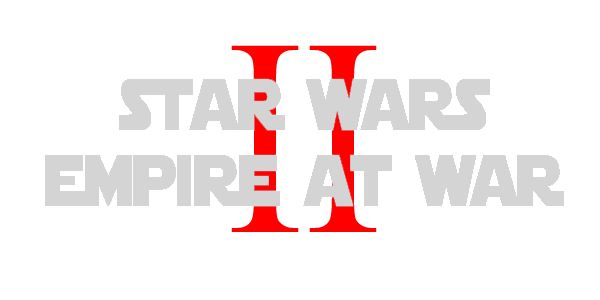 Welcome to Star Wars: Empire at War II
This news post will explain everything that I want to do with this mod.
Summary
Star Wars Empire at War 2 aims to bring you the best FOC experience possible. Only so much can be done with the Alamo engine, but there's lots of possibilities. With this teams skill-set, we'll be able to bring you what we've said to.
Brand new sounds!
As minor as this sounds, the majority of people will notice a big difference when it comes to having new, deeper, more realistic sounds in-game. We aren't going to be bringing you 5.1 Dolby or anything, but most of the gun sounds and engine sounds will be completely redone for your enjoyment. Only the minority of us haven't played Republic at War, and we all know how awesome that mod sounds.
New Graphics!
As you've all seen, from what I've posted, this mod's models look a lot better than stock FOC. Everything will be re-done. 90 percent of the textures and about 60 percent of the models will be re-done. Particles will be used for effect on lots of models.
New Particle & Projectile System!
Stock FOC has horrible particles and projectiles. They look atrocious. This mod will change that. We are aiming for the skies when it comes to the new particles. Not realistic, but awesome looking projectiles. Thrawn's Revenge is the quality we're aiming for in that regard.

100's of new units!
Coming off of this mod's new tech system will be 100's of new units. We've got Star Wars' main 4 factions implemented, and this gives us tons of room to work with when it comes to adding units in.
Check out our Affiliates!