New MEGA Mod - STALKERSOUP - The ZONE is expanding 'Marked One' and your invited to join us as it grows. Core re-desighned by TecnoBacon (TB3D) providing the biggest map and the most alife of any NS mod. Soon to expand even more with a new levelling system that goes way beyond a single game. New content will be able to be added WITHOUT starting a new game once release 1.1.0 is completed. We are presently at BETA 1.0.9.8 and testing/tweaking the new weapons and ballistics systems.
Hundreds of hours of game play and then you reach free play and it goes on and on and...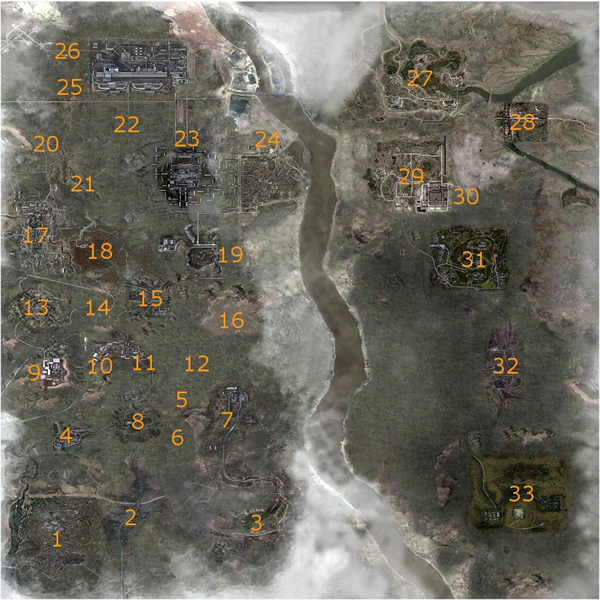 Existing map with active locations numbered, see more on www.TecnoBacon.com.


---
Short History:
The STALKERSOUP Project began as an English language version of the popular Russian Megamod, Narodnaya Solyanka (Peoples Soup) plus DMX 1.3.4, from a group led by TecnoBacon.
Released July 30th 2011 as an open BETA test to aid the mod team in adding new features and rewriting the game code. The standard version retains the dark decayed look of the earlier DMX DKZ 1.3.2 Mod release. New texture packs, and revised scripts, offer improved performance. The Collector, is integrated and expanding with the package. And that is only the beginning. There is more content on the way.
On August 1st 2011, the TECNOBACON.COM site went live, with the STALKERSOUP Mod (Narodnaya Solyanka + DMX DKZ + DMX 1.3.4, open BETA). This is a playable BETA RELEASE, poised to become the best English version of Peoples Soup, and to continue growing from there. Many issues have already been fixed, jump in and have fun. You can help by testing and reporting. Send those reports to the email address: stalkersoup@tecnobacon.com.
People Solyanka - this is not a game, it is - virtual reality. Here you are guaranteed a different experience with every game. Here everyone can find something to their liking."
Let me add that the game becomes much better after the Cave level. Be warned, for some of us that love the Stalker series, this mod is addictive "Stalker Red Bull". We can't stop playing it.
---
This ModDB page is new, and still under construction. While work is underway to create a better site for you here on ModDB, there are several sites with active communities of Stalkersoup players.
Stalkersoup Steam Forum Thread:
Steam Group:
And on Facebook as STALKERSOUP.
---
V1_0_9 Full Version Torrent created Feb-11-2012: file "TB3D_STALKERSOUP_1_0_9.7z" 4.96 GB.
The MD5 file verification checksum is: e45f36d6a06c2546ea685c9a433d660

Installation:
Copy the mod Gamedata folder to a clean install of Stalker SOC patched to V1.0005.
Patch the mod! Get the latest patches from Tecnobacon.com. This mod needs 13 Gigs of HD space. You can edit the TB3D_Modders.script file in Gamedata/Scripts for the type of game you like.
Performance Optimizations:
Add -noprefetch to the game shortcut so the mod has more working memory.
Other options: -nointro, -noshadows.
Recommend at least a dual core system with an x64 OS, 4 Gigs & a strong video card.
Tecnobacon suggests lower spec machines can try playing with reduced Vision Distance, or switch to Static Lighting (with brightness and contrast turned down one notch).
Many of the original contributors to this mod full of mods (the soup) are credited in this thread: Narodnaya Solyanka, DMX Russian Stalker SOC MegaMod thread. Forums.steampowered.com
A new guide is available from the info page of tecnobacon.com
BRIEF DESCRIPTION OF THE PEOPLE'S SOUP
(translated from the older Russian mod).
30+ Locations: Cordon, Swamp, Garbage, Dark Valley, Forgotten Wood, Not Reconnoitered Territory, SRI Agroprom, Bar, Wild Territory, Yantar, Military Warehouses, Radar, Pripyat, CHAES1, CHAES2, Sarcophagus, ATP, Red Forest, Limansk, Hospital, Old Village, Generators, Underground Research Agroprom, Lab x18, X16, X10, Varlab, Cave, Labyrinth, Merv, Zaton.
14+ Mutants: jerboa, rat, leech, marsh bloodsucker, a chimera, elktrohimera, controller, kink, poltergeist, fire poltergeist, byurer.
13 Factions: Loners, Military, Mercenaries, Bandits, Environmentalists, Duty, Last Day, Freedom, representatives of the "C"-consciousness, Monolith, Clear Sky, Hunters, Avengers + dealers and repairers (even rumors of the presence in the Zone of women).
Huge number of weapons, from fists and knives to heavy machine guns and grenade launchers.
Great variety of armor, with the possibility of upgrading.
5 types of detectors. 15+ anomalies. 4 mobile teleport devices. 45+ artifacts.
Huge number of quests (200 to 300 hours of content). Unique quest caches.