TBFME2: Special Extended Edition - Preview
The Road goes ever on and on
Out from the door where it began.
Now far ahead the Road has gone,
Let others follow it who can!

Moria
Now goblins are cruel, wicked, and bad-hearted. They make no beautiful things, but they make many clever ones. It is not unlikely that they invented some of the machines that have since troubled the world, especially the ingenious devices for killing large numbers of people at once, for wheels and engines and explosions always delighted them, and also not working with their own hands more than they could help; but in those days and those wild parts they had not advanced (as it is called) so far.
~ The Hobbit, chapter 4: Over Hill and Under Hill
Great Drum - statue (replaces Moria Statue)
"We cannot get out. The end comes, and then drums, drums in the deep."
~ Gandalf, The Fellowship of the Ring, Book II: The Bridge of Khazad-dûm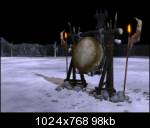 Treasure Trove addition - Fire Drake slave. The drakes are removed as heroes and will now protect your Treasure Trove.
"There are older and fouler things than Orcs in the deep places of the world."
~ Gandalf, The Fellowship of the Ring, Book II: A Journey in the Dark
The yells and yammering, croaking, jibbering and jabbering; howls, growls and curses; shrieking and skriking, that followed were beyond description. Several hundred wild cats and wolves being roasted slowly alive together would not have compared with it.
~ The Hobbit, chapter 4: Over Hill and Under Hill
So ended the attempt to retake Moria! It was valiant but foolish. The time is not come yet.
~ Gandalf, The Fellowship of the Ring, Book II: The Bridge of Khazad-dûm
"Who are these miserable persons?" said the Great Goblin. "Dwarves, and this!" said one of the drivers, pulling at Bilbo's chain so that he fell forward onto his knees. "We found them sheltering in our Front Porch"
~ The Hobbit, chapter 4: Over Hill and Under Hill
Mordor
And as the Captains gazed south to the Land of Mordor, it seemed to them that, black against the pall of cloud, there rose a huge shape of shadow, impenetrable, lightning-crowned, filling all the sky.
~ The Return of the King, Book V: The Black Gate Opens
Siege Towers - now with Mordor Trolls
Then, perceiving the the valour of the City was already beaten down, the hidden Captain put forth his strength. Slowly the great siege-towers built in Osgiliath rolled forward through the dark.
~ The Return of the King, Book V: The Siege of Gondor
Evil Men
...Easterlings with axes, and Variags of Khand, Southrons in scarlet, and out of Far Harad black men like half-trolls with white eyes and red tongues.
~ The Return of the King, Book V: The Battle of the Pelennor Fields
Rhûn catapult
And as each length of trench was completed they could see great wains approaching; and soon yet more companies of the enemy were swiftly setting up, each behind the cover of a trench, great engines for the casting of missiles.
~ The Return of the King, Book V: The Siege of Gondor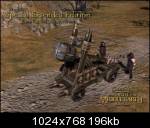 Hâsharii - Evil Men elite units (all elite units now have 300% damage to heroes)
"And some have red paint on their cheeks; and their flags are red, and the tips of their spears, and they have round shields, yellow and black, with big spikes."
~ Gollum, The Two Towers, Book IV: The Black Gate is Closed
Men of the West
"High towers that people built, and strong places, and havens of many ships..."
-Elrond, The Fellowship of the Ring, Book II: The Council of Elrond
Rohan Royal Guard - elite unit (mounted and dismounted)
Their horses were of great stature, strong and clean-limbed; their grey coats glistened, their long tails flowed in the wind, their manes were braided on their proud necks. The Men that rode them matched them well: tall and long-limbed; their hair, flaxen-pale, flowed under their light helms, and streamed in long braids behind them; their faces were stern and keen. In their hands were tall spears of ash, painted shields were slung at their backs, long swords were at their belts, their burnished shirts of mail hung down upon their knees.
~ The Two Towers, Book III: The Riders of Rohan
Our site: See.the3rdage.net
Our forum: Forums.revora.net