Source Media Arcade Updated
If you haven't played Source Media Arcade lately, it's time to set some New Year's resolutions. I spent my entire Christmas Week coding in some very useful and exciting features for the mod.
The most important of these features is the all-new DLC system, which allows me to get the latest add-on content to you with a single click. Source Media Arcade supports a wide range of add-on content including: new cabinet models, new apps, new search providers, new library items, and more! Now you can browse these add-ons in the integrated, completely free DLC "store". Here is a video demonstrating how to use the DLC store:
Another great new feature is the ability to randomize which items get spawned. Tired of seeing the same Star Trek episode placed next to your Star Wars: The Old Republic cabinet? Well, now you can make a RANDOM Star Trek episode spawn there instead! Or maybe instead, you'd just want a random TV show spawned there. That is possible now too! Check out this video demonstrating how to use item randomization:
What's New?
Downloadable Content System
Integrated, completely free DLC "store"
Launched with eight (8) add-ons including library items, search providers, apps, and content packs
1-click installation of DLC add-ons
More add-ons to hit the DLC "store" soon!
Item Randomization Options
Let SM Arcade choose which item to spawn
Options to randomly select from ALL items, OR only items that are of the same type, group, or app
Other Changes
Many bug fixes, including the high-resolution movie posters from TheMovieDB.org
Includes an icon for a Source Media Arcade desktop shortcut
Community-wide chat on MotD page
Improved in-line help for the Launch Page
Expand/collapse buttons for various portions of the Details Menu
Use Desura to update and play the newest version right away!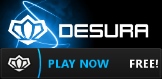 Play Now!
Or download the FULL VERSION of Source Media Arcade 2.0b...



Download Full Version 2.0b Now!
If you don't use Desura and already have version 2.0 installed, you can click here to download the 2.0 to 2.0b update patch. It will leave your library and customized arcades intact.