Today is patching day! version 1.1.5 comes with one new map and a little fix for the server browser. The new map, SR-EasyRide, is mainly for Snowreal beginners who want to get a little more used to the controls before breaking their neck on one of the other maps.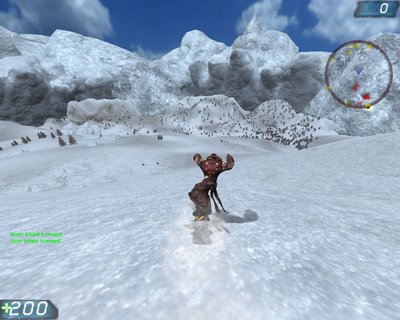 EasyRide is also there for everyone who wants to create a Snowreal map himself. Feel free to use this map as a starting point for your own map! Even if you have no experience with UnrealEd at all, you can just load that map and start painting your own terrain. If you made a map based on EasyRide, you can make it public without any extra permission, as long as you name me in the credits, and Max_Damage in case you use the pinetree models.
Snowreal servers are now shown in the serverbrowser again (between the deathmatch servers). Just sort by map and look for one of the snowreal mapnames.
PC users get a patch in the form of a .rar file, PS3 users get a full new userdata.jam.
###########################
Changelog v1.1.5
###########################
- New Map: SR-EasyRide. Feel free to use this map as a base for your own.
- Bug fixed: Snowreal servers not showing up in the server browser.
Download for PC:
Snowreal Patch 1.1.5
ModDB Mirror
Download for PS3:
USERDATA.JAM
ModDB Mirror: Snowreal_v1.1.5_PS3.rar