Snowreal is a 3rd person Snowboarding Mod for Unreal Tournament 3. Race down one of 4 massive-scale maps or show your spectacular skills in a trick competition. Switch from vast snow landscapes to a tension-packed ride over dangerous lava streams down a volcano, back to a tricky alpine slalom course.
With version 1.5, Snowreal now features a whole new racing gametype with only one rule: Whoever reaches the finish line first, wins. To help you with this task, you are equipped with the brand new snow cannon to knock your opponents off their boards. Beware, as there are various obstacles on the course that could block your way anytime. And that's not all. There are many more features, such as: enhanced visuals, optimized splitscreen experience, and grinding! You are able to grind on anything you come across - metal, stone, wood etc.
For fans of the good old time trial mode and trick competition, there still is the "Snowreal Time Trial" gametype.
Have fun boarding, and may your enemy eat snow ;-)
You can Watch the new Snowreal "Balls of Snow" Trailer on YouTube or View Snowreal 1.5 Screenshots.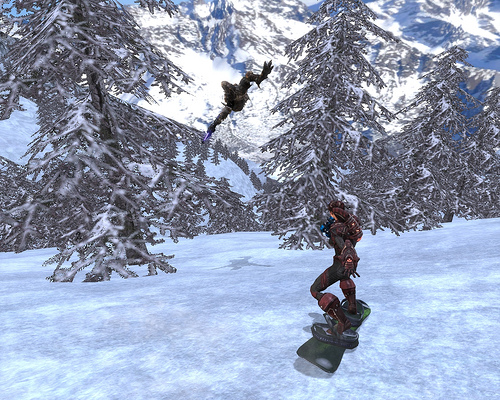 Changelog wrote: ###########################
Changelog v1.5
###########################
- New SnowrealRace Gametype
- Snow Cannon
- 3D Arrow pointing to the next checkpoint
- Improved environment graphics
- Improved Snowboard Shaders
- Grinding
- Added rails to SR-Whiteslope
- Added physics objects to SR-WhiteSlope
- Splitscreen Support. Improved cameras. Reduced HUD
- Snow Camera Effect when falling
- Showing current position on HUD
- Locking players while start countdown is active
- Respawn at last checkpoint after dying/missing
- Mobile Teleporter using teleporting player to last checkpoint
- Increased physical impact of the impact hammer. Enables you to do sky-high jumps
- Tweaked checkpoint meshes. Enabled passing through
- Random selection of Snowboard Skins on each map
- Remote Cam now accessible by clicking RMB twice
- Fixed Bug: Player not being able to exit snowboard
- Numerous bugfixes
- Using new mod dir structure
- Splash Screen
- Tricks are shown on HUD
Still uncertain?
Read what others had to say about the mod:

xmbmod.com - "If you thought modding couldn't get better. Think again."
BananaXtreme - "My mate almost got a heart attack bcuz of the fun he had!"
Viper7 - "you basicly made the first snowboarding game for ps3, gratz for that"
techadoo.com - "Now for something definitely cooler. Like a couple degrees Fahrenheit cooler. [...] some of the fans' creativity let loose with wild abandon."

Join the Official Snowreal Server now!
Multiplay.co.uk :: Snowreal Server
IP: 85.236.109.19:7977
(you can select this server in your serverbrowser, or you can join by console: from the menu, press F10 and type 'open 85.236.109.19:7977' without quotation marks, then press enter and then F10 to close console)