Hey all, I have been very busy over the past couple days trying to get the code for the Stargate working, importing models, texturing, and taking an abundance of painkillers to get rid of the headaches it is causing. There has been a lot of progress done recently and hopefully enough to get the beta out soon. So far Cheyenne is complete, well the market district that was in the last version is anyway, the entrance is now through a ship (sea not space) in a new dock at Winterhold. There will be a new section of Cheyenne done by the beta (I would have pictures up but its pretty basic right now), this section will be the Cheyenne Docks, a small area only holding the dock, a couple storehouses, a fishing shop, and a guard barracks.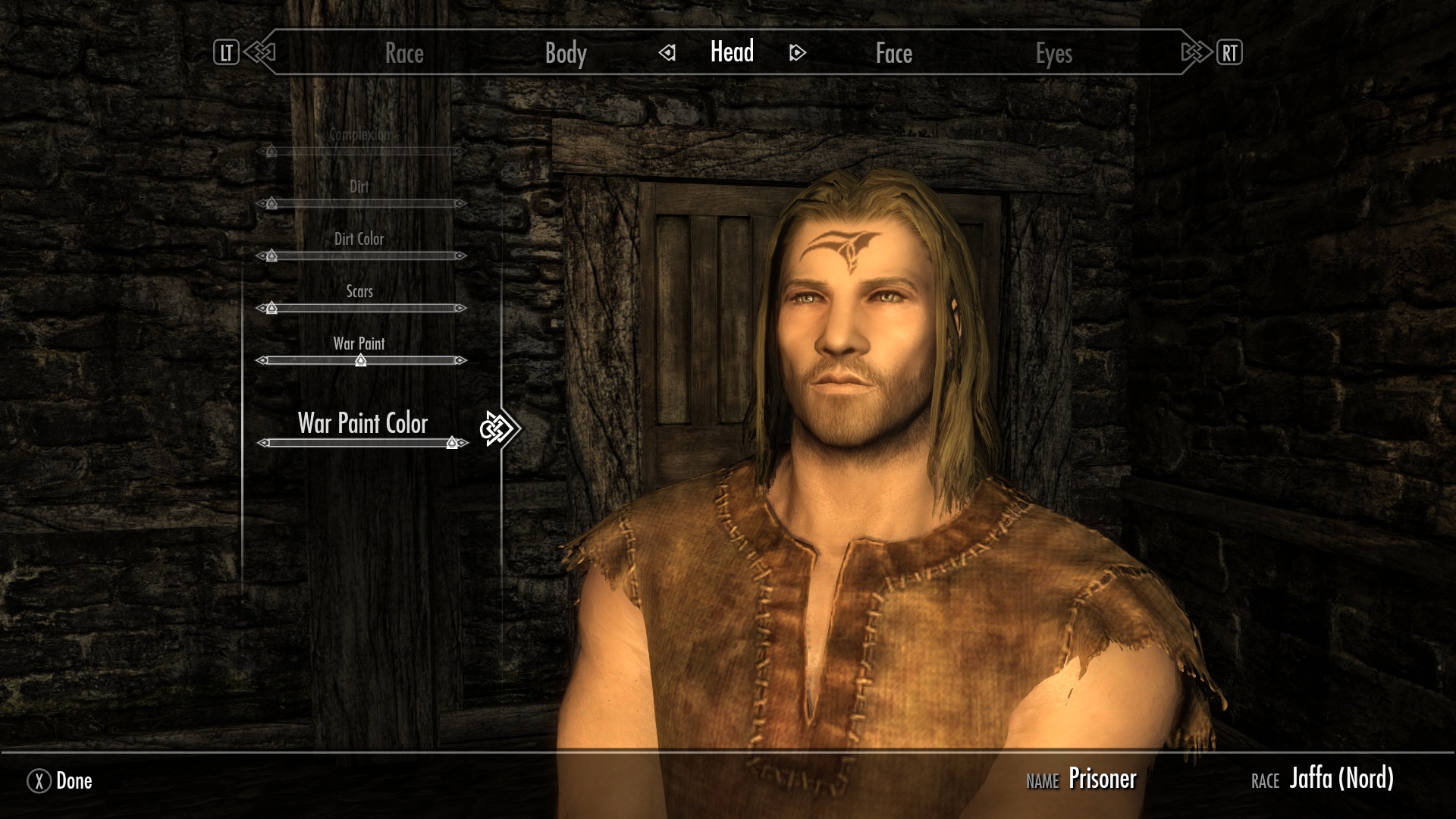 A small but great advance is the addition of the Jaffa race, fully playable, choice of any head tattoo which has been seen even briefly in Stargate, I am working on getting a skin for the 'pouch' done but coming accross problems which makes me think it would be easier to just have the default skin for the Jaffa (my image is different as I use several combinations of skin replacers). The Goa'uld interior tile set is done and I am in the process of texturing them and importing them so I can have the Goa'uld base and a Ha'tak, if all goes well (so far has been) then I will also get some Lantean architecture in on a second world after I release the beta.
As for the scripting (biggest source of headaches ever), in theory the current script should be working perfectly, although it isn't. If anyone has any understanding of Papyrus or even previous experience in scripting with Oblivions/Fallouts code system then I could really do with the help so PM me if you can.
A notable model which you will see very often is the Tel'tak, the model has been in for a while now and I simply forgot to post a picture at the time, a few days ago I posted the picture alone with the Jaffa pictures showing off the tattoos. I will mainly be using this as an easy way to fast travel for those who do not like using the map fast travel system, it will be found at most if not all Goa'uld locations with a list of destinations, I may have these vary depending on quests and the like if I can figure out how to do so.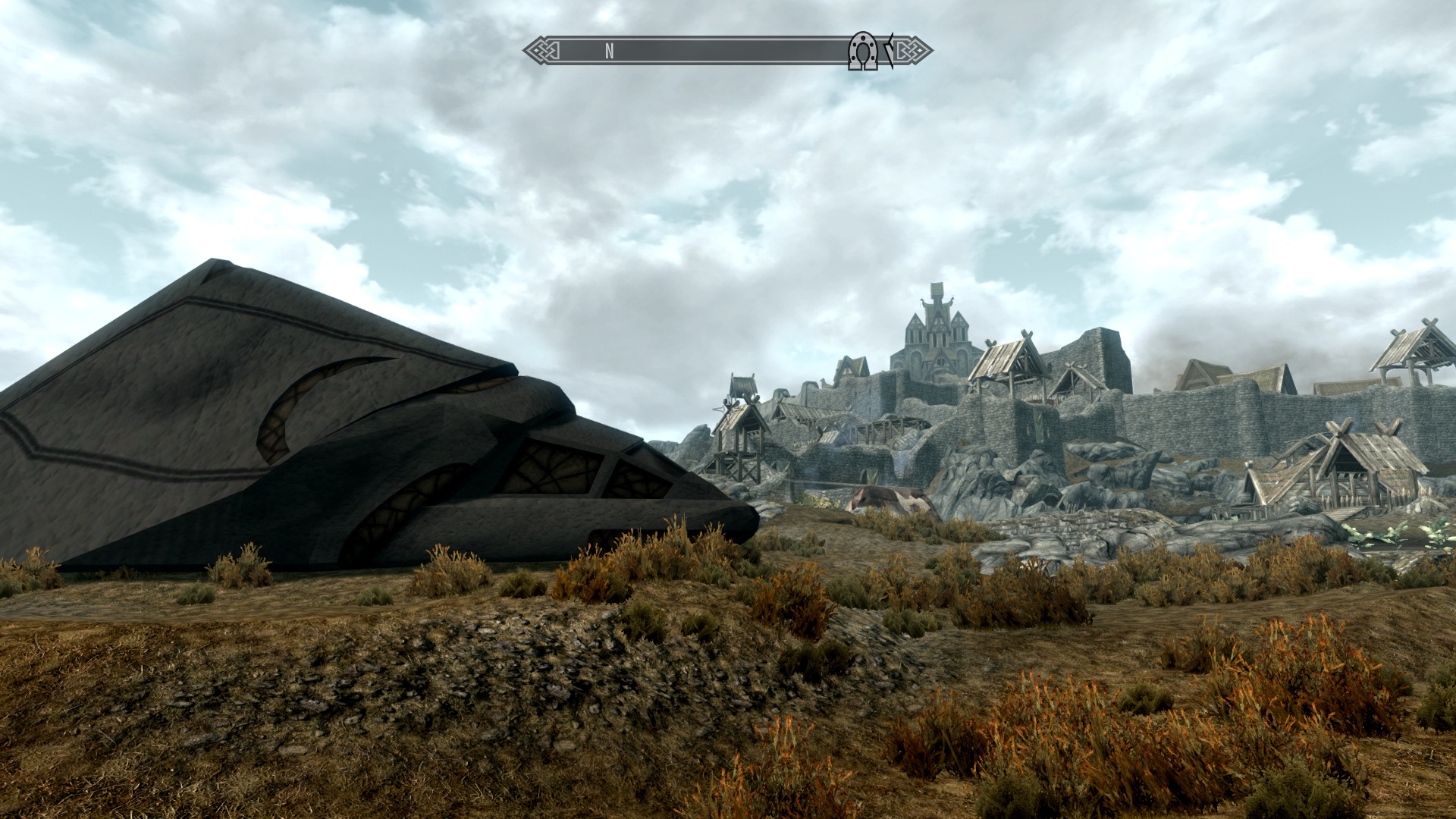 A slight bit of good news is that I am also working alongside someone else working on a different Stargate mod for Skyrim (not sure if he wants it announced or anything so I can't say about that yet), he has textured the SG-1 gate model I have and also the DHD, to a standard where I can use it instead of the SGU gate for most of the locations, special locations like the Destiny (yes you read that right) will have their proper gate style of course. I will upload images soon as there are some finishing touches to do to make the symbols show, they don't show at all from a distance because of the way the model was made or something, I'm not sure to be honest.
And finally I have the news that there are currently 4 locations on the other side of the gate to be discovered. Well the ones that are fully planned anyway. First of course is the rainy dying world which you will meet the Goa'uld on, alongside some feral Argonians (will be Unas when I can model that properly in the far future). I have so far been unsuccessful getting Jaffa armour working correctly so that will not be in the beta release unless some magical person wants to help with that.
The second world will be a desert world, with no visible atmosphere, aka no blue skies, just a direct view of space, personally I think this would be a beautiful scene and got the idea re-watching SGU episodes to get ideas. This world will have some deserted, and mostly buried under sand, structures, not sure what race I am going to have them belong to yet, considering either Ori, Asguard or the Furlings (I am not sure how I will go about that yet as I can essentially make them whatever I want).
The Third world will be purely water, not kidding the world will be like Lantea, apart from no landmass what so ever. Instead, there will be flora which comes up out of the ocean like gigantic mushrooms and layered tree-like structures, all this surrounding a small Alteran outpost, pretty much a 'town ship' instead of the Atlantis 'city ship'.
The fourth world will not be a world, but instead will be a ship, that's right, Destiny, this being an alternate universe makes me able to do what I want and I want to be able to have you go to and from Destiny, after following a little quest, by little I mean the whole of the third world. You will recover an object which is sat below the gate which makes it possible to dial the 9th chevron, doing this gets you on board the Destiny, where the Tollans have recently inhabited. There is a long backstory as to why they are there and so on but I will explain all that later when I have finished writing it up for placing in the books that will be available to read in game.
There is another feature I will be adding for the beta which will help me explain many things in the mod, this will be the Heliopolis. This is the name I have given to a downed shuttle which was recovered by the Mages who reside in Cheyenne's White Tower (Will elaborate. The shuttle contains a 'teleport' of sorts which allows you to be transported to another dimension, this pocket dimension holds the Great Races Library and will simply be a way for you to read about features, background stories, races, technology and whatever else I add in book form, there will be several book shelves which can be used to store any books you find on your travels through the gate and anywhere else for that matter. Sort of a repository for knowledge (that wont kill you).
And that's it for now, I think... anyway, I am looking for comments on a couple of subjects I have mentioned, mainly what race you wish to see on the desert world, what you think the furlings should look like and what their technology should look like. I am also looking for opinions on my plans for the Nox, which is loosely based around nature and trees and flora etc, but the race themselves I think would look cool if they were friendly Spriggans who can communicate with you like any other npc, as I think the representation of them in the show was a little low budget and all round pathetic considering how alien the Asgard and Nakai (SGU) are.
Chow for Now
-Neronix17/Durge13