My last version of Fenix Legacy mod, but incomplete, If anyone want to complete it is free.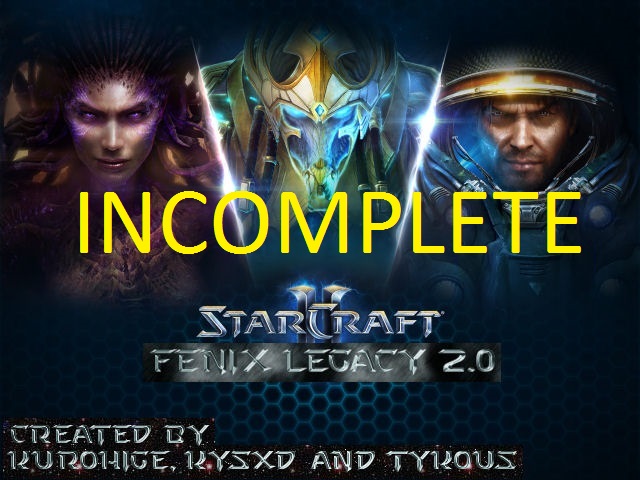 I will upload the last version of my mod Fenix Legacy, if there is anyone interested in making a continuation is free, this version is incomplete, but it is until I've reached, I have no time to continue with the mod. Thanks to friends from moddb, in special KYSXD, Tykous, Ravenwolf, Raygoza, Black_Overseer, and all that downloaded and played this mod, I hope someone else can continue this, because is incomplete and there are so many things to add even the applying of the plugins of KYSXD.
I was planning to release the version 2.0 of Fenix Legacy, my objective was to resemble Starcraft 2 Legacy of the void, but I have no time to work in this mod and I have other responsabilities.
I made a lot of advances thanks to Tykous and KYSXD, if any want to continue from this point I suggest work with them, there are a lot of things to add to the mod and these are possible with the plugins of KYSXD. Almost all the units zerg were made by Tykous, also several new terran units.
There are two version in the packages because each one was made with different versions of the plugins of KYSXD, try each one there are several functions available with one version, such as the protoss warpgate.
Sorry for not complete this, I've been really busy this months, I have to study and work, from this month forward my career is going to be harder, so it would be impossible to continue. Feel free to use this mod, well actually is also KYSXD's mod and Tykous's mod so I suggest ask them, in special with KYSXD who is the plugins creator.
GG