My New and Last Stargate Atlantis Map on the Source Engine.

---
I present "SB_ SGC_to_Atlantis".
A complete new Map with new Corridors, Rooms, locations and new Graphic Overlay with detailed shadows,
Light,- and Sound Dynamic.
---
Explore the Lost City of Atlantis and explore secret rooms and corridors as you have never seen before. Travel from the SGC to the Midway Station and then to Atlantis. Translate various Antique languages up to the ancient Language of the Asuran. Thanks to the replica of Atlantis, you can view the rooms so impress, so you know always know where you are. the Map is created as a sandbox map, so that you can make the rooms as you like it. Since the Source Engine has many limitations, I've the map so optimized that peoples can play the Map with weak Pc's.
---
Map Progress :
Stargate Centre

=

100

%

Midway Station

=

100

%

Atlantis

=

100 %

Genii Planet

=

100

%
Triggers & Events

=

100

%

Optimization

=

100

%

Sounds

=

100

%

Gameplay

=

100 %
Whole Progress of the Map = 100.0 %
stand [26.07.2014]
---
First closed Beta Test #1
27.07.2014
Beta Test #2
03.08.2014
---
Click here to see some screenshots about the Map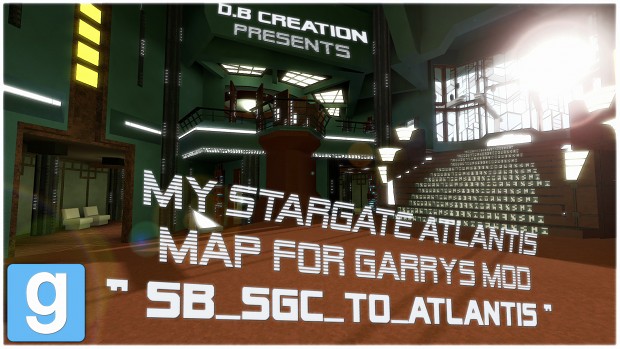 ---
Powered and developed by