Hello everyone!
It's time for another Update on the Empire at War Story Creator.
Last time I have introduced this new tool for Empire at War and now, 7 months later, I can finally present you a first alpha release.
So, let me give you an overview about the changes that have been made in the last 7 months.
First off, these are the Event and Reward Types that have been implemented so far:
Event Types:
STORY_TRIGGER
STORY_CONQUER
STORY_ELAPSED
STORY_ENTER
STORY_CONSTRUCT
STORY_DEPLOY
STORY_SPEECH_DONE
STORY_FLEET_BOUNCED
STORY_DESTROY
STORY_TACTICAL_DESTROY
STORY_LAND_TACTICAL
STORY_SPACE_TACTICAL
STORY_UNIT_PROXIMITY
STORY_FLAG
STORY_VICTORY
Reward Types:
MULTIMEDIA
CREDITS
UNIQUE_UNIT
ADD_OBJECTIVE
REMOVE_OBJECTIVE
BUILDABLE_UNIT
LOCK_UNIT
STOP_COMMANDBAR_MOVIE
SPAWN_HERO
REMOVE_UNIT
FLASH_FLEET_WITH_UNIT
HIDE_TUTORIAL_CURSOR
SCREEN_TEXT
SET_PLANET_RESTRICTED
SET_FLAG
INCREMENT_FLAG
ENABLE_VICTORY
VICTORY
Don't know what these are good for? Don't worry! The Story Creator comes with a manual that contains a basic event scripting tutorial and also has a help function that explains how each of these Event/Reward Types is used!
Moreover, the Story Creator uses simplified expressions for the Event/Reward Types to make it easier to identify the required type for unexperienced modders.So, while working with the Story Creator the list from above will look like this: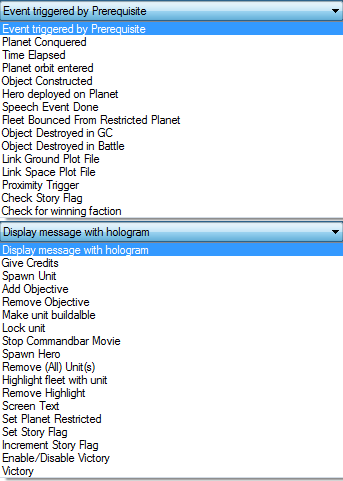 And here we have a picture of the help function that I have mentioned before: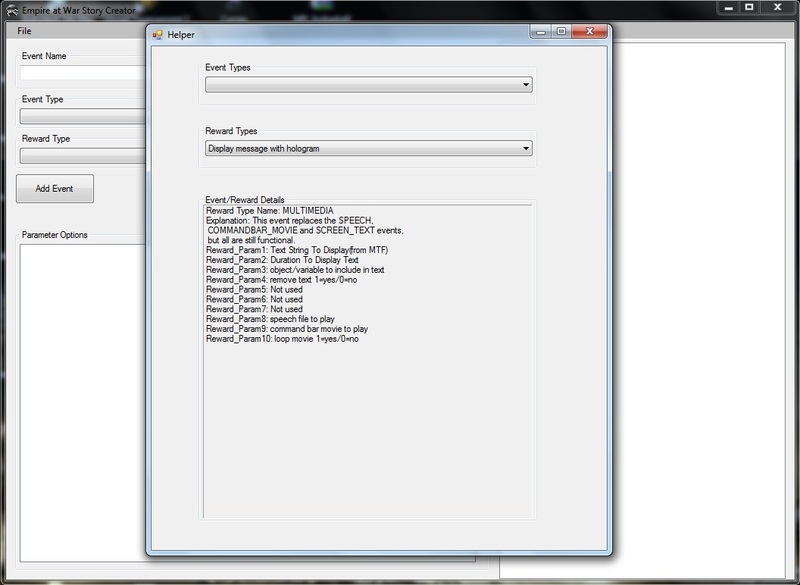 As you can see from the Event/Reward Type list you can also work with Story Flags now (for those who don't know, Flags are used to count things in Empire at War, they are basically a variable with a value attached to it).
Flags are managed in the Flag Editor which is basically a list of all Flags that are used in your story file: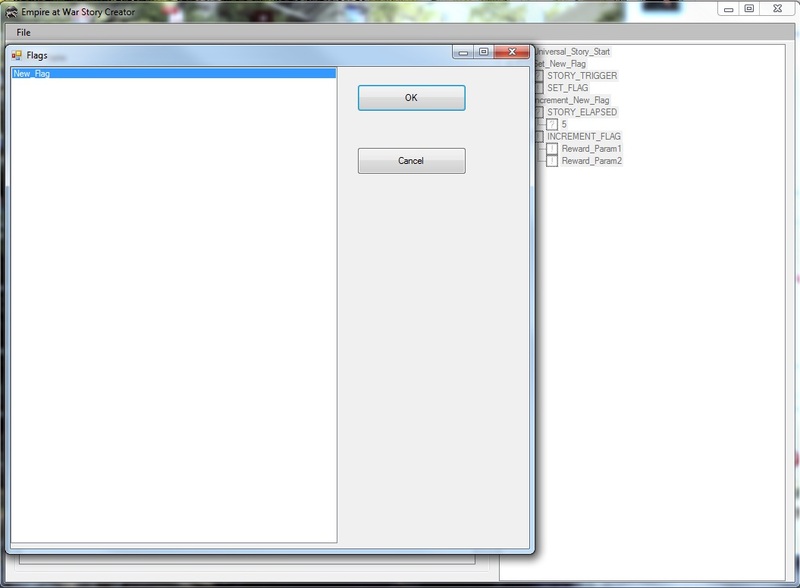 If a Flag is removed or its name gets edited all other Story Events with references to that Flag get adjusted according to the changes automatically.
And that's it for now!
I hope you enjoy working with the Story Creator and that it will help you to create awesome story campaigns and new game play features for Empire at War more easily.
If you encounter a bug or want to leave some feedback please send me PM here on ModDB or a mail to SmallPox AT hotmail DOT de