Currently, there is no incentive for accurate formations. Everything is a single-rank skirmish line. There are no upsides to using anything else, and a huge lot of downsides. Not anymore.
The morale system provides those upsides. Here is how it works:
Your morale is in a percentage, from 0-100%. This is constantly displayed above your health bar. As morale goes down, so does your combat-effectiveness.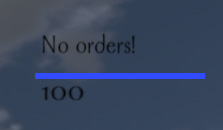 As a skirmish chain, you may find yourself harder to hit, but if you are hit then there will be problems for the rest of you. A tight two-rank line might find themselves hit more often, but they'll take little to no negative effects from it.
Do not let your morale drop too low! If your morale hits 0, you are so combat-ineffective that your only real option is running.
Managing your morale
Stay together! The tighter you are, the less you take in morale hits - and the larger morale hits you give to enemies.
Stand by your banner! Banners drastically reduce morale hits, and drastically increase morale gains.
Stand up straight! Crouching can have its uses, but it has a negative effect on morale - especially for standard bearers.
Officers, speak up! Officer commands have extremely useful benefits.
Effects of low Morale
Inaccuracy - as morale drops, you will begin missing shots that otherwise would have hit.
Glancing - as morale drops, you'll glance a hell of a lot more of your melee attacks.
Dropping your weapon - You can fumble and drop your weapon if your morale's low. Keep a lookout for it, not noticing it could be bad news.
No reloading on the move - You can't even reload while walking with low morale.
Officer commands:
1 - Fire (1 second) - If you fire a shot during this order, you gain large amounts of morale.
2 - Fire at Will (60 seconds) - This reduces low morale's effect on inaccuracy.
3 - Form Line (10 seconds) - Removes the negative effects of being alone to give you time to form up with your line.
4 - Forward (40 seconds) - You gain morale as you're moving forward.
5 - Retreat (15 seconds) - You do not take morale hits if the cause of the hit is behind you.
6 - Skirmishers (60 seconds) - Removes the negative effects of crouching.
7 - Bayonets (3 seconds) - You gain a large amount of morale if you fix a bayonet during this order.
8 - Charge (30 seconds) - You gain huge amounts of morale with this command, but if you fire off a shot it reverses and you begin losing morale for the rest of the duration. You can only use this command if you're less than 20 meters from an enemy.
Only one officer command may be active at a time. It is a minimum of 15 seconds between officer commands.
If you give out an officer command, the current command of everyone around you is overwritten by the new one.
The goal of this system is to make more styles of gameplay for regiments viable, if this is done correctly, then standing shoulder-to-shoulder in a two-rank line will be an exceedingly powerful way to fight.
This system is intended for linebattles only, and so it can be completely enabled or disabled at any time through the admin panel.
The system is a WIP, and will probably change from now until the release (with lots of balancing after the release).