[page=Introduction]
Samurai Legends is a multiplayer action game for Half-Life2 that uses a combat system familiar to players of many online MMO games. Players may choose from three character classes and then upgrade their weapons, armor, and abilities by earning honor on the battlefield. Honor is earned by killing enemy players and completing objectives and is spent between rounds in a menu system similar to Counter-Strike. Top players are recognized by a "leader flag" that attaches to their back, and these leaders then provide a healing bonus to near-by players to encourage group game-play. In addition, the monk class may seek out the "resurrection shrine" found on each map to resurrect fallen comrades.
[page=Interview]
modDB.com: Most Interviews interview just one person but since this was a team effort please list the key team who made Samurai Legends and what they did.
Samurai Legends was put together by a "senior" group of students as
their last big project before graduation at The Guildhall at SMU. It was a six-month effort, and individual contributions ranged from
management roles: (producer/game designer/level design/programming/art leads) to designated production roles (level
designers, artists, programmers). A full list can be found on our
website at www.samurailegends.com.. While this was a "final" project, many of us want to see it continue and grow if the community embraces it and are fully committed to adding updates and enhancements in the future.
modDB.com: What was the inspiration for The Samurai Legends mod?
We wanted to make a game familiar to MMO players that like to go on
"raids" or organized group PVP battles. Players that would like to
experience this kind of gameplay but who want to skip the hundreds of hours of leveling up to get there can play our mod and get a good taste of what it's like. Our first release offers three player classes with a full suite of special powers per class. Since this was made on the HL2 engine, we used elements from Counter-Strike like the round-based combat, buyable weapons, and mission objectives to keep elements of leveling up without going through the "grind" that you see in other MMO type games. The game-play was designed to give players coming in on round 8 a fair chance at beating someone that has been there from the start of the match.
modDB.com: Will there be a single player version?
No single player version is in production at this time.
modDB.com: How did the name Samurai legends become the name?
Actually, naming the game was one of the hardest things we had to do! We started off production under another name (Fallen Realm), but were afraid that people wouldn't have any idea what the content/subject matter was without having Samurai in the title. After a few voting sessions, it came back to "game designer's decision". Luckily, one of the artists on the team came up with a great logo with the 3 character classes and the Samurai Legends name just fell into place.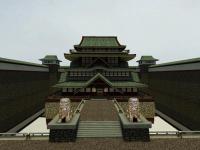 modDB.com: For the future releases what new weapons will we see?
Secondary weapons were the big thing we had to drop to meet our
project deadline.Everyone wants to see things like the shuriken, sais, and kamas make it into the game in the future though. These weapons would be something every class could switch to and would provide extra bonuses and effects such as a smoke bomb, better defense with two weapons, or stunning power at the expense of direct damage. These details are in the design document, and they may make it into the game in a later release.
modDB.com: The maps are you planning large or small, What are the plans to make the rounds last long, what do you plan on improving in the next release?
Our first round of maps has a nice mix of map sizes. Our original
intention was to design something for 5 on 5 clan play, but to be big enough to handle 16 on 16 for online slug-fests. Designing maps for a 3rd person camera meant that we needed large, open combat spaces. Doorways and other spaces were intentionally made bigger to accommodate the camera position and play style. There are four different objective types that can be mixed and matched on each map. From team deathmatch, to assassination (the Shogun's health scales by the number of players in the round), to warlord mode (each team has a leader designated by a flag on the back. A static "warlord shield" gives the warlord excellent protection, but when the shield goes down, he is vulnerable. Once the leader is dead, the round is over.) and take-and-hold (make it to the other team's base and "use" an objective for a set amount of time to win the round). Round times can be extended if a team uses the resurrection shrine (1 per map). These resurrection shrines bring dead players back to life. They may only be used by a monk character class and may only be used once per round per team. As for future enhancements, we may be looking at blowing stuff up - because everyone loves to blow stuff up!
modDB.com: Explain how the player classes will work and why I should be one over the other in your opinion?
The character classes were designed to balance each other out. One on one, the Ninja has abilities to take down a monk, the monk can take down a Samurai, and the Samurai can take down Ninjas. The character's powers are balanced enough that this isn't a perfect
rock-paper-scissor scenario though. A skilled Ninja should have no
problem beating a Samurai if he/she uses terrain, backstabs, and
ranged destruction to their advantage. Likewise, this kind of game was designed to have multiple types and classes fighting it out with different weapons, armor, and (hopefully soon) - items/secondary weapons. A monk with no armor facing a decked out Samurai may want to seek weaker opponents, for instance. The good thing is that you see the armor that they are wearing on the model - a few rounds of play will familiarize players with different armor and weapon levels, giving each class multiple layers and play options.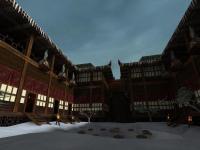 modDB.com: How is the damage system in Samurai Legends mod?
You can damage other players using ranged spells and bows, or get
close for melee combat. Like other MMO games, players have an
auto-attack that automatically fires every few seconds when they are in range of their target. The trick is using the special abilities at the bottom of the screen - When you are in range, and the conditions of the ability are met (like being behind another player to use the backstab ability) you can press the keyboard button or click on the icon at any time to fire off the ability. You can't use the ability again until the cooldown finishes (once used, the icon disappears and slowly rebuilds until it's ready to go again). Different combat styles reward different play styles - a player using the direct damage style will get their offensive abilities back faster than their defensive ones. Likewise, a player that uses the "mixed" style or "defensive" style will get their defensive abilities back faster than their offensive ones. Using this system, players can experiment within each class to discover new combinations.
modDB.com: Describe the best feature in the mod in your opinion? What should the person look for that they might miss?
I think the best thing going for the Samurai Legends game is the
options it gives players. Things like the resurrection shrine that
brings dead players back to life, different combat styles that make
sub-classes within classes, and a leader system that rewards team-play make for interesting game-play decisions. There are a lot of layers within the game that the first-time player may miss. We set out to make a core-game that we could build on and expand in the future, and while not every feature made it into the first release, the base systems are there. A lot of us are big HL2 mod community members, and we wanted to make something different to give back to the community - HL2 was designed for first-person combat, and changing the game around to a 3rd person MMO combat game was a real challenge.
modDB.com: For mod teams wanting to start a mod what advice would you give?
Never underestimate the power of a "management" role. Getting people together to share a common goal on something you aren't getting paid for is a tricky business, so having someone that acts as a producer making schedules, planning meetings, and keeping the team on track is a real bonus that many mod teams may overlook. Having a design document that everyone on the team can access is also a must. Example pictures, stats, damage numbers, etc. clearly lined out from an early stage makes everyone's life easier later on. Also, make sure you have an "art pipeline" set up - if everyone on the team is using 3ds Max, make sure everyone is exporting the same way and to the same locations from the start of the mod.