There are many features often unknown and overlooked in Mod Database v2 which I believe are incredibly handy, so I decided to post this news alerting you to them!
Findmod Tool
Want to find or link to a mod quickly and easily? Then simply type the URL: Moddb.com
For example if you wanted to find Counter Strike you could go: Moddb.com and the closest matching mods will be shown
Mod Gallery Image Links
Unfortunatly in v2, all gallery images were moved so old URLs to them no longer work... However, if you want to link to a gallery image in your news post, or in the forum, or anywhere on the site simply lookup the gallery images ID and type: [modimgIDHERE].
For example if I wanted to link to the sample mods gallery image I can go: [modimg1] and that will display: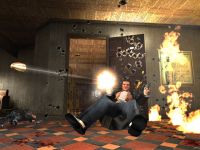 Quick Links
If you want to quickly link to a mod or a member simply look up their ID and type: [modIDHERE] (for mods) and [userIDHERE] (for members)
For example if I wanted to link to the sample mod I can go: [mod1] and that will show Sample Mod.
RSS News Feed
Finally this is unrelated but important all the same for anybody looking to syndicate the Mod Database news, now you can! Moddb.com is the feed and the URL will always be at the bottom of the left menu