Dev Diary Entry #3 - 2.0 WIP
No new release yet but the next version 2.0 is coming soon. Still only a multiplayer release but will include all 4 sides, although Allies and Asia are much more polished.
Long story short lots of IRL stuff, PC was packed away and not set up until recently so I've been working as much as I can, adding new units, visuals, balancing etc.
2.0 will bring loads of changes and new features which I hope you will enjoy. I also intend on making my files public so they will not be protected, just ensure you read the credit.txt :)
This article will focus on showing some weapon and art enhancements, so let's kick it off with:
Bullet weapons release shell casings and have new fire animations for normal and heroic levels and straight fire missiles no longer get affected by wind:
Next, I would like to showcase a few of Yuri's units:
Here you see the Seeker; Yuri's core AA and scouting unit, the Stealth Tank, Disruptor and the Fanatic.
Terrorist type units were rarely used in vanilla, 2.0 makes them not explode if killed early - rendering them very efficient if they are able to reach their target without harming friendlies.
Next up we have the new veterancy insignias, I chose to go back to basic looking ones rather than fancy as previously used, feedback welcome!
Lastly, I think infantry lack diversity so I'll be adding a few more - with some fun weapons. Here's the shotgun ;)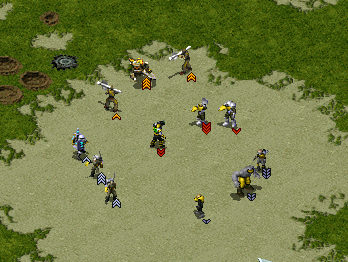 For those interested, the WIP 2.0 changelog can be found here.
Until next time with another update