The newly released v3.2.000 Patch includes the changes from the previous v3.1.005 Hotfix, along with much new content and fixes. Some of the more minor changes are increasing the chance of Acumen improving from the Academy chain of buildings, the fixing of minor issues on existing models, updating the last few old unit cards and unit info pics, as well as moving quivers to the waist for crossbowmen (to both better distinguish them from archers and better fit their reloading animations). Another minor change was the improvement of many biographies, specifically for those characters in the Liang and Imperial Han factions. Historical sources, particularly those of Dr. Rafe de Crespigny (who is an advisor to CA on their upcoming Total War: Three Kingdoms title), were scoured to find more correct and expansive biographies for numerous characters. A few of those characters, Fan Chou, Li Le and Li Li, can be seen with their updated biographies below.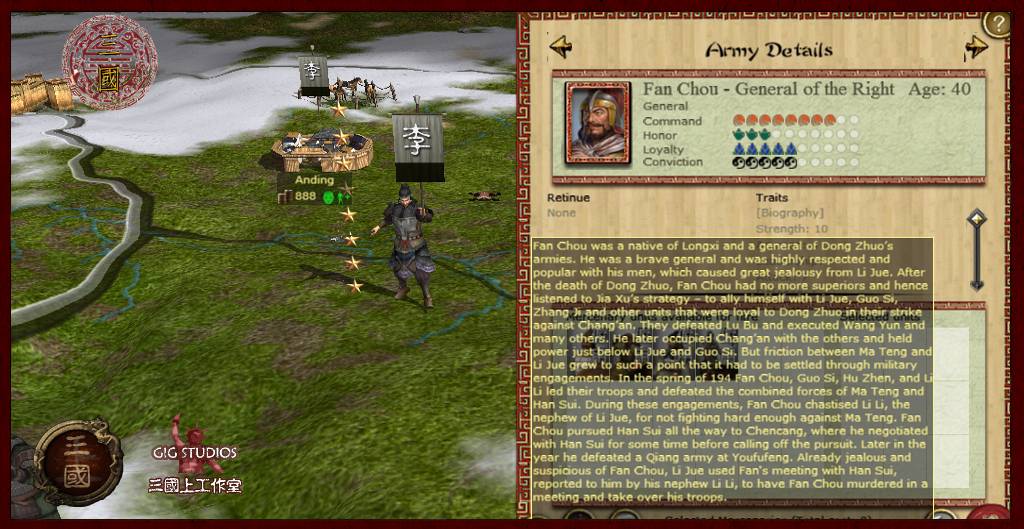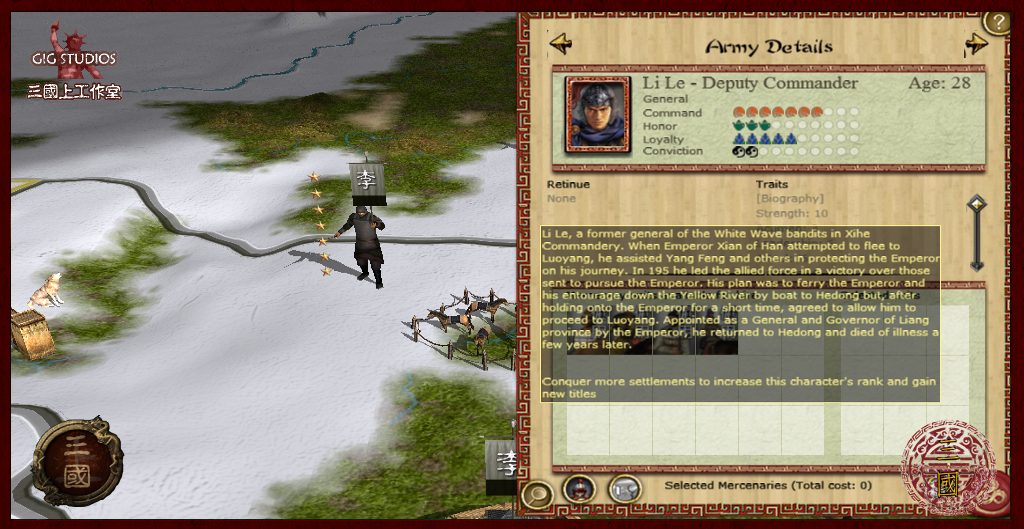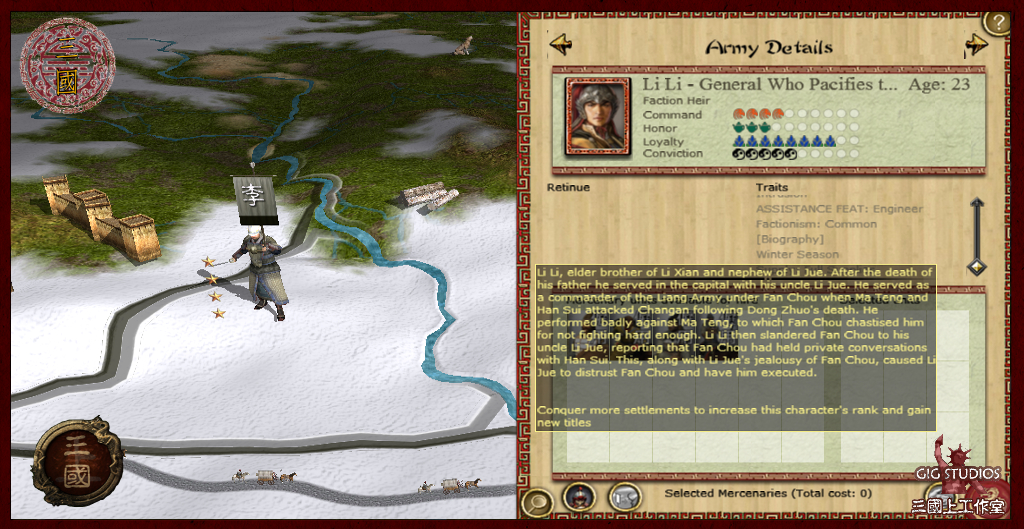 Another upgrade is the addition of Dong Cheng to the mod. I'm not sure how or why, but this highly important character was neglected and never added to the mod. That, obviously, has been fixed, with Dong Cheng being added to the Unaligned faction and positioned near Luoyang. If playing as the Imperial Han, it is scripted that Dong Cheng will join your faction with a small army near Luoyang.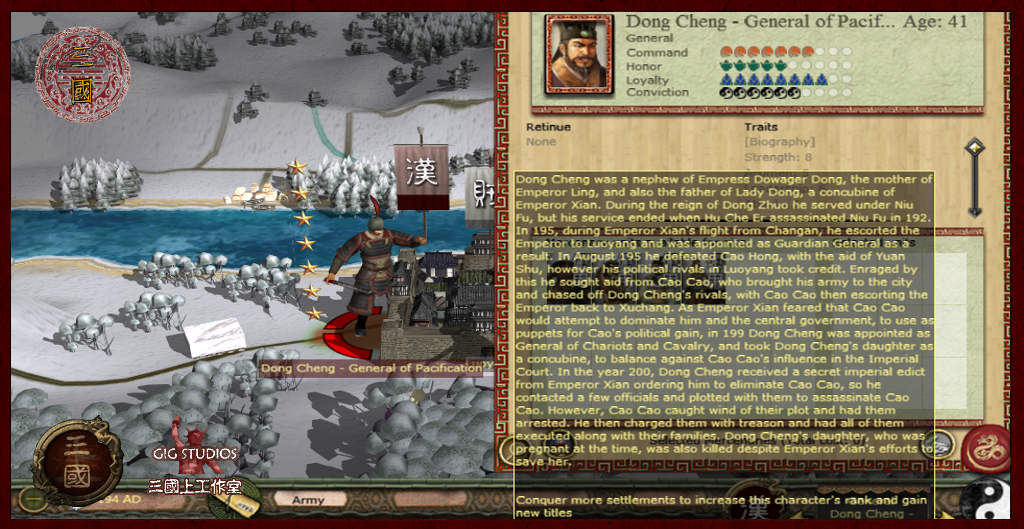 The major improvement in the v3.2 Patch is the re-introduction of Regional Recruitment. You may be asking "what exactly is Regional Recruitment?" Essentially China-proper is divided into 6 regions: Hebei in the northeast, Yong-Liang in the northwest, Ba-Shu in the southwest, Jingzhou occupying the south-central areas, Jiangdong in the southeast, and Zhongyuan covering central and eastern China. In each region you can recruit troops that are labelled as being from that region, with each region offering specific bonuses for specific unit types. Hebei gives bonuses to horse-archers, Yong-Liang to cavalry, Zhongyuan to crossbowmen, Ba-Shu to halberdiers, Jingzhou to archers, and Jiangdong to swordsmen. These bonuses are based as historically as can be deciphered. For example, the northern regions of Yong-Liang and Hebei had the greatest contact and conflict with the steppe people (Xianbei, Wuhuan, Xiongnu, etc.) and so developed the best cavalry forces in China. It wasn't until Cao Cao defeated Yuan Shao and submitted to Wuhuan was he able to gain from them superior cavalry forces. The Ma family, and other warlords of Liang province, were renowned horsemen and controlled excellent heavy cavalry forces. With that in mind, that is why both Yong-Liang and Hebei receive bonuses to their respective cavalry units. Jingzhou, on the other hand, was famed for their archers while the mountainous Ba-Shu region was known for their spearmen/halberdiers that were used to great effect in defending the various narrow mountain passes into the region. Along with unit-type specific bonuses, each region now offers unique helmets for their troops. There are two variations for each regional helmet, with all Heavy units and all 3rd-tier armor upgrade (silver shield) Light units displaying their regional helmets. All regional troops will also have different unit cards, as it would be an utter irritant having to distinguish between units of different regions if they have the same unit cards (and trying to merge units only to find out they are from different regions). Below is an example of how units will now look on the battlefield, with Yong-Liang Heavy Cavalry and (tier 2 upgraded) Light Ba-Shu Swordsmen.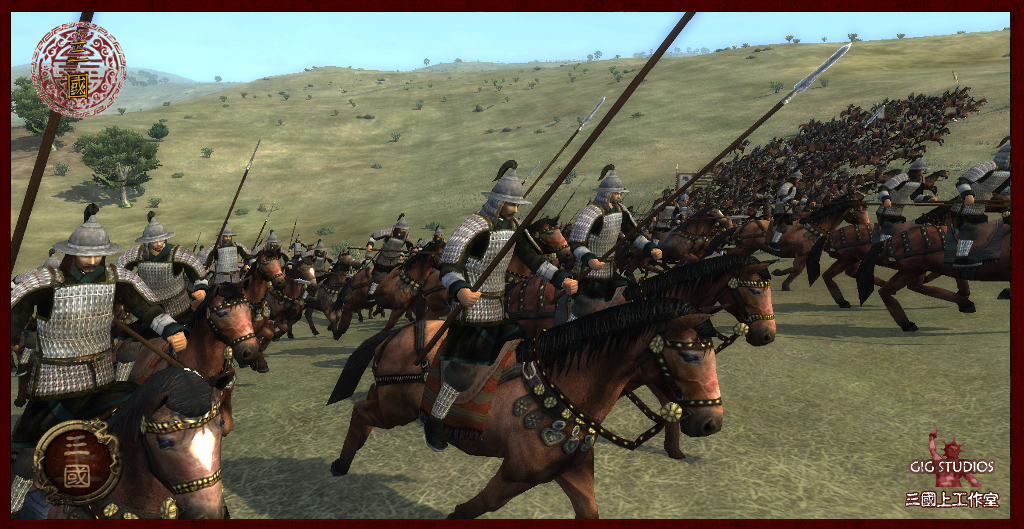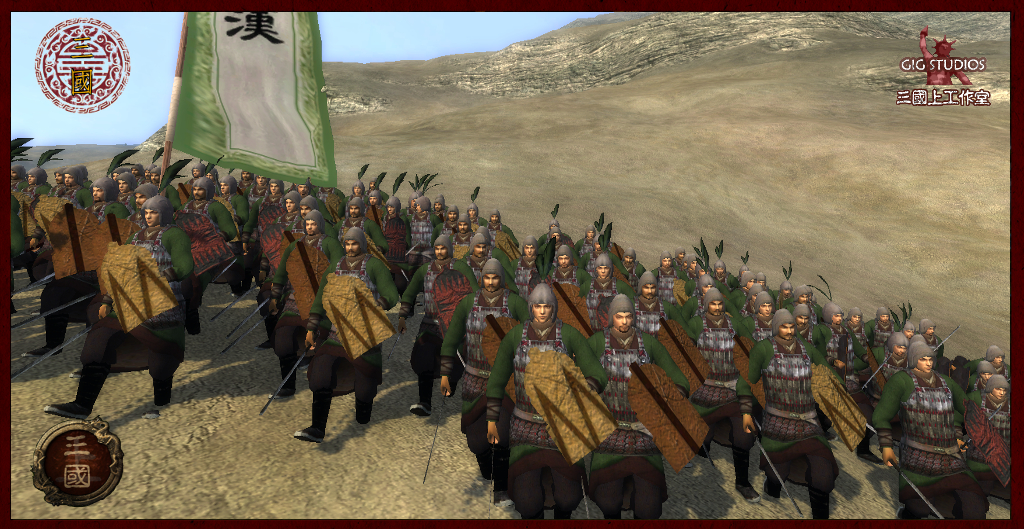 If you already have v3.1.000 or v3.1.005 of the mod, please visit the Patches and Hotfixes page to download and install Patch 3.2.000. If you do not yet have the mod, first download and install the base 3.0.000 version and then do the same with both Patch 3.1.000 and then Patch 3.2.000. For further information, questions, or comments on Rise of Three Kingdoms, please visit the mod's official forum over at Total War Center.