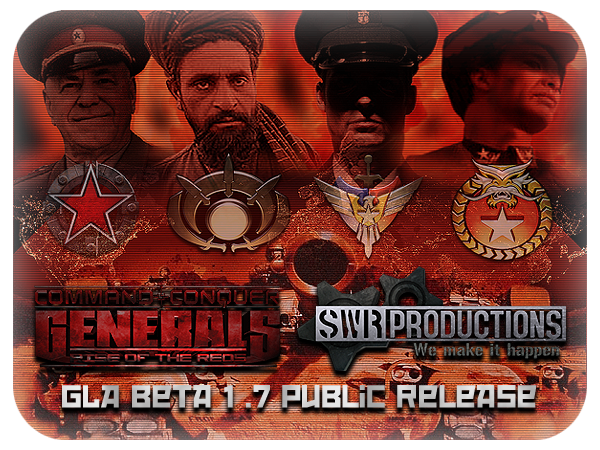 Hello Comrades! You have all waited for this for a long time and perhaps longer than we should have let you wait but all of that won't matter right now because we are finally done with our new release!
There isn't much to say really, we have a lot of goodies prepared for all of you including new fluff, a trailer and of course the releases itself.
Anyway, I will stop blabbering now and let you all have a look at the good stuff

Version 1.7 includes a wide range of features and additions, including...
A fully redesigned Global Liberation Army that makes heavy use of tunnels and guerilla tactics. Spread your underground facilities across the map and unnerve your opponent with a plethora of dirty tricks, including a kill-based secondary income and a harassment-oriented airforce.
The steamrolling Russian Federation as a fully functioning faction with unique buildings, units and powers. Dominate the skies with heavy Hind helicopters, take the field with waves of ever-relentless Shock Troopers and crush your enemies with the unparalleled Sentinel Tank.
Many new buildings, units and powers for the old factions, the United States of America and the People's Republic of China have already been added in 1.5 but their arsenal is further expanded by the versatile American Bradley IFV and the missile-blocking Chinese Jammer Tower.
A fully functioning, efficiently designed navy that is only available on maps that are specifically suited for ship combat, realized by means of a unique system of capturable Naval Yards that avoids the technical issues usually associated with navies in the SAGE engine.
Several new Tech structures that can be captured to provide helpful advantages, such as Powerplants, Armories as well as all the Tech structures from Shockwave including the Airport, the Radio Station and the mighty War Fortress.
Many of the more subtle game mechanics have been revamped, including a more sophisticated tech tier system, an improved air/anti-air counter system and improved stealth/scouting mechanics.
Plenty of new maps that have been exclusively designed for ROTR, as well as restored Generals versions of all the original maps that underwent changes in Zero Hour.
North Africa, 2028
A large crowd stood waiting at the airport of Tripoli on what would otherwise have been an ordinary Monday morning. But this day was going to be different: While Chinese forces pacified the last pockets of GLA resistance in the ruined cities of Central Europe and the atomic mushroom cloud above downtown Hamburg slowly dissipated, the local populace had gathered in thousands to welcome the legendary heroes who made this vision a reality. A frenetical chorus of jubilations greeted General Mohmar 'Deathstrike' as he and his lieutenant Anwar Sulaymaan stepped out of the stolen European plane that evacuated them from the dying continent in the closing hours of the great insurrection. The Libyan government, along with most of north Africa, had been firmly in support of the GLA for years; what Western analysts initially lauded as an uprising for democracy at the start of the 21st century was quickly marred by corruption, infighting and stagnation. A few years down the line, the masses would once again flood the streets and revolt, but this time, under the banner of what was now known as the Global Liberation Army.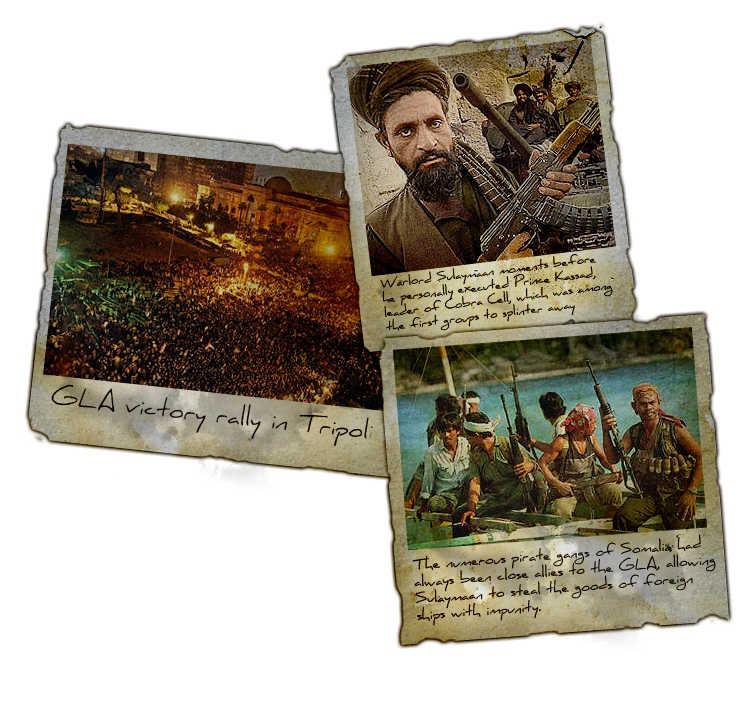 But after decades of endless warfare across all of central Asia, the middle east, north Africa and Europe, Deathstrike, with his greatest feat finally accomplished, grew tired, his thirst for blood and glory finally quenched. In the next few years, younger, more ambitious leaders started scheming against him as cell after cell slowly broke away from the cause. Then, triumph finally gave way to tragedy when a cowardly assassin whose allegiance remains unknown to history till this very day, put an end to the life and legacy of Deathstrike. Without their glorious leader, the local warlords and tin-pot dictators quickly re-assumed control, turning the once mighty organisation into a mere shadow of its former self. But Anwar Sulaymaan, Deathstrike's most trusted aide and, according to himself and his loyal followers, his only legitimate successor, would not allow this heresy to go unpunished. With the US still in isolation, the Europeans in disarray and China complacently savouring its supposed 'victory', Sulaymaan's battle-hardened army swept across Africa, re-absorbing the break-away cells while wiping out anyone who opposed him.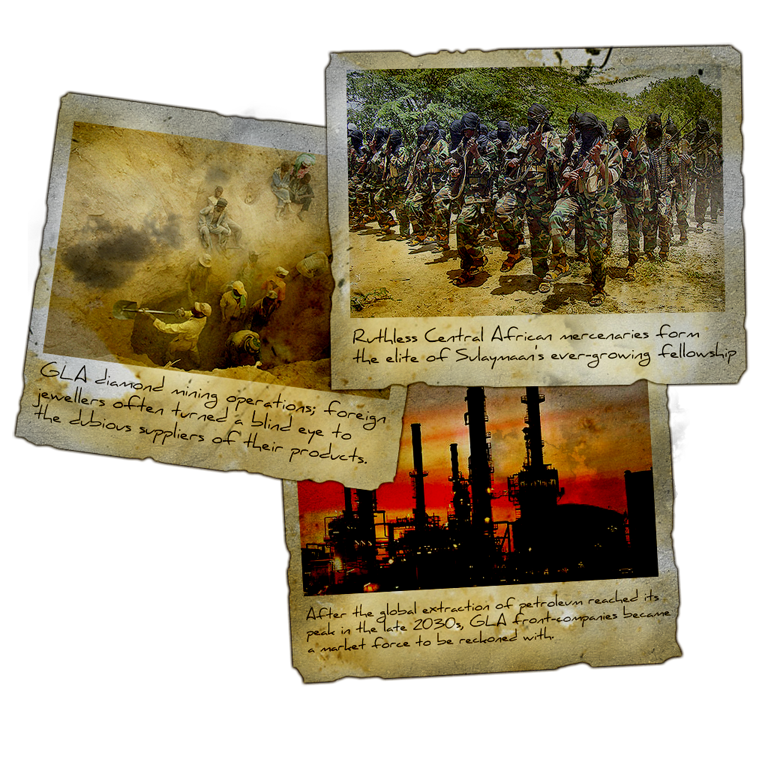 But his charismatic leadership and 'convincing methods' could only get him so far. To the chagrin of General Yusuuf, a Saudi cleric and leader of the GLA's most hardline religious wing, Sulaymaan managed to broaden the populist appeal of the organisation: Unlike Deathstrike's GLA which was centred around religious fundamentalism and an odd mix of pan-Turkic and -Arab nationalism, Sulaymaan's GLA would grow to accept every possible current of exploitable violence, ranging from freelance mercenary forces over disenfranchised African militaries to western anti-government anarchists. Financed through oil, drugs and diamonds, his numbers and influence grew larger, eventually surpassing those of the old GLA in the sense that for the first time in the organisation's history, the GLA was in a position to not just be mere guests in a country whose government tolerated them. Thus, Sulaymaan became obsessed with his personal dream of a 'warrior heaven on Earth', an idea which he soon turned into a bloody reality in central Africa. In his vision, the origin of humankind itself would become the first true GLA 'nation', a place solely dedicated to violence and the raw ferociousness of the human condition; a haven of total freedom for those who are strong enough to take it and a refuge for all who opposed the deceptions and hypocricies imposed on them by any scapegoat of their choosing, be it the West, the East, the rich, the elites, the 'man', the 'system', or the very concept of order itself.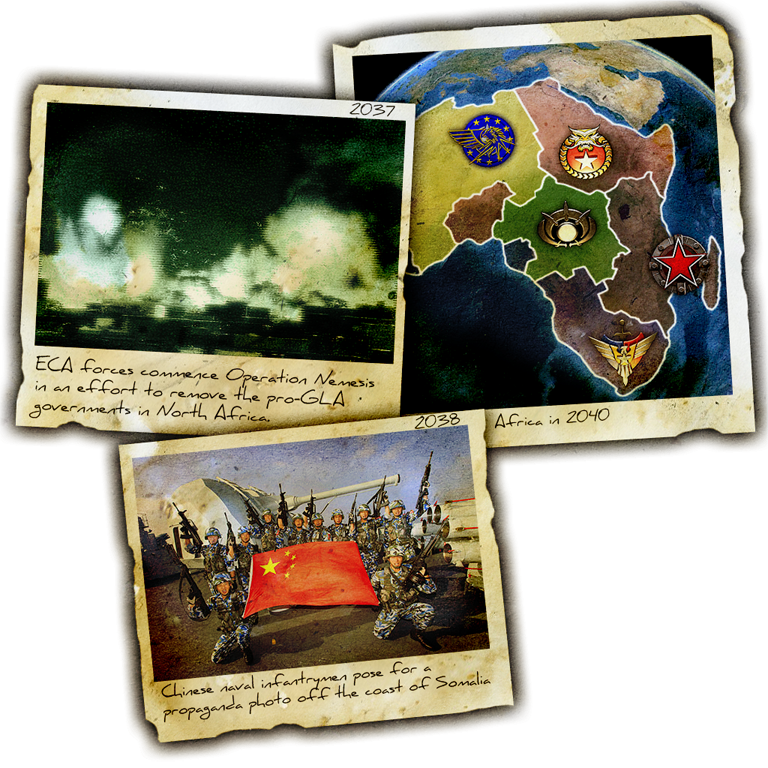 As Sulaymaan started building his empire, outside forces quickly arrived to challenge his vision: American corporatists bought their way into Africa to benefit from the continent's great resource boom while the Chinese put an end to the pirate nation of Somalia with a full-scale invasion and occupation. Meanwhile, the Europeans had re-built their countries and re-organised as what they now called the European Continental Alliance. Sulaymaan's north African allies were the first to suffer from their furious retaliation for the humiliation that he and Deathstrike had inflicted upon them and to the south, the up-and-coming Russian Federation had taken control of the lands, further destabilising the delicate balance of power between the global players. By 2040, the stage was set, the players in position...And Sulaymaan's warrior nation, now firmly established in the heart of the divided continent of Africa, was ready to prove its might!