Good time, everyone.
To keep mod alive, I will update this mod every month, though it is a little update because I have no idea what next to be done, or even to design new units.
But now I have one.
Allied Nation: Flashstrike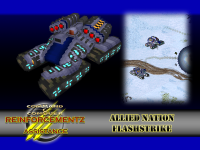 New Units for Allied Nation- Appears like a flash and Throws powerful punch: Electromagnetic Missiles that can paralyse and damage everything nearby at once, and deadly for all types of aircrafts.
And some replacement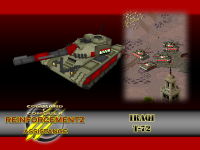 Replace Iraqi t-64

---
: About organizing country list.
After this mod decided to use ARES to increase new ability to modify them, including adding new country, here is recent list of playable countries.
Allied Nation: Main Allied force, using speed and High-tech weaponry.
America: Using Advanced destructive weapon
Korea: Representative of Asian army, using airpower.
France: Representative of Mediterrannean Coalition force, using sturdy defensive tactics.
Germany: Using armored assault.
Great Britain: Ground based support tactics is considering. [Suggestions needed]
Soviet Union: Highly armored and deadly armed assault.
Libya: Using artillery and support troops
Iraq: Using Biohazard weapons, including Nuclear.
Cuba: Using Explosive and "Ambush" tactics, but has poor military advance.
Russia: Tesla experiment Experts. Advanced Tesla weapon can even stop armor.
[Some Country]: [Suggestions needed]
Well, it's free time to let anyone to suggest new country and tactics for blank country.
And thanks beforehand about that.